Mother's Day is right around the corner, and if you're in need of Mother's Day gluten free recipe ideas, you've come to the right place!
THIRTY … that's 30! tried and true favorite gluten free recipes will give you plenty of ways to treat mom to something homemade, cheerful, safe and yummy — spoil her (and to my family: her = me!).
Gluten Free Mother's Day
The funny thing about Mother's Day meals — and if you're a mom, you know exactly what I'm going to say — mom always seems to have to do the shopping AND practically (or totally) have to make it for herself … or she gets taken out to eat. When you're living gluten free, both options become more complicated.
I think back to a book that made me giggle every time I used to read it to my kids (suggestively perhaps) at this time of year: The Berenstain Bears and the Mama's Day Surprise!
Poor Mama Bear had to surreptitiously scramble around to make sure all the ingredients were in the house for Papa Bear and the cubs to make her favorite breakfast. Then she would lie in bed listening to all the commotion, dreading the kitchen she was going to have to clean up afterwards.
The big surprise in this case (spoiler alert!) was that this time they actually cleaned up without her! Ah, such blissful fantasy in children's books … but I digress.
Whether you're the mama bear gathering necessary ingredients, or the papa bear, cub or other loving family member preparing breakfast for the mama in your life, these recipes will make things a bit easier.
Simple, easy to prepare, delicious and of course, gluten free.
It's not hard to make a wonderful breakfast in bed or fancy homemade 3-course breakfast for your mama bear, just be prepared (reminds me of another children's favorite, Hoodwinked … again, I digress).
Also check my Gluten Free Mother's Day Pinterest Board for more ideas!
Breakfast in Bed is ALWAYS a good place to start, and I highly recommend these QUICK and easy gluten free breakfast recipe ideas for mom:
Gluten Free Breakfast Classics
Can't beat homemade gluten free biscuits in bed! Served with her favorite berries and jam — or you could always offer a savory option — these discs of light, flaky happiness are sure to please! (how-to video for gluten free buttermilk biscuits recipe)
A plate full of yummy homemade Gluten Free Pancakes and pure maple syrup. That sounds like the perfect treat to me for breakfast, lunch or dinner! Use my gfJules Pancake & Waffle Mix for even faster preparation and absolutely perfect, fluffy gluten free pancakes!
Gluten Free Belgian Waffles are the pretty, puffy pancake equivalent, and when made in a waffle iron, always yield perfect results.
If you're serious about impressing mom on her special day, let's be honest: it's really hard to be cinnamon buns. This recipe for 52 Minute (yeast-free) Gluten free Cinnamon Buns is an excellent choice for those of us non-morning people. The recipe really does take less than an hour from start to this delicious finish!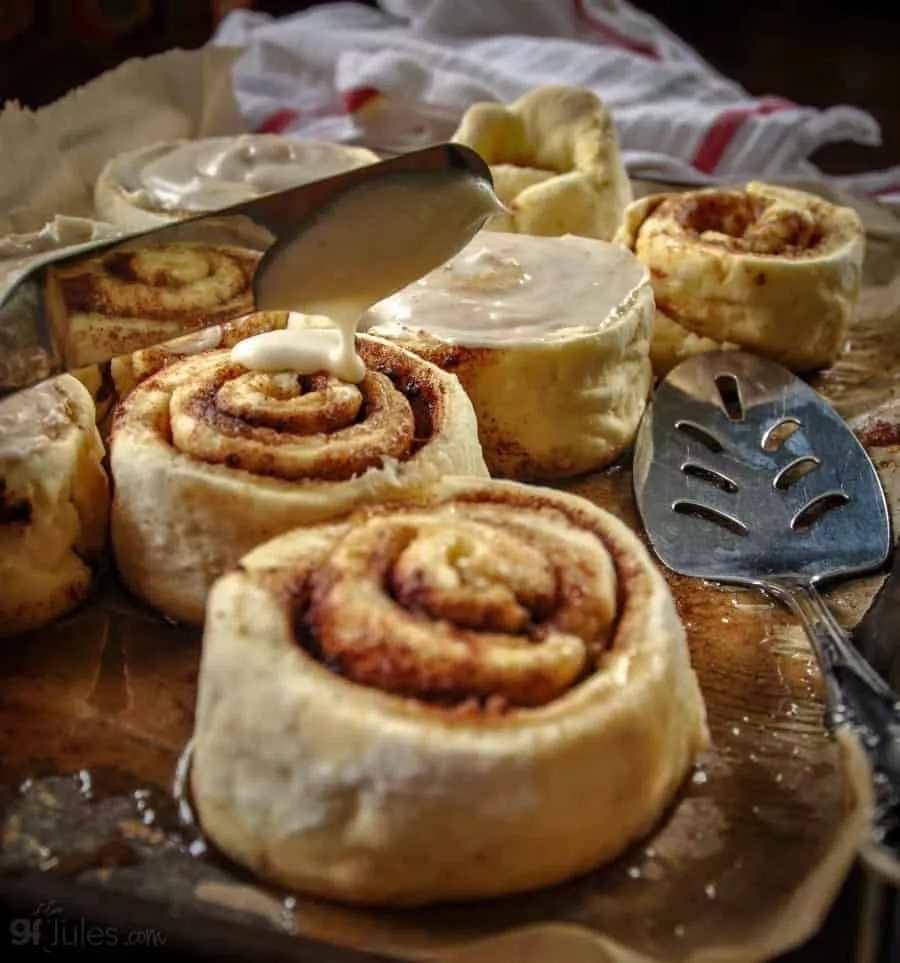 This recipe for regular, yeast bread based gluten free cinnamon rolls is the real deal. The smell of these rolls baking will be enough to spoil mom, but you should still save her one or two.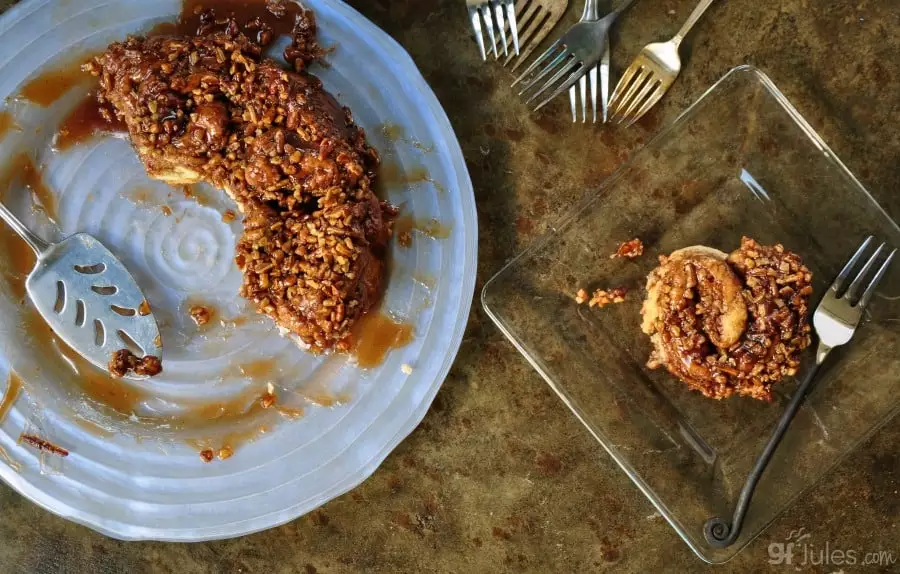 If your grandma made homemade cinnamon sticky buns like my grandma did, it will be the highlight of your mom's year for you to make these Gluten Free Cinnamon Sticky Buns for her on Mother's Day. Oven or crockpot/slow cooker methods make this recipe one you can even start the night before, if you need the extra time. Soft and sticky and totally decadent — the perfect Mother's Day treat!
Gluten Free Banana Bread is another fantastic recipe for mom … and for the rest of the family! Bake in loaf pan or as muffins.
Gluten Free Blueberry Muffins are another favorite any mom would love! How adorable would a basket of these mini-muffins be for mom? For even easier gluten free muffins of any variety, use my award-winning gfJules Muffin Mix.
Speaking of blueberries … these Gluten Free Lemon Blueberry Doughnuts are impossible to resist, and since they're baked, they're super quick from start to finished (as in, everyone has already finished them, it's time to make another batch!).
Gluten Free Cinnamon Raisin Bread is another favorite for breakfast or even a later-in-the-day treat. It's easy in a bread machine!
Homemade Gluten Free English Muffins are impressive, but actually really easy to make in muffin pans or popover trays!
This beautiful Gluten Free Coffee Cake Pound Cake is equally at home for breakfast or for dessert. Maybe both?
If you'd rather opt for a more traditional coffee cake, this Gluten Free Coffee Cake Recipe is just the thing!
May is just the season to pick up some fresh rhubarb for this scrumptious Gluten Free Rhubarb Coffee Cake from my friend Karen at Healthy Gluten Free Family!
Gluten Free Scones will forever be one of my favorite last minute breakfast recipes because they taste amazing, but only take 20 minutes with this one-bowl recipe!
Gluten Free Crêpes! Fill these wafer-thin pancakes with anything mom loves: fruit, chocolate, spinach … whatever will make her happy today is what's tucked inside these gluten free crepes.
You'll bring a tear to your mom's eye if you make her homemade Gluten Free Danish. Seriously.
One of my newer muffin recipes will be just perfect for Mother's Day breakfast: Gluten Free Streusel Coffee Cake Muffins. Am I right??
Gluten Free Pistachio Matcha Muffins are the perfect protein boost for moms who love their muffins with a side of healthy stuff.
No way this stack of Gluten Free Doughnut Holes will fail to impress! Bite-sized doughnuts just right for popping … and also made with healthy plant-based protein to outweigh any mom guilt.
All moms love lemon. Don't they? Maybe they don't, but it's a pretty safe bet they'd love these JUMBO gluten free Lemon Poppyseed Muffins!
If your mom loves tea, these muffins are just the thing! Gluten Free Chai Tea Muffins — a little spice, a little sweet. Just right!
People have been going gaga over this tart and sweet combo: Gluten Free Banana-Lime Bread. Betcha mom would love it too!
Gluten Free Zucchini Bread (mini loaves, muffins or full sized loaves) are another full-flavor, but less guilt solution for your gluten free Mother's Day menu. Everybody loves a great loaf of zucchini bread, and this one is particularly yummy, as it's not super oily, sugary or heavy. Yum!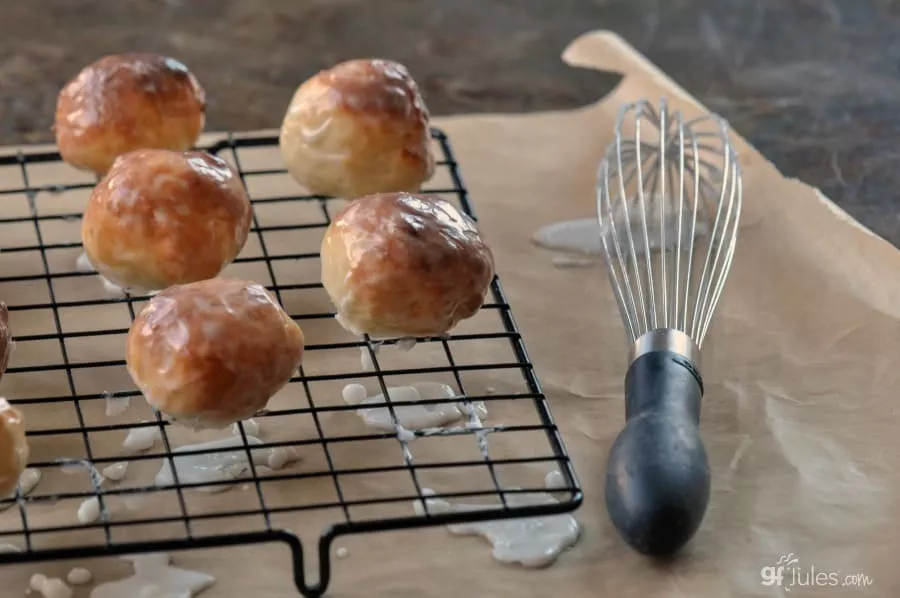 Gluten Free Doughnuts that are light and airy, just like (that-will-remain-unnamed) donut shop. This dreamy recipe will treat mom like the special person she is. Can be made in the air fryer or stove-top with oil.
It's hard to choose better than a recipe you can make the night before. This Gluten Free French Toast Casserole allows you to sleep in with mom and still enjoy the fruits of your (not so difficult) labor!
Gluten Free Toaster Pastries (ok, we all know they're really called Pop Tarts) are a childhood favorite everyone still loves! Fill with whatever jam you have on hand and you'll have a happy mom on your hands!
Looking for a healthier option to start the day? Avocado toast is all the rage (and costs upwards of $12 at restaurants!) — why not make this hearty Gluten Free Irish Brown Bread and treat mom to fancy toast?
Treat Mom to Chocolate for Breakfast
If you can't splurge on Mother's Day, when can you?
These baked Gluten Free Chocolate Zucchini Donuts are the best way to splurge, don't you think? No mom can say no to chocolate for breakfast if she's eating them too!
Secret Ingredient Chocolate Zucchini Bread (hint: if mom likes coffee, she'll love this bread!)
So what will you choose? How will you pamper mama this Mother's Day? Even if you're not a confident gluten free baker, my award-winning gfJules Flour and baking mixes make it EASY! Here are some more tips on baking well, gluten free.
If you do decide to pack the family in the car and head out to a restaurant, take a moment to review some of my suggestions for being cautious at restaurants. It is possible to get a great, safe meal, but once again … "Be Prepared! "
You'll want to pin this Roundup for later — who says you have to wait for Mother's Day to roll around to bake yummy treats for mom, or for anyone you want to show your love.
Here's another gluten free Mother's Day Roundup if you still need more inspiration!