Gluten free pot pie is a recipe that's great, not only on cold winter nights, but anytime you want something that just screams 'homemade,' and that comforts you at the same time.
The thing about a gluten free pot pie is that you really can't get the soup part wrong. Start with any veggies you have on hand and work from there.
Use a cream-based soup or just vegetable stock. Add chicken or shrimp, if you like.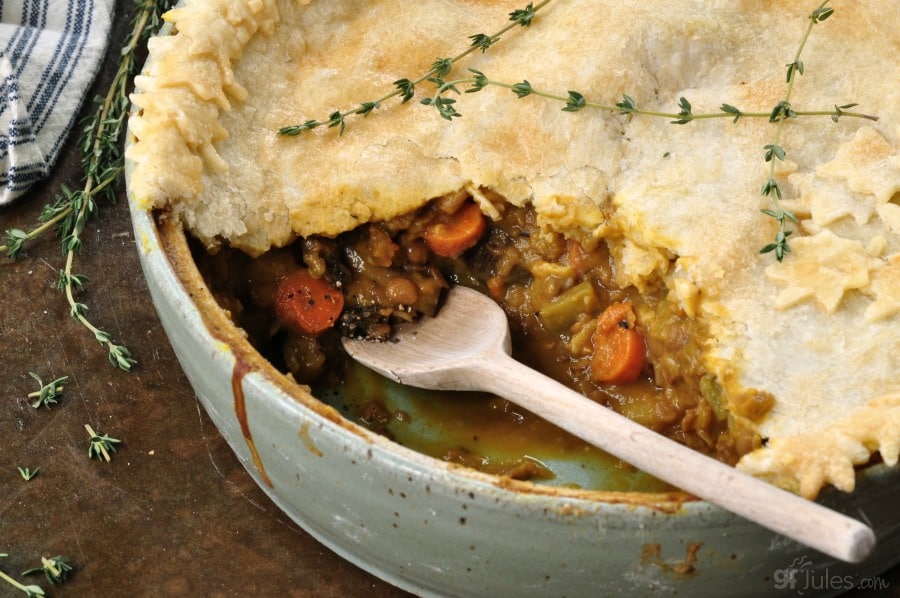 I've given you basic proportions and ideas for a start, but feel free to add or subtract ingredients as you like and have on hand.
Taste it as you go and add more spice to it if you like (a little dash of Tabasco can wake any soup up!), or keep piling on more veggies.
The trick is in the gluten free crust, and when you have my no-fail gluten free pie crust pastry recipe, there's no trick at all.
Light and flaky, soft and tender … all the things the perfect pie crust should be, on a sweet pie or a savory pot pie!
If you're a real crust lover like I am, double my flaky gluten free pie crust recipe to make a large pot of stew (top and bottom crust) or lots of individual ramekins.
It's your choice whether to line the bottom of the pot or bowl with crust or just adorn the tops with crust — it's your homemade gluten free pot pie, after all!
You can also dress up the crust by using cookie cutters to add pretty crust "leaves" or "acorns" to the sides of the crust, or simply lay the pastry on top of each ramekin. Again, there's no way to get this recipe wrong if you make my delicious crust, it makes every soup taste better!
And to make it come together even faster, use a pressure cooker or instapot to make the soup before baking!
Check out this Facebook Live video I did showing the WHOLE DANG PROCESS from start to finish — making all different kinds of crusts for these scrumptious gluten free pot pies!
Yield: 1 large pot pie or 6 ramekins
Gluten Free Pot Pie Recipe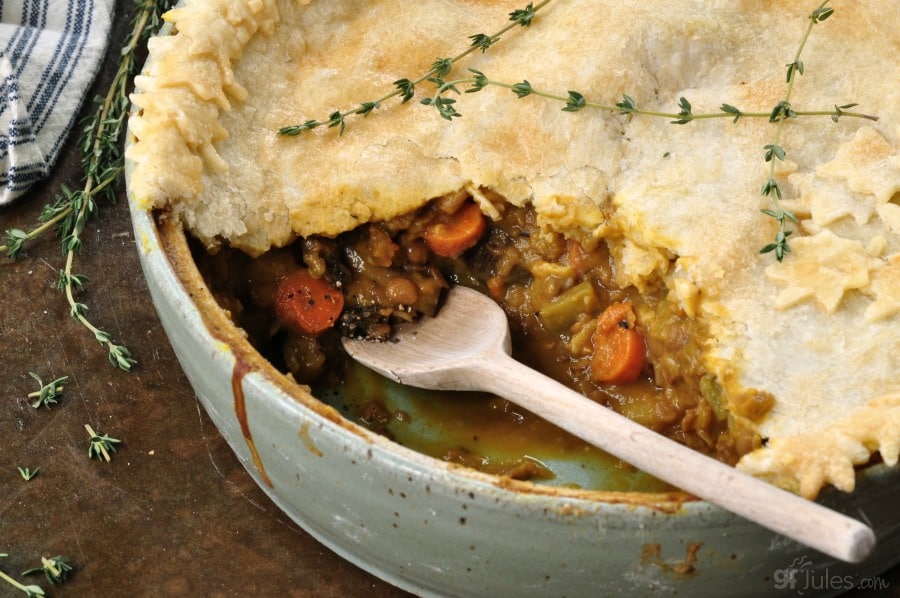 Ingredients
1 – 2 recipes, my gluten free Pie Crust (use 2 recipes if covering several ramekins or using a base and top crust for one large pot; 1 recipe for one large pot pie, top only)
1 bag lentils, prepared
5 large red potatoes, diced
½ large red onion, diced
2 large portabella mushrooms, chopped
1 zucchini squash, diced
1 yellow squash, diced
3 large carrots, diced
½ bunch asparagus, chopped
32 oz. vegetable stock
32 oz. creamy vegetable soup or additional vegetable broth (I like Imagine® Natural Creations "Light in Sodium Harvest Corn Soup" and "Creamy Portobello Mushroom Soup," both gluten-free and vegan)
2 Tbs. fresh dill, minced
2 Tbs. scallions, diced
1 stalk lemon grass, diced
Salt and pepper, to taste
1 egg, mixed or milk of choice for brushing on pastry
Instructions
Prepare lentils according to package directions in a large stock pot (usually rinse well, add water and boil for 20 minutes or until tender) or in a pressure cooker.
In a separate pot, place diced potatoes and cover with water. Bring to a boil and cook just until fork-tender. Drain.
Sauté the onion and mushrooms, then remove to a bowl and repeat the sauté process with the squash in a large sauté pan with enough olive or avocado oil to lightly cover the bottom of the pan. Sauté remaining vegetables the same way, until lightly browned on the edges.
Meanwhile, fill a large soup pot with stock and soup. Add cooked lentils, potatoes and veggies. Stir in herbs and salt and pepper, to taste. At this point, you have a delicious vegetable soup, so you should add more herbs or seasoning if you need to suit you and your family.
Preheat the oven to 375° F.
If you choose to line the bowl(s) with crust, liberally dust a pastry mat or clean counter with gfJules™ All Purpose Gluten Free Flour and roll each piece into a circle large enough to line the bottom and up the sides of your bowls or large casserole. Brush the edge of the crust with egg wash or milk.
Divide the soup filling equally among ovenproof bowls or pour into large dish, filling only up to 1/2 inch from the top.
If baking in ramekins, divide the remaining dough into enough pieces so that there is one piece of dough for every dish (e.g. 4 bowls = 4 pieces of dough).
Roll out as described above and trim the circle(s) to 1/2-inch larger than the top of the bowl(s). Fold the dough over the edges of the bowl(s), pressing lightly to stick to the bowl(s) or the bottom crust, if using. Brush with more egg wash or milk and make 2 slits in the dough to vent.
Notes
With this tender and flaky gluten free pie crust, it's hard to decide which is the best part of this delicious pot pie! If you really love crust, line each bowl or the large casserole with one crust and then cover with another crust, pressing to seal the edges. It's not a lot of extra work, but tastes amazing!
Pot pie really is the ultimate comfort food.
This recipe comes together more easily than you might imagine, so I hope you add it to your regular winter rotation!