Gluten free Popcorn Bread is a really unique treat that is fun to make and to eat! Popcorn flour is a whole grain flour you make yourself – no shopping around at various health food stores to find it!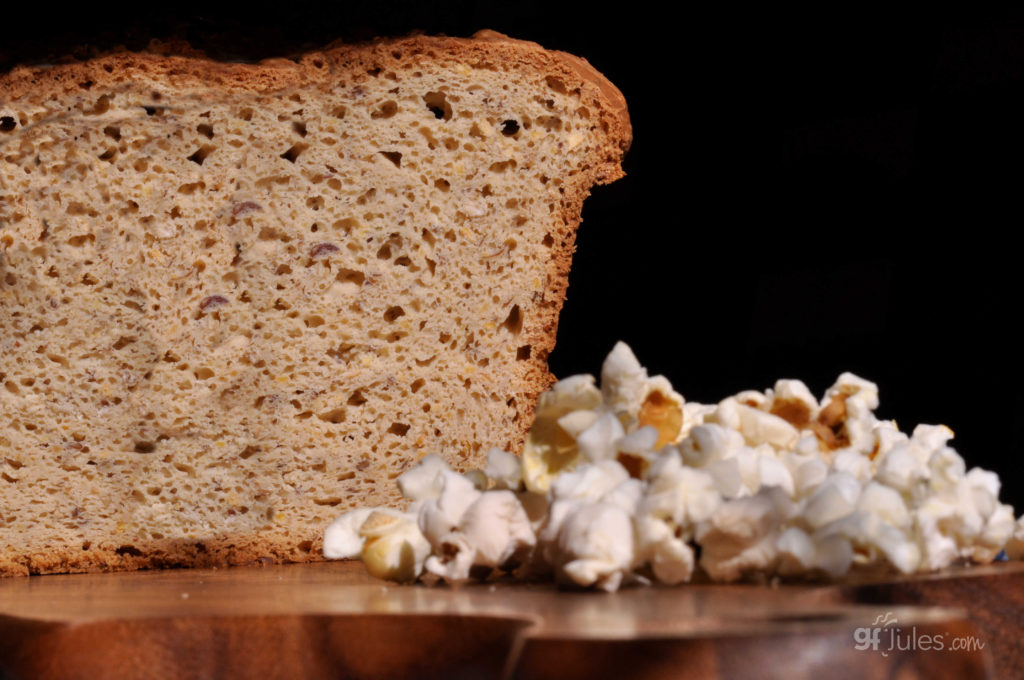 To make it, simply pop your favorite popping corn, then process it in a blender or food processor until the popcorn becomes a fine powder. Some of the kernels will remain in pieces and you'll see them throughout the finished bread, as well, but that adds to the charm!
In this gluten free popcorn bread, popcorn as a grain offers the benefits of a tasty whole grain flour, but is too airy to support a loaf of bread on its own, so must be combined with other gluten free flours. I've given you some options to choose from in the recipe below.
For baking and for munching, homemade air-popped popcorn is another one of my favorite, though often overlooked, gluten free foods. It's #7 on my list of 22 ideas for a happier and healthier ALL-year gluten free lifestyle. (Look for non-GMO popcorn if you can.)
Popcorn is deceptively healthy and quite filling. When made without added excess toppings like movie theater butter and loads of salt, one serving of this snack contains 3 grams of fiber, 3 grams of protein, vitamins and minerals and only about 90 calories!
Here's the air popper I like to use at home.
So get popping! Snack AND bake with this favorite gluten free grain.
Yield: 1 loaf
Gluten Free Popcorn Bread Recipe
Naturally gluten free popcorn, processed into flour, makes a truly unique bread! You'll love it!
Additional Time
30 minutes
Total Time
1 hour
25 minutes
Ingredients
1 cup popcorn flour (homemade – see below)
6 Tablespoons hot water
2 Tablespoons flax seed meal
2 eggs, lightly beaten (or favorite substitute)
1 cup vanilla yogurt (dairy or non-dairy – like Silk® almond, coconut or soy yogurt)
1 teaspoon apple cider vinegar
3 Tablespoons extra virgin olive oil
3 Tablespoons light agave nectar OR honey
3/4 cup buckwheat flour OR brown rice flour OR millet flour OR sorghum flour
1/2 cup purity protocol gluten-free oat flour (or purity protocol certified gluten-free oats, processed into flour in a blender or food processor)
2/3 cup powdered milk (dairy or non-dairy – like coconut milk powder) OR buttermilk powder
1/2 teaspoon baking soda
2 teaspoons baking powder
1 teaspoon sea salt
2 1/4 teaspoons (1 packet) rapid rise yeast, gluten-free (Red Star® Quick Rise Yeast)
Instructions
To Make Gluten Free Popcorn Flour:
Use a small bowl food processor or blender, as the popcorn is very light and will float away from the blade if given too much room in the bowl. Pulse until the popped popcorn is completely pulverized and relatively smooth.
Bread Machine Directions:
Stir the eggs with a fork in a small cup to mix the yolks and whites together in a small bowl. Gather all other ingredients and plug in the bread machine, inserting the pan and paddle attachment.
Sift dry ingredients (except yeast) together in a large bowl and set aside.
Add all wet ingredients to the bread machine pan first. Add the dry ingredients next and make a well in the center for the yeast. Add the yeast last and set the machine to the gluten free setting or a setting with only one rise cycle and no punch-down.
During the knead cycle periodically check to see that the dry ingredients have been fully integrated into the dough, scraping down the sides with a rubber spatula if necessary. Add any toppings like sesame seeds, sea salt, poppy seeds, etc. at the conclusion of the knead cycle. Check to be sure the internal temperature of the loaf has reached 205 -210º F before removing pan when the baking is completed.
If necessary, add baking time on the machine or place the pan in a 350º F (static) oven and check at five-minute intervals to determine when it is fully cooked. Remove the bread to a cooling rack for 15 minutes, then gently remove the bread from the pan and slice when fully cooled.
Oven Directions:
Sift dry ingredients (except yeast) together in a large bowl and set aside. Add hot water to flaxseed meal and once it becomes viscous, pour it into a large mixing bowl along with the eggs, yogurt, cider vinegar, olive oil and agave. Beat until well-mixed.
Gradually stir in the dry ingredients and beat until incorporated. Add the yeast last and beat an additional 2-3 minutes, to ensure that the yeast is fully mixed into the dough.
Scoop dough into an oiled loaf pan. Spray parchment paper with cooking oil or dampen a clean kitchen towel and cover the loaf, setting it aside to rise in a warm place like a warming drawer or an oven preheated to 200º F and turned off.
Let the bread rise for at least 30 minutes, or until the bread has risen to the top of the pan, then bake in an oven preheated to 350º F (static) or 325º F (convection).
Bake for 30 – 35 minutes, or until a toothpick inserted into the center comes out clean, it sounds hollow when thumped, and an instant read thermometer inserted into the center of the bread reads 205º F.
Remove to a wire rack to cool for 10 – 15 minutes, then remove from the pan to cool completely before slicing. Store in a zip-top bag to retain freshness.
Yields: 1 loaf
I hope you love this twist on gluten free bread!
Pin for later!