Air Fryer for Gluten Free Cooking and Baking
I don't know about you, but I've been hearing a lot about air fryers lately. It's pretty intriguing to think you could enjoy all your favorite fried foods without all that oil and fat. If they deliver as promised, what's not to like about an air fryer for gluten free cooking and baking?
… Until I started to shop for one. I was totally overwhelmed by the number of choices, brands and prices. How could a person ever choose?!? 1550 watt … 3.7 quart … 5.3 quart … 5.8 quart … bonus skewer … bonus steaming papers … drawer or flip-top … 1 or 2 cookbooks … 6 pieces or 8 pieces … digital … programmable …. I'm sorry, but there are just too many choices.
So I decided to turn to a brand I trust, and I opted for a Cuisinart®.
I love Cuisinart* appliances and because I'm hard on kitchen appliances (I bake nearly EVERY day), and I can attest to their longevity — they really are built to last and they don't cut corners.
Cuisinart Air Fryer Toaster Oven
The Cuisinart TOA-60 Air Fryer Toaster Oven is another example of this kind of quality: it's thoughtfully designed to not only air fry, but to bake, broil and toast as a full-sized toaster oven. It's a sleek machine made of stainless steel (not plastic, like almost all other air fryers I found), and designed to sit on your counter at all times. Yes, it looks that good.
I really, really like this feature because it's allowed me to get rid of my toaster oven entirely and replace it with one that does quadruple duty and won't take up precious cabinet space. Maybe having it out at all times will encourage my kids to use it instead of the microwave? A girl can dream.
So does it perform as advertised? Here's the run-down of features:
It offers 7 functions: Air Fry, Convection Bake, Convection Broil, Bake, Broil, Warm, and Toast, with an adjustable toast shade selector and automatic timer shut off (great feature for safety and to prevent burning). Its .6 cubic foot interior is large enough to air fry up to 3 pounds (much more than other models), toast 6 slices of bread, bake a 4 pound chicken or a 12″ pizza — on the whole, much more versatile and larger than other models. It's super quiet and really fast, too. Oh, and the non-stick interior has made cleaning it a breeze (I definitely like that).
How Do Air Fryers Work?
A little more about all air fryers which you should understand before I go any further: air frying is just that. It's not deep fat fried anything, and there will be a taste difference.
Oil conducts heat much faster than does air, which allows foods deep fried in oil to crisp up on the outside quickly without drying out on the inside. Since an air fryer is really just a super high convection (fan-driven) oven, it's using air instead of oil to cook, meaning that you risk your food drying out if you don't watch it closely.
Your foods also wont have that rich, fatty flavor that comes with deep fried foods. The goal instead is that your foods will cook faster and be crispy and brown on the outside, as if they had been fried. It's basically a small version of a powerful oven, so it doesn't take long to preheat (if needed at all, really), which is a bonus and time-saver. And then there's the bonus of cooking with less-to-no oil.
Air Fryer Potatoes
I've tried out this machine by making lots of traditional things, you know, like fries and potato chips. It browns really well and doesn't require lots of oil or even much flipping. I do like the flat surface of the Cuisinart basket because it allows more surface area to be exposed to the super hot air. Check out these gorgeous potatoes!
I did toss these potatoes once, to maximize exposure to the fan for more browning, but other than that, I just watched to make sure they didn't burn.
To make these potatoes, I simply sliced them, then added them to a gallon-sized zip-top bag with about 1 tablespoon of avocado oil and shook it to coat the potatoes. I spread them out on the basket and sprinkled with salt and pepper. I didn't find that I needed to preheat the oven, so I just placed the basket on the baking pan and set it on rack position 2, then cooked them on Air Fry at 400F for about 12 minutes (tossing after about 8 minutes). That's it.
Air Fryer Gluten Free Doughnut Holes
But the real test for me came when I decided to try making air fryer gluten free doughnut holes.
The Cuisinart Air Fryer Toaster Oven comes with a recipe book indicating the doughnut holes are possible … so I went on faith, but used my trusty gluten free doughnut recipe. It makes light and airy oil fried doughnuts that are amazing with a simple glaze, a la Krispy Kreme. MMMmm.
After just one batch of these babies in the Cuisinart Air Fryer, all I can say is that I can't wait to try ALL my gluten free doughnut recipes with this machine. Maybe even gluten free beignets! And gluten free churros! Air Fryer Gluten Free Apple Fritters, here I come!
Here's how I did it.
I rolled the dough into balls just like I normally do (after making the dough and letting it rise), then sprayed the air fryer rack lightly with oil.
Then I set the machine to Air Fry at 350F and turned the timer on to start the machine (the timer must be running for the Air Fry setting to turn on). I put the baking tray on the pan onto rack position 2 and closed the door to let the magic begin.
After about 4 minutes, I took the doughnuts out — that's all it took! They were nice and brown and fully cooked inside. The first batch I let cook for 5 minutes, and it was a touch too long. I'm sure it depends on the size of your doughnut holes, but you don't want them to get too brown or crunchy.
This rack position is quite close to the top heating element, so consider that when making your doughnut holes or anything else you'd place into the basket.
To top them off, I whipped up a simple glaze of sifted confectioner's sugar and almond milk, whisking to make it smooth and adding just a splash of pure vanilla extract (maple syrup is great here, too). The glaze should not be watery, and should be easy to drizzle. Follow the full directions here.
I dunked each gluten free doughnut hole in the glaze and set them on a wire rack to cool. Believe me, it was hard to let them cool. They were calling to me!
And while I would never recommend saving fried doughnuts for day 2, I did a little experiment and saved a few. After a gentle warming in the microwave the next day, they were good as new, probably because they weren't weighed down with oil.
So that's it! With the Cuisinart Air Fryer, making these gluten free doughnut holes was super quick, no mess or cooking oil smell pervaded the house, and a lot less guilty pleasure was derived, I can assure you!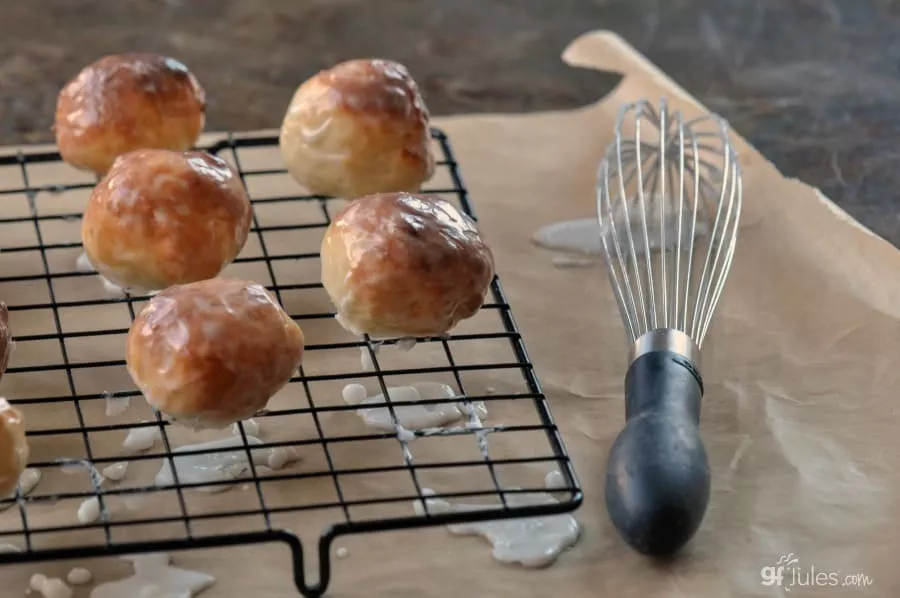 Air Fry Pies
My latest endeavor was to re-create those fried hand pies of our past. You know, the kind we all used to burn our tongues on when we got the pie at the (unnamed) drive-thru?
I baked these adorable mini pies and then sprayed them lightly with oil and put them into the air fryer for 3-4 minutes. When I tell you this is hand pie heaven, I'm speaking the truth. A little crunch when you bite in, and then it's all magic.
Follow my recipe here to make these gluten free fried pies with your air fryer!
I'd love to know if you try this recipe in another brand of air fryer and what you think. We were certainly impressed by the Cuisinart and I can't wait to try many other types of recipes. It's really exciting to think of all the possibilities!
For even more great gluten free airy fryer recipes, check out my friend Cindy from Vegetarian Mamma's ebook: The Ultimate Air Fryer Recipe Bundle!
For more delicious gluten free Air Fryer recipes, hop over to Cindy at Vegetarian Mamma — she's got a delicious Air Fryer Corn on the Cob recipe as well as an Air Fryer Green Beans recipe!
_____________________________________
If you're intrigued and want to give the Cuisinart a try, if Santa brought you nothing but socks and ugly sweaters, or if you just want to ring in the New Year with a healthier way to cook, I've partnered with Cuisinart to give one of my lucky readers their very own Cuisinart Air Fryer Toaster Oven!
>>CONTEST CLOSED <<
Follow the Rafflecopter instructions below, and leave a comment on this post telling me the first thing you'd like to try making in an air fryer. Contest ends on January 6, 2019 at 11:59 pm EST. A winner will be chosen at random at that time. You must be 18+ to enter and have a U.S. Shipping Address.
*Thanks to Cuisinart® for supplying me with an Air Fryer Toaster Oven to test and review. My opinions are entirely my own, and a favorable review was not required. I only work with companies and products that I love and recommend. Some links in this post may be referral links. If you do decide to purchase a product at a retailer after following my link, I may receive a small commission, at no additional cost to you, which I use to pay for web hosting and services for this blog. Read my disclosure policy here.