This gorgeous gluten free Challah Crown is definitely a show-stopper, and it's not difficult to make! Really. Just make sure you're not using a dry, gritty, rice-based flour — so it'll hold together!
It's another recipe where my award-winning gfJules Gluten Free Flour really shines because it's so fine and light, but it also adds stretch to doughs like this, allowing you to actually braid gluten free bread dough!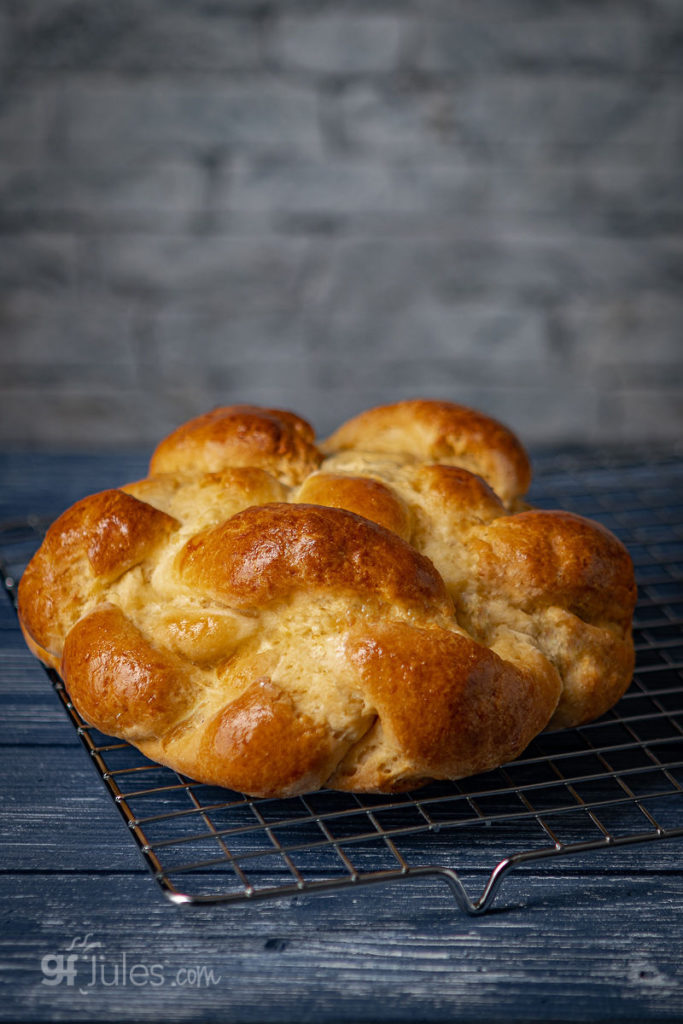 Yes, you read that right: YOU CAN BRAID THIS GLUTEN FREE CHALLAH! It's all about the gluten free flour, people.
My award-winning gfJules Gluten Free All Purpose Flour is the secret ingredient to making this gorgeous loaf. Now you know.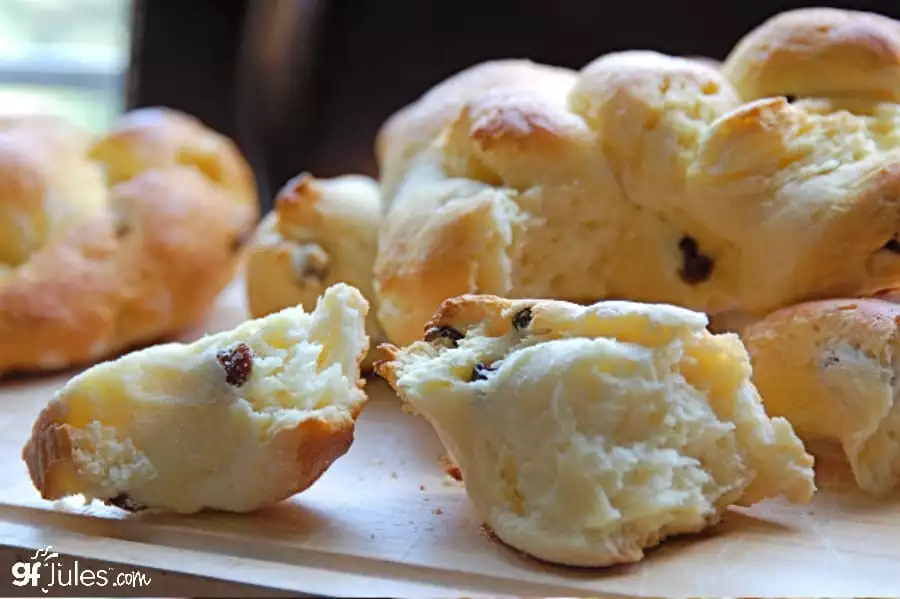 Although associated with important Jewish holidays like Rosh Hashanah (the Jewish New Year), Yom Kippur and Hanukkah, challah is not only a culturally significant bread at these times of year, but is also a delicious and impressive bread to serve at your table any time.
We had friends over last weekend and I served these yummy round loaves because it's one of our family's favorite bread recipes, but it also happened to be the days leading up to Rosh Hashanah. They were blown away by my gluten free challah, having made their own GLUTEN-FULL challah the week before, and not loving the results.
It's true folks: gluten free bread can be better than gluten bread. It happens all the time with my gfJules Flour. I have a whole tab of recipes dedicated to homemade gluten free bread recipes that are arguably better than — or at least as good as! — their gluten counterparts and are certainly quicker and easier to make!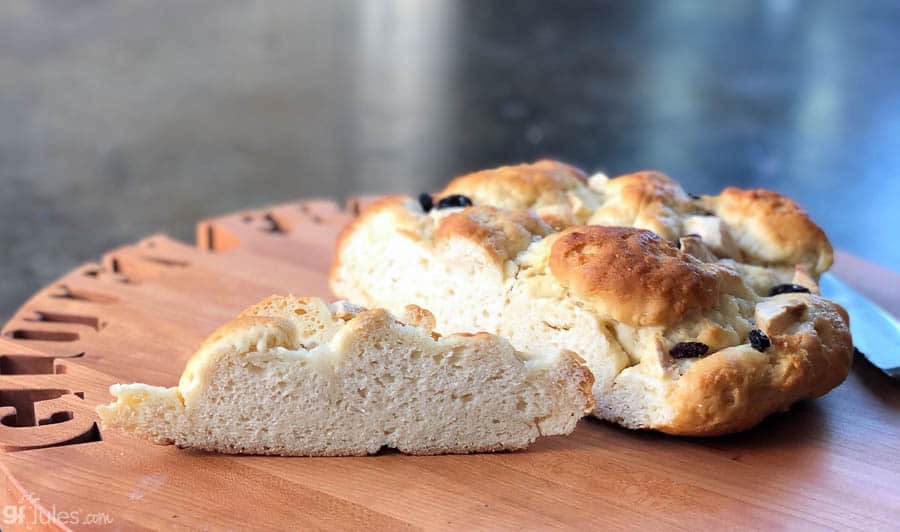 At Rosh Hashanah, challah takes on symbolic importance for those of the Jewish faith who partake of this honey bread as a representation of the sweet new year we all hope for. Add in the extra sweetness of raisins, and dip a piece of the braided bread in honey, and it is even more fun to wish for sweet things in the coming year.
The challah is formed into a round shape at this time of year to symbolize the circle of life and the cyclical pattern of the seasons that shape a year. At Hanukkah (the Festival of Lights), challah feeds the body and the soul, as families gather over the course of 8 days to light the Menorah, savor wonderful meals together, and to exchange gifts in celebration.
To see this bread in braided loaf form, hop to this recipe.
All of you who have seen me at gluten-free cooking classes or demonstrations making yeast breads already know the dirty little secret about gluten-free bread. Shhhh…. don't tell the gluten-eaters! Seriously!
The secret is that compared to making gluten breads, it is super quick and shockingly easy to make homemade gluten-free bread! Impress your friends and shock the neighbors with this recipe too: not only is gluten-free challah delicious and fast, it's almost too beautiful to eat!
The dough starts out thick and sticky, but rolled in a light dusting of my gfJules Flour, it's easy to form long strands to braid.
The final ball twist is stunning.
Then brush with egg wash to help keep the dough soft and moist and for that luscious golden color.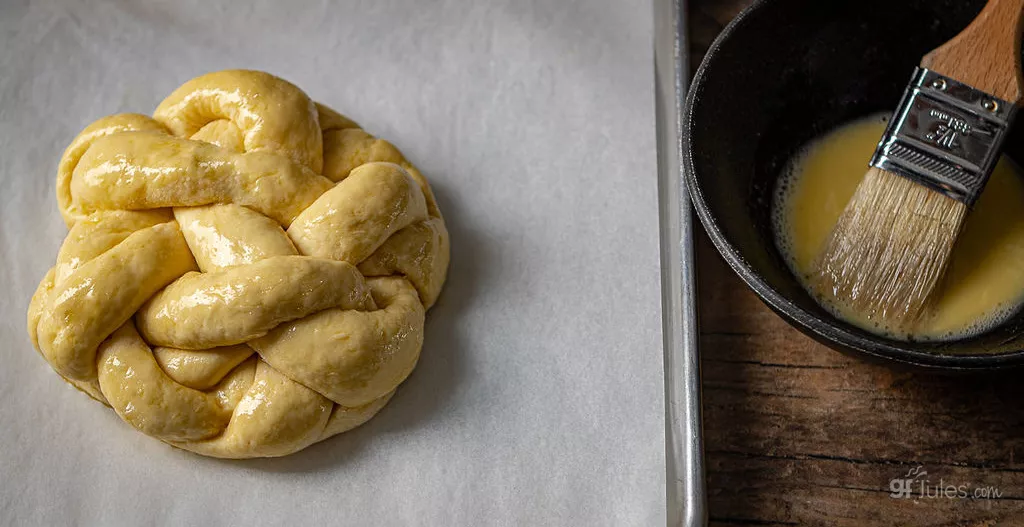 And of course, once baked, it's hard to resist!
Hamotzi & Baking with a Challah Mold
If you're looking to make this gluten free challah crown hamotzi (made from the five species of grains — wheat, barley, rye, spelt or oat — oat being the only one that is gluten free) by using 51% oat flour, I would recommend using a molded challah pan since it will be more difficult to braid without using all gfJules Flour.
I have heard from readers that even at only 49% gfJules Flour though, they have been able to braid this dough, just not quite as easily.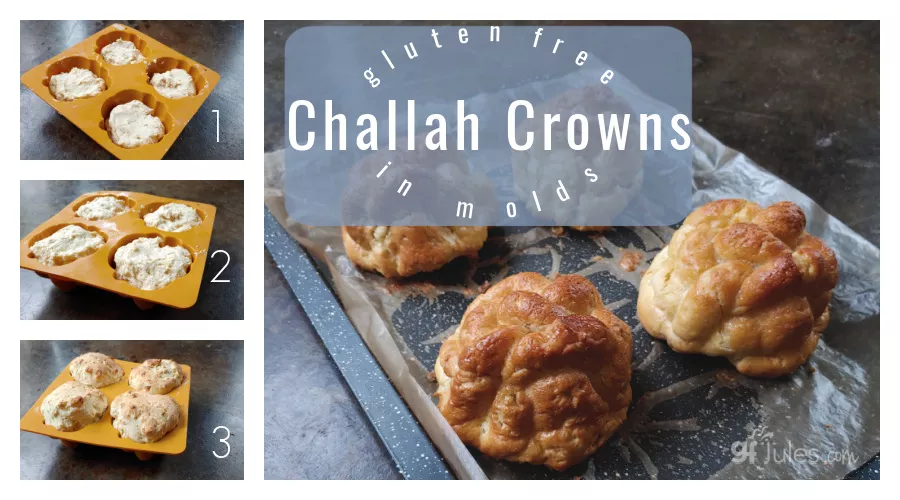 If you do choose to use a molded challah pan, you may have too much dough for the pan, so plan to put the extra dough in a loaf pan or even in muffin pans to make extra rolls with it.
Incidentally, I make my own gluten free oat flour when I do use oat flour. It's super easy to do and that way you can use purity protocol oats which are easier to find in full oat form than in oat flour form.
No matter what your reason for making this delicious bread, celebrate that this impressive recipe is at your gluten-free fingertips any time you feel like having a sweeter day.
Yield: 2 crowns
Gluten Free Challah Crown
Beautiful, meaningful, impressive and delicious. These words should describe all breads but they don't. Luckily they define this gorgeous gluten free Challah Crown.
Additional Time
20 minutes
Total Time
1 hour
35 minutes
Ingredients
Gluten Free Challah Bread Ingredients
1/2 cup + 2 Tbs. warm water
1 package gluten free yeast (like Red Star -- not platinum! -- or Fleishmann's)
1 tsp. granulated cane sugar
1 cup vanilla dairy or non-dairy yogurt, at room temperature (So Delicious® Vanilla Coconut Yogurt)*
2 tsp. apple cider vinegar
5 large egg yolks at room temperature (slightly mixed)**
1/3 cup sunflower oil OR non-GMO canola oil OR extra virgin olive oil
4 Tbs. honey OR agave nectar OR maple syrup
4 cups (540 grams) gfJules™ All Purpose Flour
1 Tbs. psyllium husk powder (added for smoother texture, but if not using, reduce total water by 2 Tbs.)
3 Tbs. + 2 tsp. granulated cane sugar
1 1/4 tsp. kosher salt
1/2 tsp. baking soda
2 tsp. baking powder
Toppings
1 large egg, mixed
poppy seeds, sesame seeds, raisins, diced apples or other toppings or mix-ins (optional)
Instructions
Preheat your oven to 200º F, then turn it off; if you have a warming drawer, you may set that to low/moist setting instead. Prepare a baking sheet by lining it with parchment paper.
In a small bowl, mix together ~1/3 cup (5 Tbs) warm water, yeast and 1 teaspoon of sugar to proof the yeast; set aside.
In the bowl of your stand mixer, add the remaining wet ingredients (remaining 5 Tbs water, yogurt, cider vinegar, egg yolks, oil, honey) and mix until combined.
Whisk together the dry ingredients in a separate bowl (gfJules Flour; psyllium, 3Tbs + 2 tsp. sugar; salt, baking soda, baking powder).
After 5 minutes of proofing, stir in the bubbling yeast-water mixture into the wet ingredients (note: if your yeast isn't bubbling at this point, throw it out and start again with fresh yeast).
Gradually stir the dry ingredients into the wet until fully integrated, adding more warm water by the tablespoon only as needed to get the dough soft and so that the dough is not tight or stiff — you should be able to pull the dough gently without it feeling tight or like it would bounce back — if it's stiff, add more warm water then mix 1-2 minutes more on medium speed to integrate the additional water. The dough should be workable; keep in mind you will be braiding it, so it can't be too loose or too tight (think of Goldilocks dough!)
Once the dough is combined, divide it in half and divide each half into three equal-sized balls. The dough will be sticky, so use extra gfJules Flour on your hands and rolling surface (I like using a bench scraper like this one to help me cut and roll the sticky dough).
Roll each ball out into an 18-inch coil or log on a clean, flat surface dusted lightly with gfJules Flour. If you have trouble rolling because you've used too much flour, dab a bit of water onto the counter or mat.
Pinch together one end of each coil, wetting them slightly with water to help them join together at the top, then braid them, finishing by connecting them to the top of the other end in order to form a crown, or circular shape, or simply leave as a long braid.
Gently transfer to the parchment-lined baking sheet. Repeat for the second set of three balls. In the alternative, you can simply divide the dough in half, roll out into a flattened coil, then twist the coil upon itself and join at the ends to form a circular loaf; repeat with the other half of the dough ball.
In a small bowl, mix the extra egg (at room temperature) together and brush over each loaf, coating the entire surface. Sprinkle the seeds or any toppings at this point, then place the tray (covering the loaves with wax paper sprayed with cooking oil) in a warming drawer set to low heat, or into a warm location for 20 – 30 minutes. (Don't expect the bread to rise much at this stage).
Once risen slightly, place the uncovered tray in an oven preheated to 350º F (static) or 325º F (convection) for 20 minutes or until a toothpick inserted into the center of the bread comes out dry, or with some crumbs attached but no wet dough.
Remove to cool on a wire rack.
Notes
*If you don't have yogurt on-hand, another good dairy-free substitute is 1 cup full-fat coconut milk (shake it well before measuring) + 1 tablespoon vinegar (not malt vinegar) or lemon juice.
**for a vegan egg-substitute, check my comprehensive vegan substitutes article for ideas. I have not tried anything in this recipe yet myself, but one reader used 1 Tbs. Just Egg per yolk and her challah turned out beautifully!
***Another option I've been playing with in this recipe to reduce unsightly pocking from the yeast is to add 1 Tbs psyllium husk + 2 Tbs water and to use regular yeast, not quick rise yeast. I will continue to add notes from my experiments; please add yours in the comments!
Nutrition Information
Yield
20
Serving Size
1
Amount Per Serving
Calories

145
Total Fat

8g
Saturated Fat

1g
Trans Fat

0g
Unsaturated Fat

6g
Cholesterol

66mg
Sodium

188mg
Carbohydrates

11g
Fiber

1g
Sugar

9g
Protein

3g
Please keep in mind that nutrition information provided is per serving, which may vary. While we have taken care to provide you with the most accurate nutritional values possible, please note that this information may differ significantly depending on the exact ingredients and brands that you choose to use to make this recipe. Additionally, where options are given for ingredients, the resulting calculation may include all ingredient options instead of only one per line, skewing the totals significantly.
I hope you love this recipe as much as we do!
Pin it for later!
Summary
Recipe Name
Gluten Free Challah Crown
Published On
Average Rating




Based on 17 Review(s)