This easy gluten free fruit cobbler recipe is one everyone should have in their gluten free recipe box.
In fact, this recipe has been in my family for generations without alteration, except by me to make it gluten free, which was about the easiest switcheroo you could imagine, since all I did was sub in my gfJules Flour for wheat flour.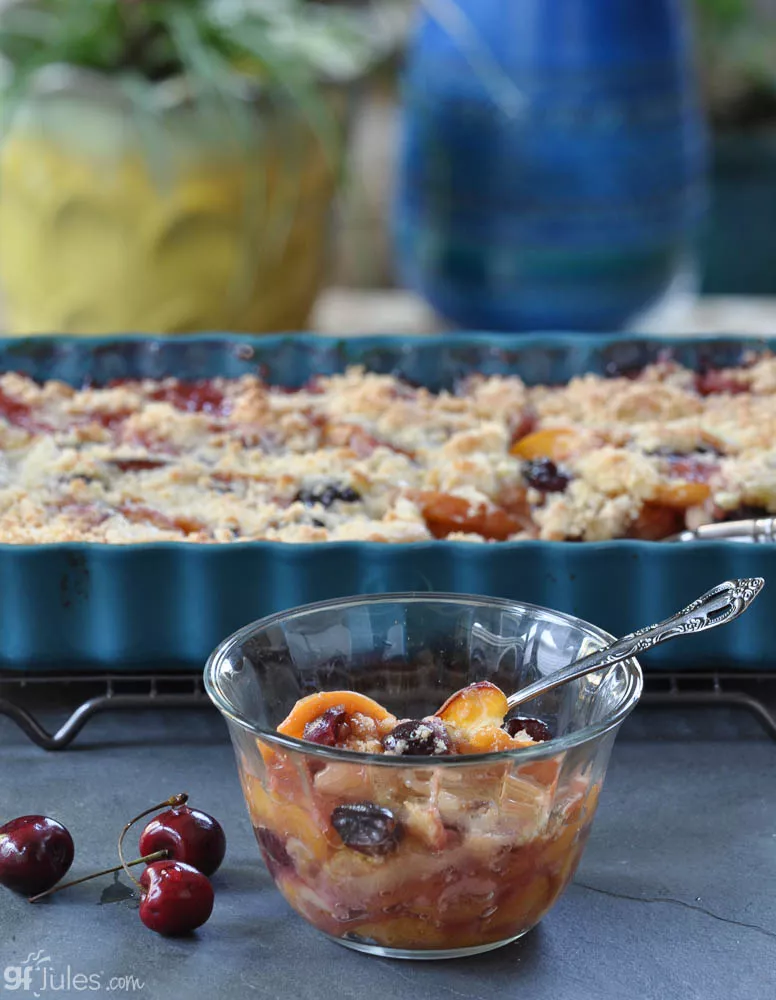 Use any fruit combo you like and you can serve this recipe multiple times a week without risking boredom (I might have tried that once or twice!). Peaches, mixed berries, strawberry-rhubarb, cherries, plum … there's no end to the combinations.
A few of years ago, I was visiting my family in North Carolina and picked up my mother's latest copy of Southern Living Magazine (you don't call yourself a Southerner who loves food if you don't know this magazine!).
Well would you believe that the cover of the magazine featured my mother's famous cobbler recipe?! Mind you, the editors didn't properly attribute it to my mother, but she's been making this cobbler ever since I can remember, and I'm older than I like to remember!
Totally simple, quick and versatile, this cobbler is one you can commit to memory – the topping only has 3 ingredients! And I think we've tried nearly every fruit combination there is — they all work! (of course, I'm open to suggestions if you think you have a combo that hasn't been tried yet, drop me a line!)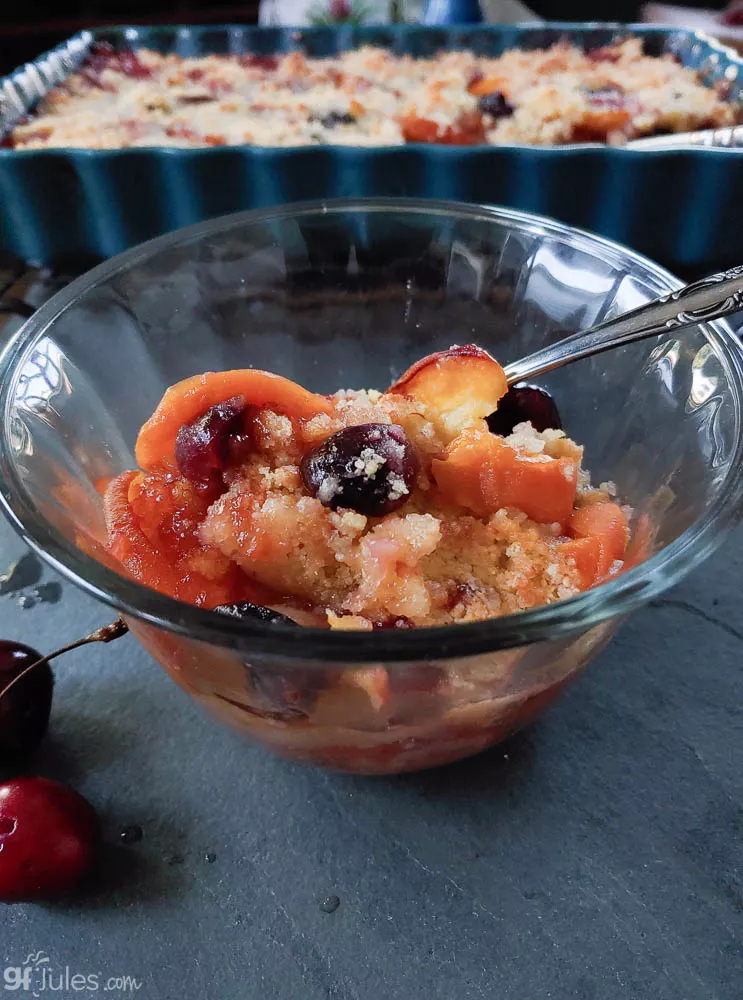 I made a peach-cherry cobbler this week which was heavenly. Of course, that only reminded me of how much I love blackberry cobbler, so I made one of those too! Use whatever fresh and lovely fruit(s) you have on hand, and enjoy making and eating this deliciously simple pleasure!
If you'd rather go for an old fashioned dumpling-like gluten free fruit cobbler, I urge you to try my aptly named Old Fashioned Gluten Free Cobbler — simply heavenly!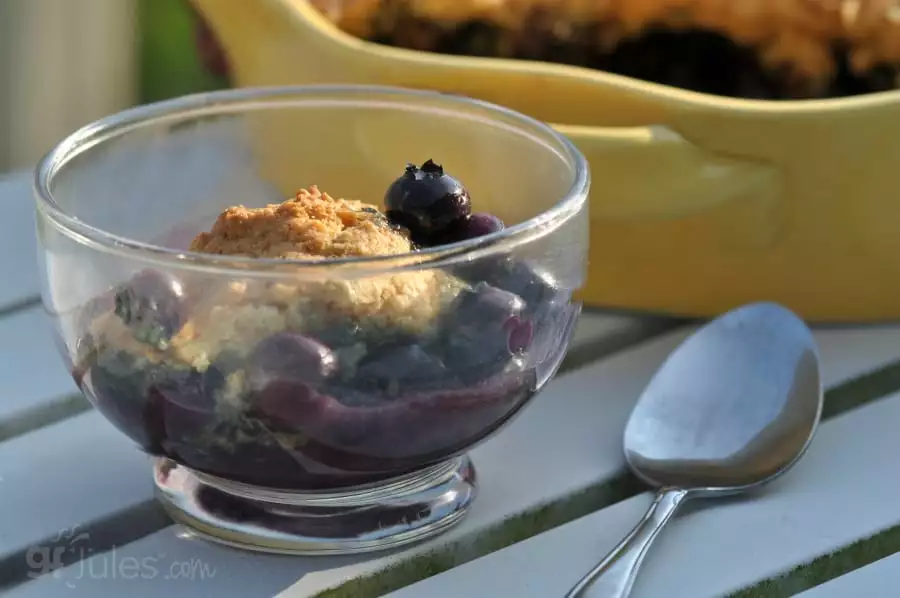 And lest you think that there are only 2 gluten free cobbler recipes on my site, think again! Give my Gluten Free Maple Pumpkin Cobbler a try this fall and you just may decide it's your favorite!
But back to the EASY fruit cobbler at hand, here are the steps. Again, so easy!!!
Arrange your cut fruit in an 8×8 or 9×13 pan:
Sprinkle on a little dash of sugar … or not. Depending on the ripeness of the fruit, you may need more or less sugar, or none at all.
Just mix up the one-bowl, 3 ingredient topping (double if you like more topping) with a fork. I prefer a higher fruit:topping ratio, so in this cobbler photo, I've used a single recipe of gluten-free topping to a double recipe of fruit, but it's totally up to you. Hey, it's YOUR easy gluten free fruit cobbler!
Then drizzle with melted butter or vegan butter. Since I used the larger, 9×13-ish sized pan, I used double the vegan butter (1/2 cup) even though I used the single recipe of topping. Then bake and you're done!
I find that finishing it up on convection setting (if you have it) crisps the topping up a bit, which is nice, but not necessary.
Then serve warm or cold, with or without ice cream, for dessert or breakfast (shhhhh!).
Yield: Serves 8
Easy Gluten Free Fruit Cobbler Recipe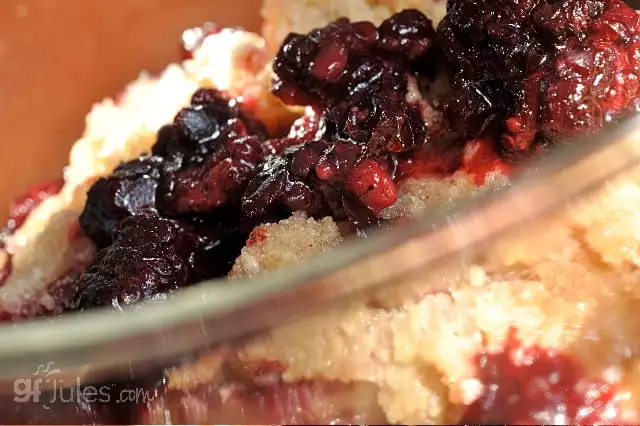 This easy gluten free fruit cobbler tastes as good with any fresh or frozen berries as it does with peaches, apples, pears, plums ... well, you get the idea. A quick and simple dessert that pleases everyone, even the cook!
Ingredients
FILLING
2 cups+ fresh or frozen berries, other sliced fruits, or rhubarb + berries
(enough to cover the bottom of an 8 x 8 baking dish or 9-inch pie plate)
1/4 cup granulated cane sugar (use less if your fruit is already very sweet
and ripe)
1 Tbs. cinnamon, optional (I like extra cinnamon on peaches; feel free to omit for berry cobbler)
TOPPING
1 cup (135 grams) gfJules Gluten Free All Purpose Flour (gfJules Flour
1 cup granulated cane sugar
1 egg* (see Notes for vegan option)
1/4 cup melted butter or non-dairy substitute (Earth Balance® Buttery Sticks)
Instructions
Preheat oven to 350° F.
Arrange cleaned and prepared fruit into an 8 x 8 baking dish or 9-inch pie plate (no need to peel peaches, apples, plums ...). Sprinkle with sugar (and cinnamon, if using). Stir together until mixed in the dish. Feel free to use more fruit and use a 9x13 dish instead if you prefer a higher fruit:topping ratio.
Combine the 3 topping ingredients (not the butter) in a bowl and stir with a fork until it forms a crumbly mixture. Sprinkle on top of the fruit and drizzle melted butter over top of the cobbler before baking.
Bake for 30-45 minutes, depending on the size of the pan. The fruit should be bubbly and the topping browning slightly. If you have a convection setting, use that the last 10 minutes of the bake for a crisper topping.
Serve warm, plain or with vanilla ice cream (I love So Delicious!® Vanilla Bean Coconut Ice Cream).
Notes
* For Vegan Option in place of egg, use: 2 Tbs. mild oil of choice + 4 Tbs. water + 4 tsp. baking powder whisked together. For added texture, I like to also stir in 1/4 cup chopped nuts like almonds or pecans or purity protocol gluten free oats or GF granola. Add more water or gluten free flour, as needed, to get the consistency of the topping so that you can spoon it out on top of the fruit.

Recommended Products
As a member of Amazon Associates and other affiliate programs, I may earn a small amount from qualifying purchases; this amount goes to fund this blog and does not cost you anything additional.
I hope you love this recipe as much as we do!
Pin it for later!