How gorgeous is this gluten free Apple Galette? Would you guess it's super simple to make a gluten free pie this impressive? Grab a cup of tea and let me tell you all about it!
While galettes have been a part of French baking for centuries, they have enjoyed a resurgence of popularity of late, owing either to their free-form, rustic, and distinctive look or because they're so easy, you don't even need a pie plate to bake one!
Throughout history, galettes have been know to wrap around everything from savory to sweet and can be made with all manor of ingredients. For our purposes, this rustic galette is gluten free and vegan and is taking the place of a pie plate, making it easy to bake a free-form fruit pie.
While I've layered apples in this particular pie, peaches, plums, pears … nearly any delicious fresh fruit would be just as perfect in our gluten free galette.
There's absolutely nothing fussy about this pastry – no wrong or right – and no two will ever look alike. The juicy fruits tucked inside help to keep the gluten free pastry soft, while the increased surface area created by baking on a pan without a pie plate keeps the outside pleasantly crispy, producing an entirely delightful result.
Again, use whatever fruit fillings you prefer, or that the season offers. Here, I've given you a traditional, albeit gluten free, Apple Galette with brown butter, but my cherry pie filling or any berry combination would be equally delightful. Taste the fillings before using in your pastry, as stone fruits tend to need more sugar and berries need less.
And don't feel bound to go sweet with your galette creativity – savory fillings would be no less delicious. In fact, as I'm pondering it just now, and a gluten free quiche made with in the style of this rustic Galette would be quite striking. Hmmmmm … dinner ….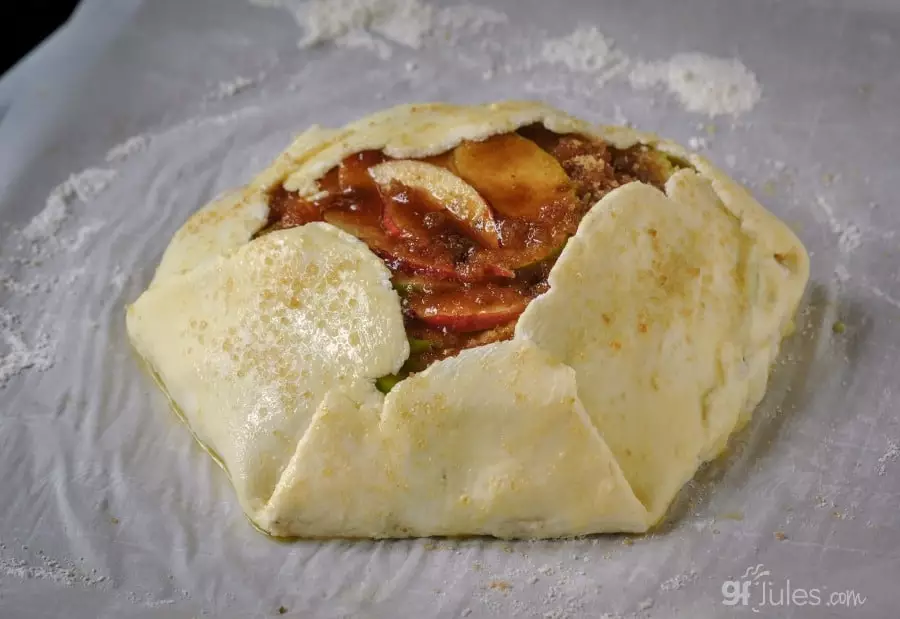 But back to the topic at hand: my gluten free apple galette recipe. I do hope you try it one day soon, and in case you're worried about the pie dough, set all worries aside! I have absolutely perfected the perfect gluten free pie dough recipe and I'm willing to share!
I have video tutorials, step-by-step directions and trouble-shooting guides so you'll be making gluten free pie crust like a pro. It's remarkably simple to make, form and even transfer my gluten free pie dough, as long as you're using my award-winning gfJules Flour (to give the dough s-t-r-e-t-c-h and lightness) and my tips and tricks, all found in my Gluten Free Pie Crust Recipe and Tips!
Maybe you've already heard about my gluten free pie crust recipe? It's always one of the most popular recipes on my gfJules Blog, and rightly so, since it's so different from any other gluten free pie crust. Light, flaky, buttery (even if you use vegan butter), and rolls and transfers like a dream.
Now doesn't that sound like a recipe you'd like to try? Perhaps in this gluten free apple galette recipe?! We've come full circle.
Yield: serves 3-4
Gluten Free Apple Galette Recipe
A rustic gluten free galette is just the thing when you're short on time, or nervous to make a full gluten free pie crust, top and bottom. No pie plate needed, this gorgeous pie looks different every time, and each one is beautiful.
Total Time
1 hour
10 minutes
Ingredients
3 large apples, sliced thin (Granny Smith, Pink Lady, Gala, etc.)
1 Tablespoon lemon juice
1 recipe gfJules Gluten Free Pie Crust
1/4 cup salted butter or non-dairy alternative
1 teaspoon pure vanilla extract or one vanilla bean, split lengthwise
3 Tablespoons brown sugar
1 Tablespoon honey (or agave nectar or pure maple syrup for vegan options)
demerara sugar for sprinkling (optional)
Instructions
Preheat oven to 375º F.
Wash and thinly slice apples; do not peel. Place slices in a large bowl filled with water and one tablespoon lemon juice to prevent browning.
Roll out pie crust onto parchment paper liberally dusted with more gfJules Flour. Arrange apple slices in a circle, leaving 1 ½ inches of dough as a border to wrap over the apples.
Continue laying apple slices on top of one another in an overlapping circle like pedals of a flower, getting narrower as the layers build.
In a small saucepan, melt butter and vanilla extract or vanilla bean with seeds scraped into the pot. Cook for 5-7 minutes over medium heat, or until butter foams and browns. Stir frequently so the butter does not burn.
Remove from heat and remove vanilla bean pod, if using. Set aside to cool slightly.
Brush apples with brown butter, then sprinkle with brown sugar and drizzle with honey over the top.
Gently lift the pastry edges to tuck over the sides and around the apple mound. Brush pastry with egg wash and sprinkle with demerara sugar, if using.
Slide parchment with galette onto a cookie sheet with raised sides (like a jelly roll pan).
Bake for 35-40 minutes, or until the apples are soft and the crust has browned lightly. Remove to cool on a wire rack.
Notes
This recipe makes one small galette. If you're feeding a larger party, double the dough recipe and the fillings.
Recommended Products
As a member of Amazon Associates and other affiliate programs, I may earn a small amount from qualifying purchases; this amount goes to fund this blog and does not cost you anything additional.
What will you fill this gorgeous galette with? I'd love to hear about your creations!
Pin for later!