Whether you like gluten free beer or not (and no matter which you might like), this gluten free beer battered fish and chips recipe is sure to please!
Light and crisp, this batter will take on some of the flavors of the beer you choose, and will liven up any flaky white fish. This one impressed even my picky son who finished his whole plate, proclaiming afterwards, "Mom, you should make these into fish sticks for us – even easier to eat!". I'll get right on that … as soon as I get more gluten free beer!
Gluten free beer battered fish and chips never last long enough in my house to get a decent picture. They really get gobbled up way too fast! Luckily, I snagged a few pieces the last time I made this recipe and just re-heated them afterwards in my air fryer.
Which brings me to the fact that these CAN be made in an air fryer. I actually loved the results of cooking this gluten free beer battered fish in an air fryer, with one caveat: you should flash fry them first.
Let me explain. Air fryers have baskets. Baskets have holes. Batter goes through holes. Messes are made. Fish + batter won't come off basket. Frustration ensues.
BUT, if you flash fry the fish in a pan just enough to cook the outside of the batter THEN put it into your air fryer, all is well in the world.
Light, crispy gluten free beer battered fish at home any time you like!
And making these homemade chips is so easy an air fryer. Check out my article on baking gluten free in an air fryer for more recipes and air fryer reviews if you're interested in adding one of these appliances to your kitchen. I even made homemade gluten free doughnuts in my air fryer — boom!
But don't think you have to have an air fryer to whip up this yummy gluten free dinner. You can deep fry or simply pan fry these fillets just as easily.
Can you tell which fillets were air fried and which were real-fried? I didn't think so!
One more note on ingredient choices for this recipe. Be sure to use naturally gluten free beer, not gluten removed beer. For more information on the difference, check out my article; for my gluten free beer tasting notes with loads of reviews so you can pick your favorites, be sure to check out that article linked here as well. You could also just use ginger ale (sweeter), a gluten free hard cider, or sparkling water/club soda if you prefer.
For this most recent batch, I used Holidaily gluten free beers. I really like using IPAs and Blonds for this recipe. I've also used Greens, Aurochs and Glutenberg with great success. I can't wait to hear which you choose for your gluten free beer battered fish!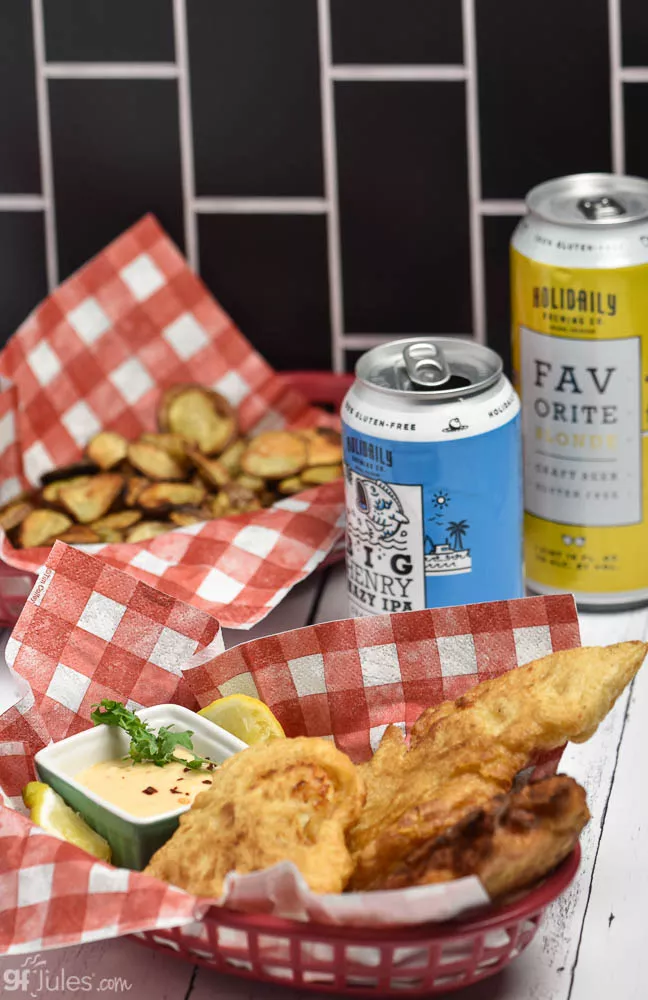 Also make sure you're using gfJules Flour, not some blend with lots of rice flour or funky tasting, gritty gluten free flours (like beans – ew!). You want light and crispy fish, right? Stick with what works!
As for fish, I prefer flounder, but another reader swears by using cod. He shared this yummy pic of his gluten free beer battered fish made with a similar recipe and my gfJules Flour (thanks Dave A!). He used this great gluten free beer batter fish recipe from Amanda at EatatOurTable who also loves using my gfJules Flour for her recipe.
Dave recommends adding really cold beer when whisking into the gfJules Flour. Dave also recommends cooking in a high-sided wok, which I tried and have to say worked really well in place of a deep fryer!
Remember, if you need some guidance about choosing the right gluten free beer for the job, have a look at some of my Gluten Free Beer Tasting Notes!
Enjoy this beer battered fish and chips recipe…sure to please even the pickiest eater!
Yield: 2 lbs
Gluten Free Beer Battered Fish and Chips
Gluten Free Beer Battered Fish And Chips just like you remember -- light and crispy, restaurant style food that's a real treat! Can be fried or made in an air fryer.
Ingredients
Chips
1 - 2 lbs small white potatoes, sweet potatoes or yams (use purple sweet potatoes for added color & nutrition!)
high heat cooking oil (like avocado oil) + extra virgin olive oil for brushing on potatoes
Fish
2 cups (270 grams) gfJules All-Purpose Gluten-Free Flour
2 tsp. baking powder
1/2 tsp. salt
1/4 tsp. pepper
1/4 tsp. cayenne pepper (optional)
1/4 tsp. dry mustard (optional)
16 oz. naturally gluten-free beer (Use soda water or ginger ale if not using beer) - may need more to thin batter
~3/4 cup (102 grams) gfJules All-Purpose Gluten-Free Flour for dredging
2 lbs. white fish fillets (like flounder, catfish, tilapia, cod, perch or haddock)
high heat cooking oil (like avocado oil, sunflower, grapeseed, nonGMO canola, peanut or regular olive oil ) if frying
Instructions
Chips
If using large potatoes, wash well, then poke several times with a fork. Place on a baking sheet and bake for 30-45 minutes, or until fork-tender. In the alternative, microwave the potatoes for 7-10 minutes, checking periodically and removing when fork-tender. Set aside and allow to cool.
When cool enough to handle, slice into 1/4- 1/2 inch rounds (skin on) or cut on an angle into steak-fry-size wedges.
If using small white or red potatoes, slice with mandolin or slice thinly with a knife.
To Bake:
Increase oven temperature to medium-broil. Cover a jelly roll pan or baking sheet with low sides with aluminum foil. Lightly cover with olive oil. Rub both sides of the fries in the oil, then spread out on the sheet so they are not touching one another. Broil for 5 minutes on highest baking rack. Flip each slice over and broil an additional 2 minutes, or until lightly browned. They burn easily at this point, so watch them closely!
To Air Fry:
Spray or brush with oil, sprinkle with salt, then place in air fryer basket. Set to "fries" setting on your air fryer, or fry at 350°F for approximately 15 minutes, depending on thickness of chips. Stir periodically if the basket is full.
To Fry:
Fill bottom of large skillet with high heat cooking oil and add chips when oil is hot. Stir frequently to toss and remove when desired crispness is reached.
Remove and serve warm with vinegar or ketchup.
Fish
In a flat-bottomed bowl or pan, whisk together dry ingredients. Form a well in the center and gradually pour in gluten-free beer, whisking it in until a thin batter is formed. Add beer slowly, so that you add only enough to make this thin batter. The batter should be pancake batter consistency. If it's too thick, it will be hard to cook through; too thin and it will slide off the fish.
In another flat bowl or pan, spread the additional cup gfJules All-Purpose Gluten-Free Flour for dredging.
Wash and cut the fillets on an angle if they are large, so that each piece is roughly 4 ounces in size. Dredge each fillet through the flour, then into the batter bowl, covering each side well.
To Fry:
Pour at least enough high heat oil into a large skillet or wok to cover the bottom of the skillet (if using a wok, fill bottom of bowl of wok about 1 inch). Heat to medium-high (if you have a thermometer, oil should be 350°F). For deep frying, fill pan with at least 2 inches of oil.
Lay each battered fillet in the hot oil (be careful of oil splatters!) and fry for 5-8 minutes, flipping half-way through, until crispy and lightly browned; time will depend on thickness of fish. Peak inside the middle of the first piece before removing from heat to be sure it's fully cooked and add time if necessary. Fish should be 145°F when done.
To Air Fry:
Oil the basket of your air fryer and set aside. Flash fry each battered fillet in hot oil for 1 minute per side, then transfer to air fryer basket.
Air fry at 350°F for approximately 10 minutes, flipping in the middle. Test to be sure the batter and fish are cooked through and temperature of the fish should be 145°F when done. Add time if necessary. If batter is particularly pale, spray with cooking oil and return to the air fryer for color.
Serve warm with gluten free tartar sauce, ketchup or plain. My family likes mixing ketchup with vegan mayo to make an easy dipping sauce.
What gluten free beer will you choose?
Pin for later!