Perhaps this is a rhetorical question, but can one ever have too many recipes for cinnamon bread, cinnamon rolls and cinnamon buns?
If you look through my recipe blog, you'll see clearly where I net out on this one, which is why I have no hesitation in sharing with you the newest addition to the collection, my Gluten Free Cinnamon Bread Recipe.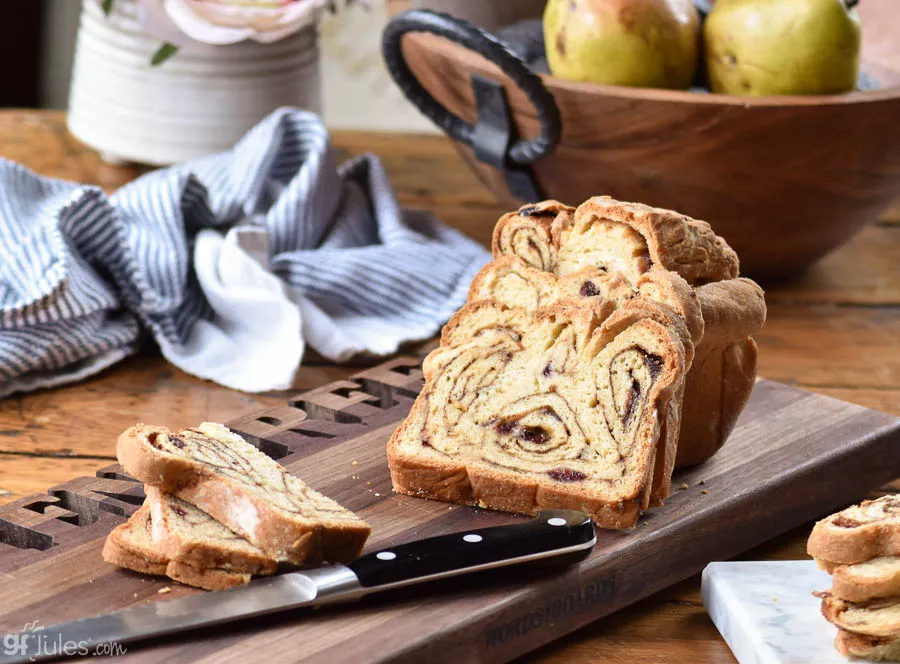 And may I just say that — at least for the moment — I'm infatuated with this heavenly gluten free cinnamon swirl bread and it's my total favorite recipe. Like I said … for the moment.
I know as a recipe author, I'm never supposed to say that (it's like choosing your favorite child!) but I've made so. darn. many. of these loaves in the past few weeks, that I know this recipe intimately and I absolutely adore it.
I love every little swirl, every tuck and twist.
I love that this gluten free bread smells yeasty and delicious, but also that it has subtle sweet, cinnamon undertones that fill my kitchen while baking and make me want to grab a pat of butter and wait impatiently by the oven door.
I love that I can't wait to slice into each loaf I bake just to see what delicate design is waiting for me. And within each loaf, how the threads of cinnamon-sugar weave their way through the loaf differently every time, so each slice bears a different imprint of sugar.
I'm sure next week I'll be on to the next infatuation with some other new favorite recipe, but I can say with confidence that I'll still always love this recipe. So what I want to know now is how much will YOU love this recipe? I can't wait to see YOUR pictures of your swirls and hear all about how you've decided to make your gluten free cinnamon bread.
There is no real wrong way, so long as you follow the ingredients I lay out — please don't veer off course with the ingredients and then question why your loaf is dry or flat or sinks or crumbles or won't roll up. Every ingredient is chosen for a reason, and the gluten free flour is the very most important!
If you use my award winning gfJules Bread Mix, you will be rewarded with an amazingly beautiful, soft, just-like-Pepperidge-Farm-Cinnamon-Swirl-Bread which you can proudly share (or keep all to yourself!) with any gluten eaters in your life. You'll also have no trouble with the dough because it will behave itself and roll easily for you without crumbling or falling apart (you'll see in the video!).
If you follow the from-scratch recipe instead, there are several more dry ingredients you'll need to gather, but as long as you're using my #1 Voted gfJules Flour as the base, you should have no troubles.
My video shows how to make this delightful recipe from start to finish using the method I choose most often: three rolls of dough. But you can make it using any variation on that technique. One choice would be to simply use one roll of dough, as pictured here below.
Just roll the dough out so it is as wide as the length of your bread pan (usually around 8.5 – 9 inches), then spread the melted butter, cinnamon and brown sugar + raisins or cranberries, if using, then roll up and compress the roll a bit if need be to fit into the length of the pan. Transfer the roll to the pan, seam-side down, brush with more melted butter and you're done. It's ready to rise and bake!
Another method is to roll out the dough as shown in my video or the photos above, but then to cut into cinnamon roll size pieces and then to lay the pieces into the pan in various places like a gluten free monkey bread. This method makes more of a gluten free cinnamon roll bread and is super fun to cut into!
I highly recommend using the icing option with this method, as it completes the gluten free cinnamon roll bread taste and look. Here's a peek at what it looks like after baking but before icing.
The icing on this gluten free cinnamon roll bread really makes it next-level gluten free breakfast bread amazing, but it's definitely not required. This gluten free cinnamon bread is perfectly delicious undressed.
Which method will you choose? One big swirl or three? Four? Or perhaps gluten free cinnamon roll bread style with heavenly icing on top? You can't go wrong with any!
Yield: 1 loaf
Gluten Free Cinnamon Bread Recipe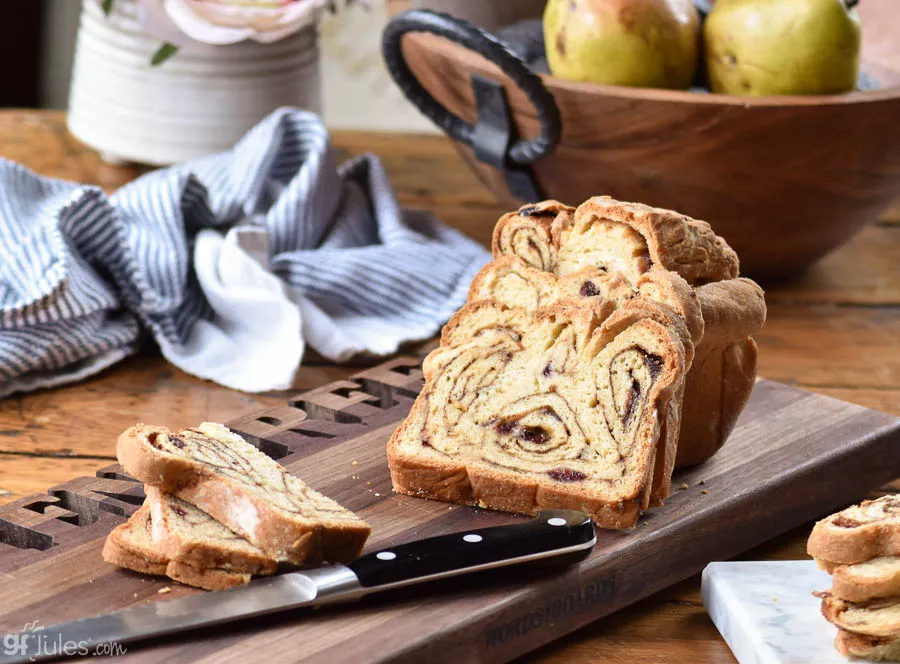 The icing on this gluten free cinnamon roll bread really makes it next-level gluten free breakfast bread amazing, but it's definitely not required. This gluten free cinnamon bread is perfectly delicious undressed.
Additional Time
30 minutes
Total Time
1 hour
40 minutes
Ingredients
Dry Ingredients
1 tsp. ground cinnamon (optional)
OR
3 cups (405 grams) gfJules® All Purpose Gluten-Free Flour
1/4 cup flax seed meal (or gluten-free buckwheat; or millet; or sorghum flour)
1/4 cup dry milk powder, dairy or non-dairy (e.g. Coconut Milk Powder), not reconstituted
1/2 tsp. baking soda
2 tsp. baking powder
1 tsp. ground cinnamon
1 tsp. sea salt
Wet Ingredients
2 Tbs. pure maple syrup
1/2 cup yogurt, room temperature (Greek yogurt not recommended)
3/4 cup milk of choice, room temperature (I use almond milk or coconut milk)
1 tsp. apple cider vinegar (not necessary if using gfJules® Bread Mix)
1/4 cup extra virgin olive oil
2 large eggs (OR for vegan use 2 Tbs. flax seed meal steeped for 5 minutes in 6 Tbs. hot water)
1 tsp. pure vanilla extract
1 Tbs. rapid rise or bread machine yeast (like Red Star Quick Rise® -- or use yeast packet included with gfJules® Bread Mix)
Cinnamon-Sugar Mixture
1/4 cup melted butter or vegan butter (e.g. Earth Balance® Buttery Sticks)
3 Tbs. brown sugar or coconut palm sugar (or granulated cane sugar)
1 Tbs. cinnamon
1/2 cup raisins or dried cranberries (optional)
Icing Ingredients
1/2 cup confectioners' sugar, sifted
1 Tbs. milk of choice (canned full fat coconut milk is wonderful, but not required)
1/2 tsp. pure vanilla extract
Instructions
If not using my bread mix, whisk these dry ingredients together in a large bowl: GF flours, milk powder, baking soda, baking powder, cinnamon and salt.
In the large mixing bowl of a stand mixer, stir together the wet ingredients: maple syrup, yogurt, milk, apple cider vinegar (if not using my gfJules® Bread Mix), oil, egg or replacer and vanilla extract.
Gradually add the dry ingredient mix in with the wet by pouring slowly into the wet bowl while mixing with the paddle attachment or stirring by hand.
Once incorporated, add the yeast granules; beat well for 1 – 2 more minutes.
Preheat oven to 200º F then turn oven off. Line a loaf pan with parchment (recommended) or oil and lightly flour with gfJules Flour and set aside (bread pan should be at least 8.5 x 4.5 inches interior dimensions).
Melt the butter/vegan butter and set aside. Mix cinnamon and sugar in a bowl.
Choose your method:
Scoop either all of the dough, or one third or one quarter of the dough (as in the video) out onto a surface dusted well with gfJules Flour. Roll gently into an elongated shape -- the width should be the same length as your pan (so, 8.5 or 9 inches for most pans).
Brush surface with melted butter or vegan butter, then sprinkle cinnamon-sugar mixture across all of the dough and add raisins or cranberries, if using. Gently roll up the dough from the long end so that the roll will be the length of the pan when completely rolled. If it expands while rolling, that's ok, just gently compress both ends together so that it will fit into your pan when you are done rolling.
Either transfer the entire roll to the prepared pan or cut into smaller cinnamon roll size pieces and arrange in the pan. Repeat with remaining dough if rolling in thirds or quarters. A bench scraper makes the rolling and the transferring process easy.
Brush the top of the dough with remaining melted butter, then cover with an oiled piece of parchment or wax paper. Set the pan aside to rise for 30 minutes in the pre-warmed, but OFF oven, or other warm spot.
Remove from oven after 30 minute rise and preheat the oven to convection bake 325º F or static oven 350º F. Remove the cover from the raised dough and transfer to the oven when it comes to temperature. Bake on a low-middle oven rack.
Cook for approximately 50-55 minutes, or until the crust is browning nicely and a toothpick inserted into the center of the loaf comes out clean (internal temperature should reach 205º F -- check with instant read thermometer).
Remove to a cooling rack. When cooled for 15 minutes, gently lift up on the parchment to remove from the loaf pan to finish cooling before slicing.
If icing, prepare the icing mixture while the loaf cools.
In a medium bowl, whisk the sifted confectioners' sugar, milk and vanilla. Add only enough milk to form a thick icing so that the icing will not be too runny; you can always add more milk if needed. If it becomes too thin, whisk in more confectioners' sugar.
When the loaf is fully cooled, spread icing on top of the loaf and allow it to drizzle down the sides for prettiest effect.
One more look at this gorgeous gluten free cinnamon bread. I promise you it tastes even better than it looks! And if you're looking for that pretty gluten free board, check out
Words with Boards
!
If you're looking for a gluten free Cinnamon Quick Bread Recipe, you know I have one of those.
And I have a great gluten free Cinnamon Raisin Bread Machine Recipe (also works great in the oven!).
And gluten free cinnamon rolls? I have at least six recipes … I may have lost count! Here's one of my favorites: Mindy's Famous Gluten Free Cinnamon Rolls. Oh and here's one for Gluten Free Cinnamon Rolls with NO Yeast! And here's my grandma's Gluten Free Cinnamon Sticky Buns (I made them gluten free)! Just use the search bar here on my blog and you'll find what you need — so many delicious choices!
Pin this one for later!