Here it is: the much anticipated gluten free sourdough bread recipe!
Apologies to everyone who has suffered through the various pictures of gluten free sourdough bread I've been posting over the past weeks; I understand it probably feels like I'm being a giant tease, but it's been so hard to contain my excitement, that I've just had to share!
Pictures like this gluten free sourdough made in my Emile Henry bread baker …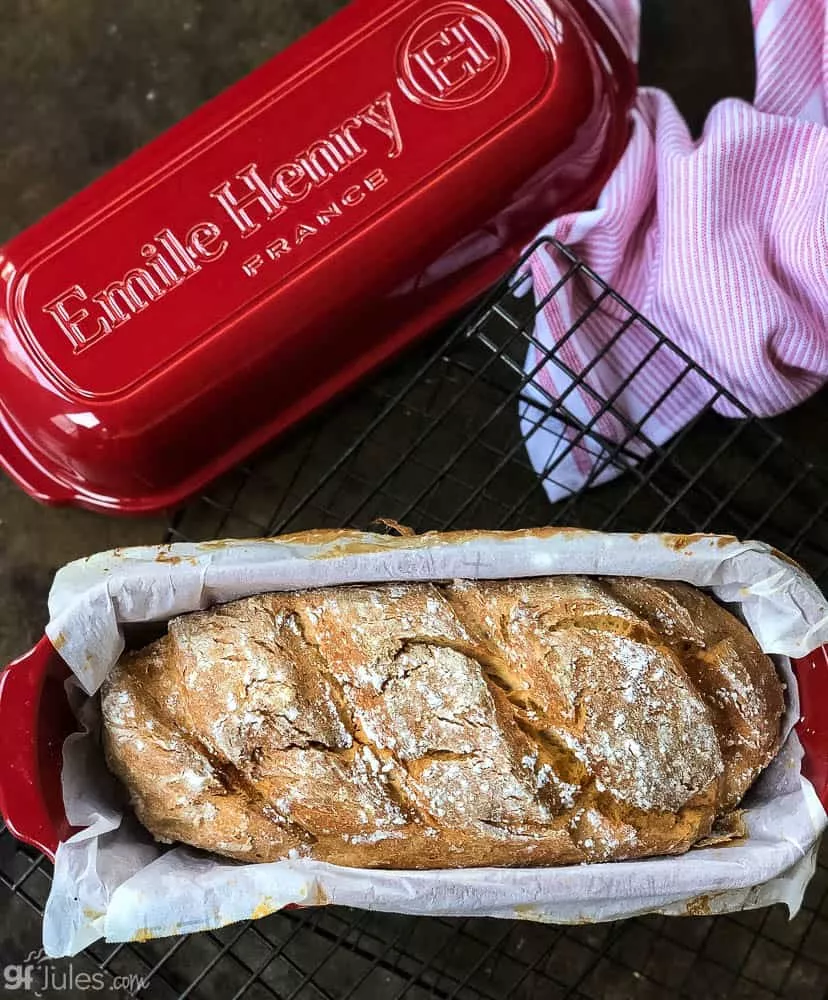 or this gluten free sourdough baked in a Pullman Pan …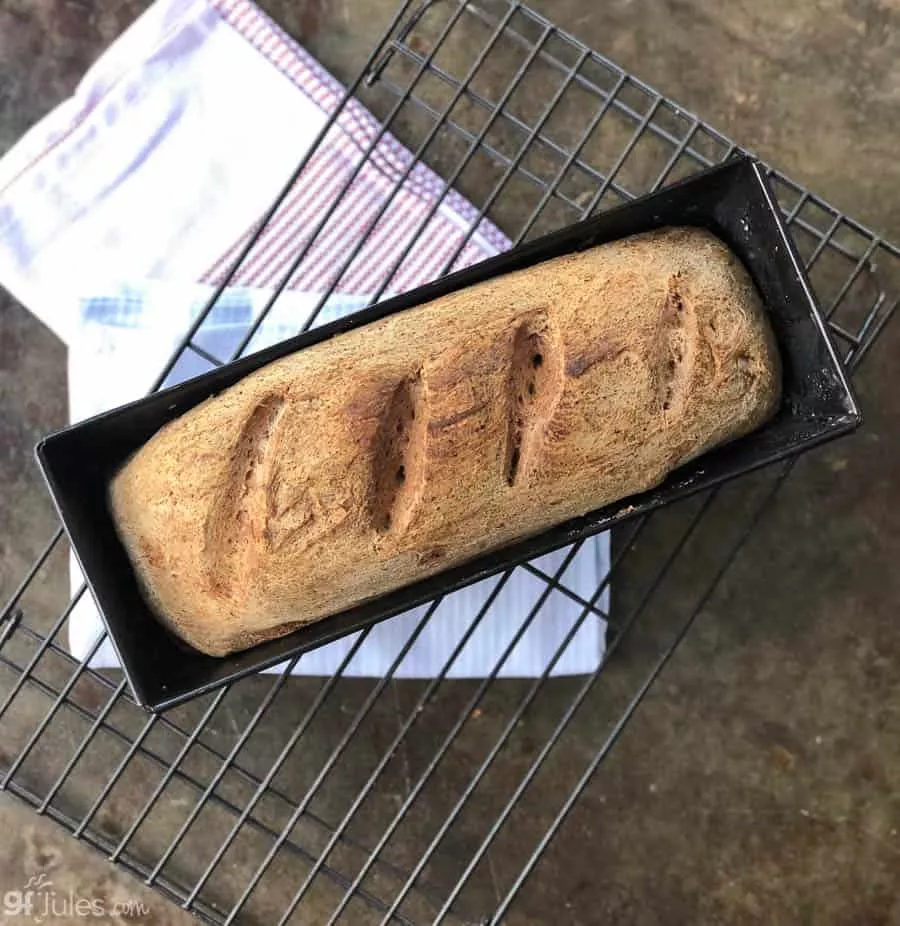 or this gluten free sourdough baked as a boule without a pan …
I've baked experiment after experiment, tweaking it here and there to account for lots of variables. The many many weeks' long process has been painstaking, but at least we've enjoyed tons of gluten free sourdough lately (by the way, leftover sourdough makes an insane overnight gluten free French Toast Casserole!).
I urge you to hang in there and read through my entire post, as I outline what has worked best and what has not worked best for me. There are definitely some tricks of the trade. But let me assure you that you can (and with this recipe, you will) enjoy sourdough again!
Gluten Free Sourdough Basics
For those who love and miss sourdough, take heart! The art of making sourdough isn't lost without the gluten. There's still a lot of feeding, caring and waiting for the starter to mature and bloom into all its potential.
I've actually made so much starter that I've given some away to neighbors with the promise of sharing the gluten free sourdough recipe soon (not soon enough, I am aware), but I just couldn't throw any away when I've tended to it for so long! It's like a little sourdough baby and you just can't toss it out — I care about it! It's "alive."
You'll see when you make this gluten free sourdough starter; you'll see. You won't want to discard any of the "extra" either. It's precious.
Some things are the same about making gluten free sourdough bread as they are with making any other gluten free bread. There's no kneading the bread and stretching the gluten because there's no gluten! Just follow my instructions to the letter, use my gfJules Gluten Free All Purpose Flour, and sit back to watch the magic happen.
In anticipation of many questions to come, this recipe and process was developed using my gfJules Gluten Free All Purpose Flour because it works, I can rely on it every time, it's easy, and it doesn't taste funky or have any grit to it. If you try this recipe with another gluten free flour or blend, it really may not work, so please please please don't even bother to try! But if you do, please don't leave comments about how it didn't work, because I'm telling you so before you waste your time.
Gluten free flours are tricky business. It took me two years to develop my original blend way back in 2003 (I've been gluten free since 1999!) and I've been tweaking and improving it ever since. Just because you think you can read ingredients and intuit how much of anything to use or to buy something off the shelf that sounds similar … you can't. It won't be the same, and the results won't look like those pictured.
Not to put too fine a point on it, but tenths of a percentage point difference in proportions and a different brand or country of origin for any given ingredient are things that can make huge changes in outcomes. It amazes me all the time how tiny variances make big differences.
Which is why I developed my gfJules Flour to begin with. Selfishly, I didn't want to have to make it in my kitchen every time I baked! And unselfishly, I wanted to prevent fellow gluten-free bakers (and newbies to gluten free baking) from having to mess around with mediocre flours only to achieve mediocre results. Gluten free baking — and specifically gluten free sourdough bread baking — can be so rewarding and share-worthy! You'll see!
For more help with gluten free bread baking, in general, hop to my 18 Top Gluten Free Bread Baking Tips.
So back to the recipe at hand.
Making Gluten Free Sourdough Starter
You'll first need to make the gluten free starter.
ONE QUICK NOTE: while most dry yeast is gluten-free, some are not. There is a new Platinum Sourdough Yeast out from Red Star which is made with both rye and wheat. DO NOT USE THIS YEAST to create your gluten free starter!
The premise behind any sourdough is that it starts with … you got it, starter.
You'll need to be sure you have a non-reactive container to store your starter in: glass, glazed pottery, stainless steel, or food-grade plastic will work. Make sure the container is large enough to hold your starter for the duration — it will grow!
I found that transferring my starter to a bowl to mix in more gluten free flour and water and then transferring it back to jars worked for me, but you may find another method that you prefer.
You'll also want to have some cheesecloth or muslin to cover your starter for the first week or two when it's on the counter. The porous material will allow yeast in the air to settle on the starter and help to "feed" it.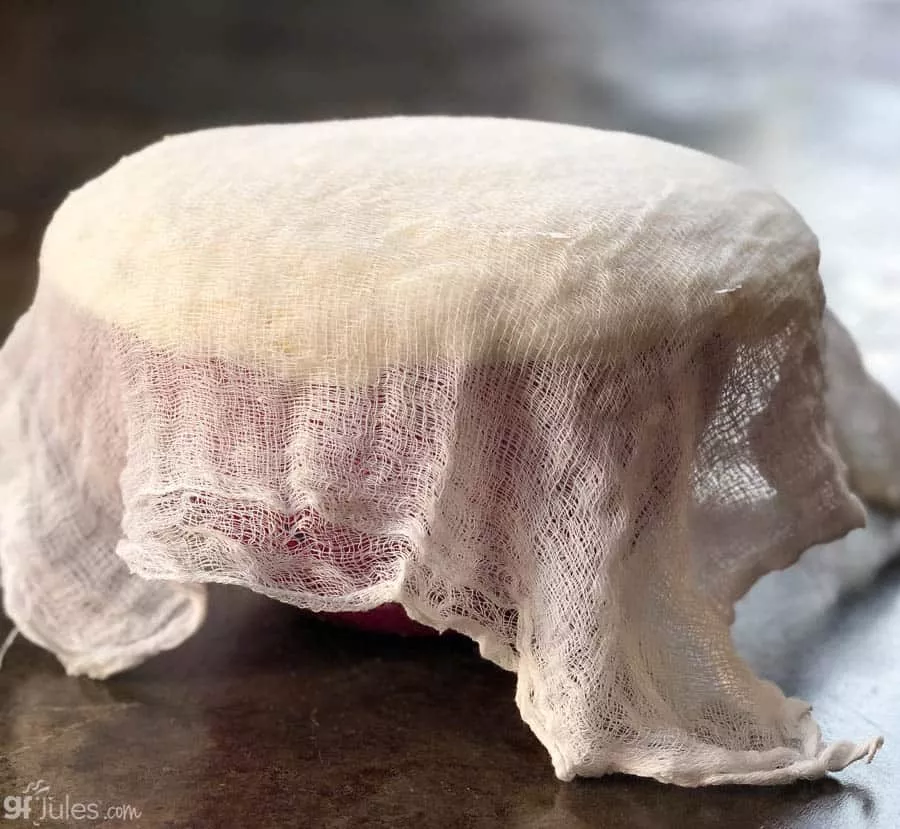 Gluten Free Sourdough Starter Recipe
(Note: while I have only made the gluten free sourdough starter in the measurements given below, I have discussed this with other readers and using the same proportions — but halving or quartering the recipe — does appear to yield the same results. Meaning you may make the starter with 1/2 or 1/4 of the below recipe.
Furthermore, the below recipe has been modified to reflect the notes from other readers over the past many months who have added their recipe tips from their own experimentation. Many thanks to all who have taken the time to contribute!)
Please read through all the steps below before emailing me with questions. I have made every attempt to address most issues for you, and your fellow gluten free bakers have also addressed many questions in the comments.
The number one issue is that folks feel like their gluten free sourdough starter isn't active enough and are afraid they must throw it out. Please DON'T!
Read the tips below, but here are the best tips for re-activating your gluten free sourdough starter, listed out for you again for easy reference:
Add another 1 Tablespoon apple cider vinegar.
Add 1 teaspoon more yeast or yogurt.
Add 1 tablespoon honey or agave, maple syrup, date syrup or coconut nectar.
Alternate adding a whole grain gluten free flour like quinoa, teff, buckwheat, millet, sorghum, brown rice … in place of gfJules Flour. The protein and wild yeasts more likely to be present in these flours may help to re-energize the starter.
Yield: 1 sourdough starter
Gluten Free Sourdough Starter Recipe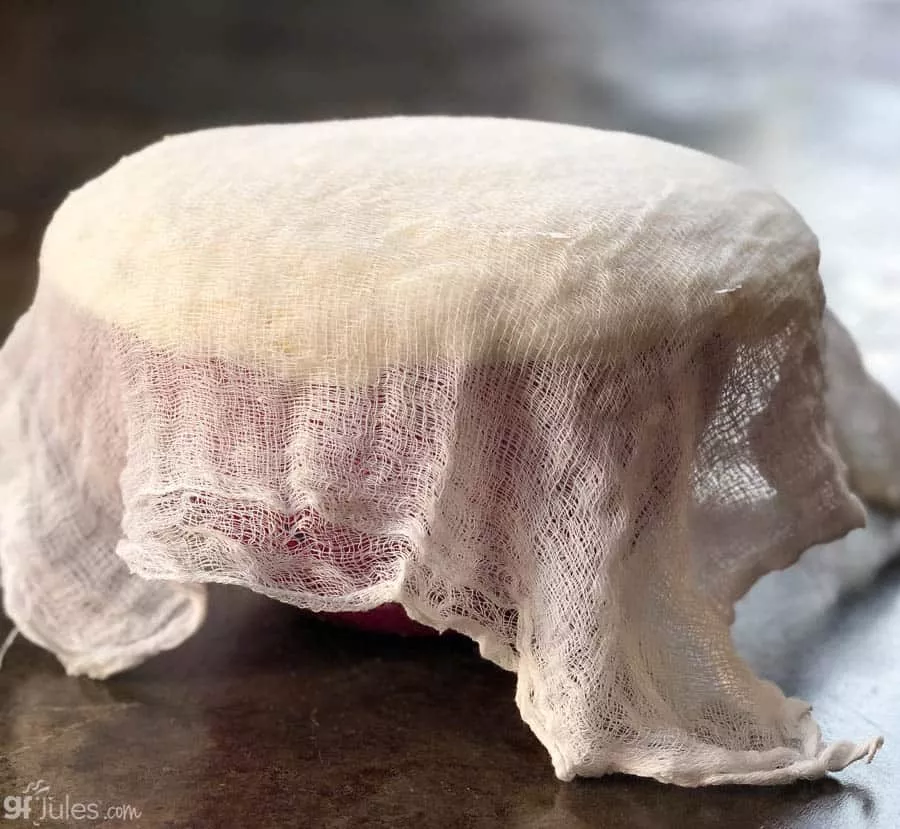 Making a homemade gluten free sourdough starter can be a hugely rewarding process! Not only does starter make a lovely gluten free sourdough bread, but it can also make pancakes, muffins, cakes ... the yummy possibilities are nearly endless!
Ingredients
1 cup sifted gfJules Gluten Free All Purpose Flour (135 grams) OR 1/2 cup gfJules Flour PLUS 1/2 cup ONE of: sorghum flour; buckwheat flour; teff flour; quinoa flour, millet flour, brown rice flour
1 cup filtered water - room temperature
1 Tablespoon apple cider vinegar (with "the mother" - shake the bottle)
either 1 teaspoon gluten free dry yeast OR 2 Tablespoons yogurt (dairy-free works fine)
Instructions
To make the gluten free sourdough starter, add starter ingredients to a non-reactive bowl or container made of glass, stainless steel or food-grade plastic.
Whisk together until no lumps are present and all the flour is incorporated, then set aside with a loose cloth covering the top. The room should be at least 70F, or place it in a warmer location like near your oven or in a warmer room.
Allow the starter to sit, loosely covered, for 24 hours then discard half the starter (about 1/2 cup). Add to the remainder of the starter another 1 cup (135 grams) gfJules Flour All-Purpose Flour (or 1/2 cup gfJules and 1/2 cup alternate GF flour listed above) and 1 cup cool filtered water (if your kitchen is particularly warm) or lukewarm filtered water (if your kitchen is particularly cold).
Re-cover and allow the mixture to rest for 24 hours.
At this point, the starter should show signs of activity, but if not, don't despair, and don't throw it out! Repeat the halving and discarding and replenishing step every 12 hours (or as your schedule allows) until the starter begins to bubble and rise (becomes active).
If it does not seem active after 2 days of this feeding cycle, try one or more of these things: stir in another 1 tablespoon apple cider vinegar; switch to 100% of whole grain gluten free flours listed above; stir in 1 Tablespoon honey; or try moving it to a warmer location.
*Also, be sure your starter is not too thick. It should be the consistency of pancake batter, not dough.* Add more filtered water if necessary -- if the starter is too thick, it cannot bubble and grow.
Once it seems to have come alive, continue feeding the starter 2 times a day in the same way (discard + add flour and water). You can place some of the more active discards in a separate container if you're like me and can't bear to throw it away each time! Then you'll have simultaneous starters going. The discard process gives the yeast proportionately more food to digest each time it's fed, so it's a necessary part of the process.
Continue this process for 7 days OR until the starter doubles in volume or looks very bubbly and active within 6 hours after feeding. At that point, feed one more time, then allow to rest for 6 -12 hours before using. If not using for a recipe right away, or after using some in a recipe, with remaining starter, transfer to another container that can be covered and placed in the refrigerator until ready to use. If the container has a lid, DO NOT tighten it completely. Feed starter once a week if stored in the refrigerator.
As I mentioned earlier, I found it hard to part with any starter by tossing it down the drain, but traditional methods say to feed the starter and then discard all but 1/2-1 cup of starter; many times, I divided it into another container and gifted the starters to ambitious gluten free friends. You could also use excess starter (once active) for other recipes like coffee cakes, scones, muffins, pancakes ... just use your gluten free starter in place of yogurt or sour cream or even milk in many recipes!
Every time you use the starter for baking, pull it out the night before to allow it to come to room temperature and feed it again. Ideally it would be fed and sit for 12 hours before using. Once you've added the starter to your recipe, feed the remaining starter again and return to the refrigerator.
Note that you may use your gluten free sourdough starter right from the refrigerator, whether you've fed it again or not. If you have recently fed it, it will be more active, but even if not, it should still rise your dough. Allowing it to come to room temperature first will bring faster fermentation though.
Now that you have your active starter, you're ready to bake your gluten free sourdough bread!
Scroll down further in this post for the GLUTEN FREE SOURDOUGH BREAD recipe.
For best rise, feed your gluten free sourdough starter 4-12 hours again before using it and bring to to room temperature (if stored in the refrigerator)
You may still use the starter stored in the refrigerator that wasn't just fed; your loaf will have less springiness and will take a lot longer to proof.
Using starter that is not fed a few hours before will produce a loaf with more sour flavor.
Unfed starter can still rise the sourdough, even after two weeks in the fridge. Bring to room temperature before using, if possible.
Baking Gluten Free Sourdough — Choosing the Right Pan
As you can see at the top of this post, there are many different options when it comes to baking your gluten free sourdough bread. If you prefer to make an artisan-style loaf, no bread pan is needed.
Follow along with one reader's VIDEO of how she made her beautiful gluten free sourdough loaf using with this recipe and this artisan method following clicking here to watch!
For that method, I found that lining a large glass bowl with oiled parchment sprinkled with more gfJules Flour was the best way to support the bread as it rose.
Once risen, I simply lifted up on the parchment and laid it out onto a baking sheet for the bread to bake.
The bread will take more of a free-form shape, but it's really beautiful and impressive!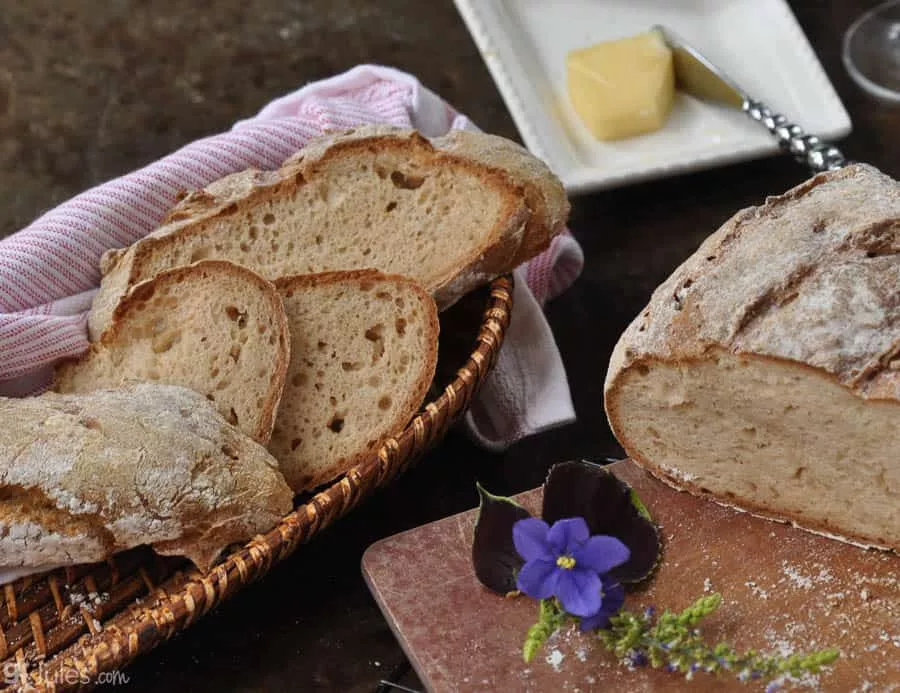 Using either the artisan or bread pan method, you may choose to dust the top of the loaf with gfJules Flour before baking for a more rustic look, or simply brush olive oil onto the top, or both.
I like the look of the flour with the golden finish of the olive oil in combination, so most of my loaves pictured are done that way.
Allow the dough to rise covered with oiled plastic wrap to help keep the loaf warm and moist. I like putting the loaf into a preheated 200F oven, then turning the oven off, but turning the light on. I do this with the bread rising in either the bowl or the oiled and floured bread pan.
You can allow the bread to rise here for a minimum of 1 1/2 hours or up to one day if you're baking egg-free.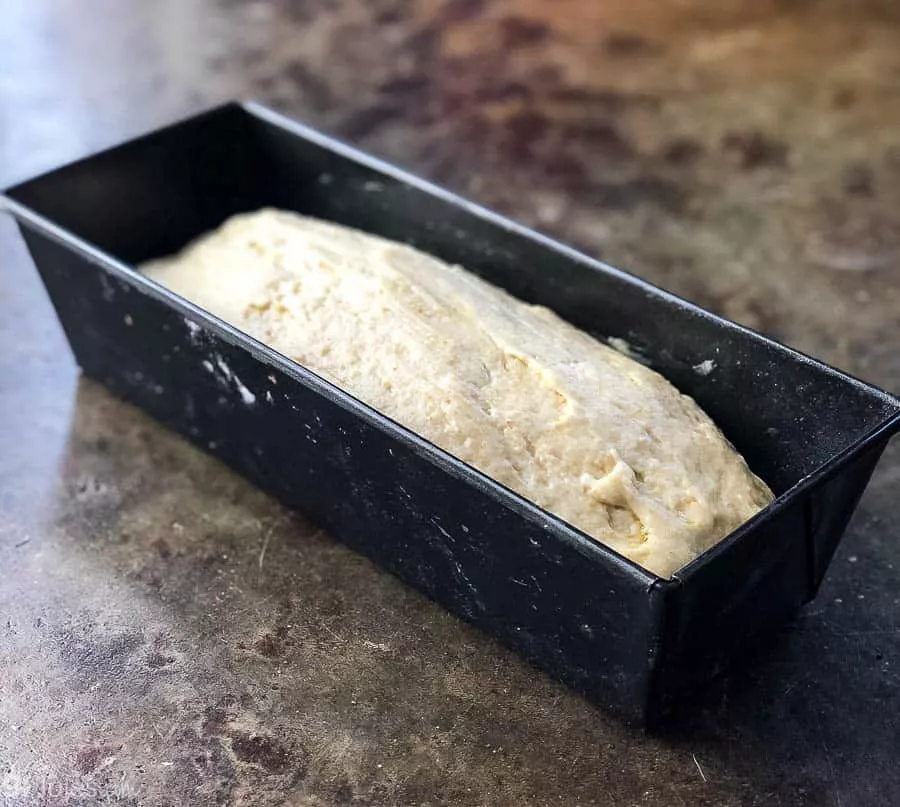 The bread won't have risen a lot, as most of the rising happens when it's baking.
Feel free to oil and flour the bottom and sides of the pan or use lightly oiled and floured parchment for easier removal from the pan.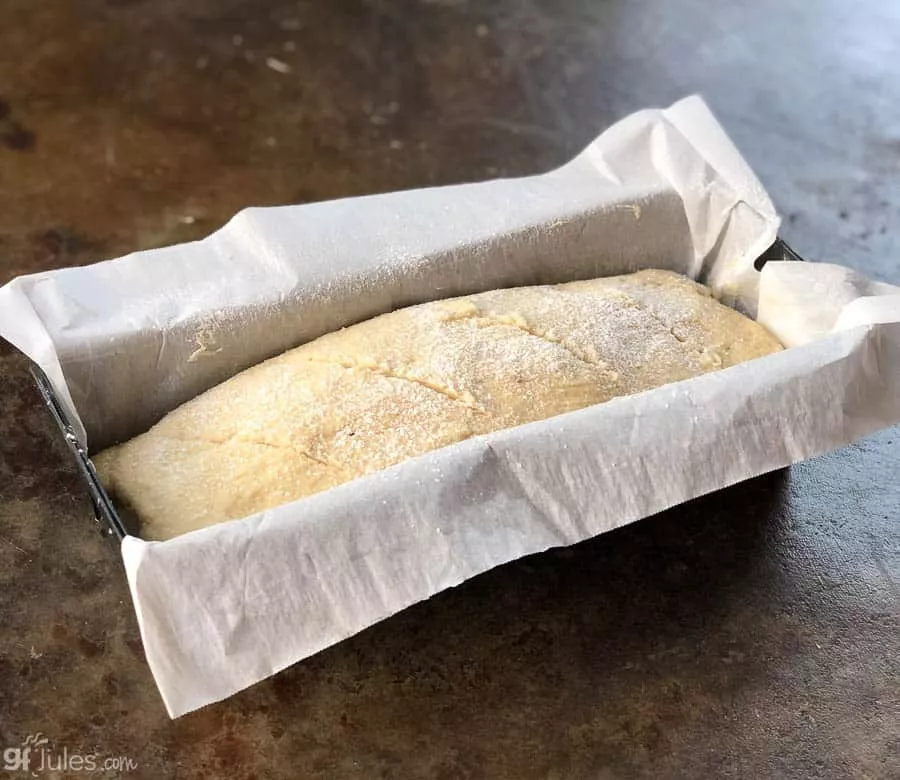 After rising, cut slits in the top of the loaf to direct the rise. Since the oil and/or the flour were applied before the slits were cut, the inside of the slits will appear different from the crust and it gives the sourdough the hand-made look it deserves.
Regarding bread pans, I experimented with all kinds and sizes. My personal preference was the Pullman Pan that I used in most of these photos. The bread dough is a bit too voluminous for a traditional 9 x 5 (or smaller) bread pan; in those, this wet dough would rise high and then tended to collapse a bit, leaving some un-cooked looking areas in the center.
The Pullman Pan (mine is 12 x 4 1/2) seemed to be the perfect size to allow the bread to rise with support up the taller sides.
The time it takes to bake this bread will differ based upon the pan used and of course, on individual oven variations. I highly recommend buying an internal thermometer to take the bread's temperature before removing it from the oven. The internal temperature should be at least 205F before removing it from the oven to cool.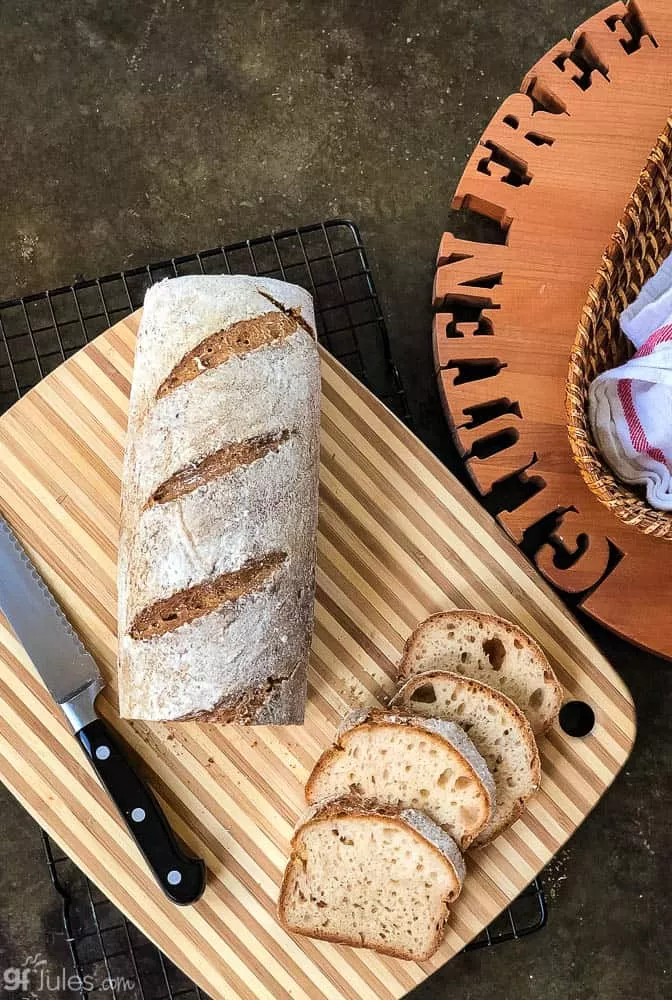 How to Make Gluten Free Sourdough Taste Sour
There are three main distinguishing features of sourdough: taste; smell and texture. You might expect that the most difficult feature to achieve in gluten free sourdough would be texture, but as you can see from the photos, the artisan texture, open cell structure and crunchy crust are present in each of my loaves made with my gfJules Flour or my gfJules Bread Mix.
The smell is something that is quite noticeable from the starter. It should be tangy and rather sour smelling to know it's really active. If your starter isn't smelling very sour, it needs to age longer and/or be fed more.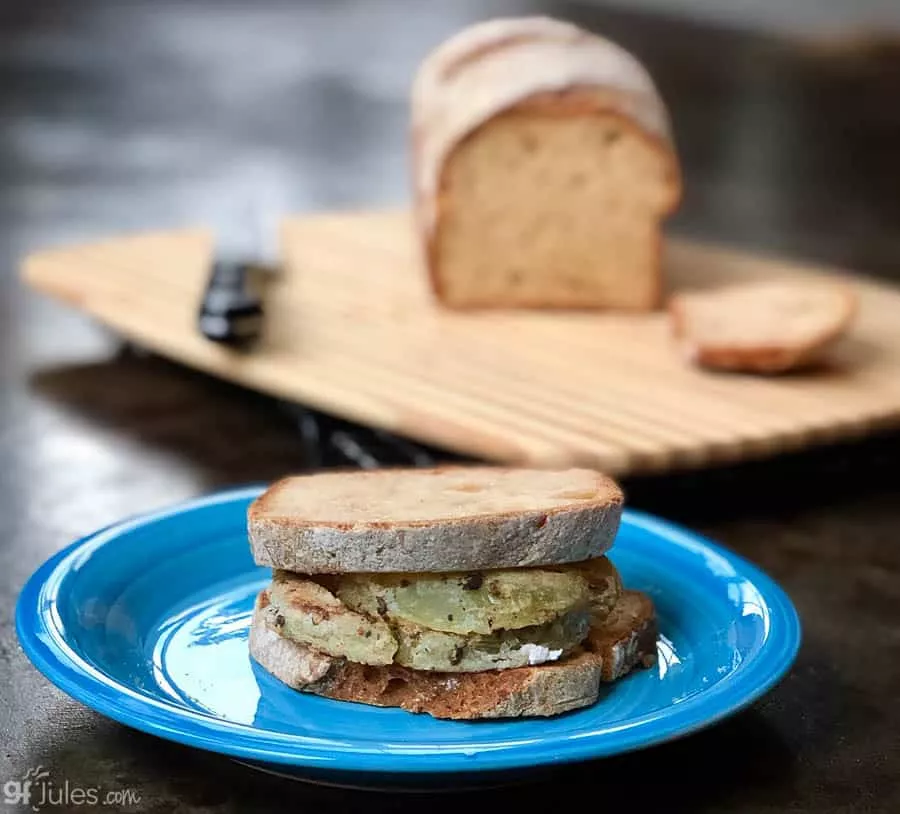 But the sour taste was the thing that seemed to be most elusive for me in my bread experiments. That's fine for me, as I don't prefer a sourdough taste in my bread, but I know many of you do.
My breads came out tasting yeasty and mild, just perfect for sandwiches or dipping in olive oil and balsamic (which we've been doing nearly every night for weeks now!).
No, the sour taste didn't come easily. I did achieve it when I allowed the bread to rise overnight, so if you are searching for that sour, I recommend budgeting time for an overnight rise.
I allowed my bread to rise as I described above, then placed it in the refrigerator overnight (still covered), then removed it the next day to sit on the counter to come to room temperature before baking. THEN the sour started to show through! (note: if you're baking egg-free, leaving the dough covered in the oven turned off overnight is a good way to get that sour taste.)
Another site has recommended NOT feeding your sourdough starter again before baking with it in order to increase the sour flavor of the bread. This will also decrease the rise and will necessitate a longer proofing time, however.
If you do any experimenting of your own and find other ways to make this bread taste sour-er, please share in the comments below!
Storing Your Homemade Gluten Free Sourdough Bread
I always recommend storing your baked goods at room temperature in a sealed container, and this gluten free sourdough bread is no exception. The simple truth is that if you put baked goods into the refrigerator, they will dry out. You can put them into the freezer when they are fully cooled, but they will need to be warmed or toasted before enjoying again.
This gluten free sourdough bread is still soft and delicious after a few days in a zip top bag with the air squeezed out of it and stored at room temperature. Depending on the size of your loaf, you may need to cut it in half to get it to fit into a gallon sized bag, but other than that, it's easy to just seal it up and grab a slice whenever you like!
If you'd like to bake a regular gluten free artisan loaf without the sourdough starter, check out my Gluten Free Artisan Bread Recipe. And of course, my award-winning gfJules Gluten Free Bread Mix works well for any kind of sandwich bread, oven or bread machine, hamburger/hot dog bun or baguette recipe! Click on the "description" tab to find links to all these gluten free bread recipes or use the search bar above.
So let's get down to baking great gluten free sourdough, shall we?
Yield: 1 large loaf
Gluten Free Sourdough Bread Recipe
This comprehensive gluten free sourdough bread recipe explores all the nooks and crannies of how to make the perfect gluten free loaf!
Cook Time
1 hour
15 minutes
Total Time
4 hours
15 minutes
Ingredients
Sourdough Bread Dry Ingredients
OR
PLUS These Other Ingredients
2 large eggs (OR 2 Tbs. flaxseed meal steeped 10 minutes in 6 Tbs. warm water)
2 Tbs. apple cider vinegar
1/4 cup olive oil
1/4 cup sugar
1 Tbs. psyllium husk powder (recommended) OR 3/4 Tbs. xanthan gum
3/4 cup gluten free sourdough starter (see recipe above)
1 1/4 cup club soda, sparkling water, ginger ale, 7-Up OR naturally gluten free beer
Instructions
Bring all ingredients to room temperature.
Preheat oven to 200°F.
Beat the following ingredients together in a large mixing bowl: eggs (or substitute), apple cider vinegar, oil, sugar, psyllium husk powder and gluten free sourdough starter. Mix until smooth and thickened, approximately 2 minutes.
Slowly stir in dry ingredients or gfJules Gluten Free Bread Mix with bubbly liquid, beating with paddle attachment on a stand mixer or using a wooden spoon until the batter is smooth and all dry ingredients are completely integrated. Mix for two minutes with mixer, longer with spoon method.
Transfer dough to an oiled Pullman Pan, lightly dusted with gfJules Flour, or to oiled and floured parchment-lined pan or bowl for rising. Dust the top of the dough with more gfJules Flour and brush with olive oil for best results.
Cover with oiled plastic wrap and set inside oven. Turn oven off and turn light on.
Allow the dough to rise for at least 1 1/2 hours, or up to 3 hours before baking. Alternatively, after 3 hours, remove to refrigerator for overnight rise. If refrigerating overnight, bring the dough to room temperature before baking the next day.
Preheat oven to 350° F or 325° F convection.
Remove plastic wrap and slice the top of the dough to direct the rise, as pictured. If baking without a bread pan, pull up on the parchment to remove the dough from the bowl and place onto a baking or cookie sheet, then brush oil on any dough that hasn't been oiled previously.
If you prefer a very crunchy crust, fill a spray bottle with water and spritz the dough before baking, and again every 15-20 minutes while baking.
Bake artisan bread without bread pan for 60 minutes, then begin testing with a bread thermometer. The internal temperature should reach at least 205° F before removing to cool.
Bake loaf in the pan for 75 minutes before testing with a bread thermometer. The internal temperature should reach at least 205° F before removing to cool. If the bread is browning too much, cover with foil in order to keep baking.
Once bread is fully cooked, remove to cool on a wire rack for 15 minutes before removing from the pan. Allow to fully cool before slicing.
Recommended Products
As a member of Amazon Associates and other affiliate programs, I may earn a small amount from qualifying purchases; this amount goes to fund this blog and does not cost you anything additional.
Many thanks to the indomitable
Chef Patrick Auger
for his help in developing this recipe. His passion for baking allergen-friendly foods has helped many a baker achieve amazing gluten free results like these!
I can't wait to hear about your gluten free sourdough bread baking!
Pin for later!