I just love this gluten free mini pie recipe. It takes all the great things about pie and makes them portable! And easy to make! No stressful handling of large rolled out crusts — it's actually more like making cut out cookies than making a full pie. How fun is that?
Gluten free mini pies are so adorable for holidays and special occasions like Valentine's Day (heart shapes), St. Patrick's Day (clover shapes), Fourth of July (star shapes), Halloween (pumpkin shapes), Christmas (tree shapes) … you get the idea!
Plus, if you have any hesitation about your gluten free pie crust making skills, making mini pies should alleviate all concerns! Simply follow my easy, crowd favorite gluten free pie crust recipe (you don't even need a mixer!), roll it out and use cookie cutters to cut the pie shapes!
No need to transfer a large crust or worry about breakage. Once you've mastered these smaller crust projects though, you'll be ready to graduate to GT gluten free pie crust class!
Seriously, check out my gluten free pie crust tutorial for the full scoop on all the tricks to get the perfect pie crust. It'll come in handy for so many favorite pies throughout the year, and … you'll never go back to those nasty frozen gluten free pie crusts because you won't have to!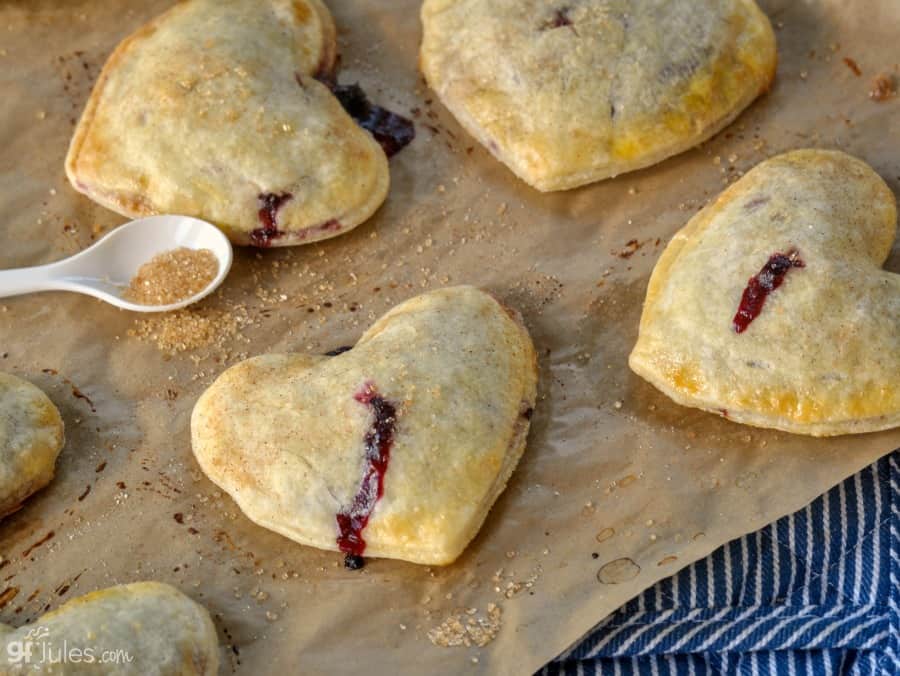 My gluten free pastry recipe is a no-fail answer to traditional one and two-crust pies, pie crust cinnamon rolls, and of course these adorable hand pies. The dough is a dream to work with: you can stretch it and roll it and press it without any typical gluten free crumbliness, and the baked crust is so light and flaky your friends and family will swear you bought it at a bakery … and that it is full of gluten!
I mean, when is the last time you heard anyone say light and flaky and gluten free and pie crust all in the same sentence?? This recipe (when made with my gfJules Flour — seriously, don't try this with a rice-based or bean-based flour or you'll just be sad) will change your mind about what is possible when pie crust meets gluten free.
Fill with whatever you prefer. I made these for Valentine's Day, so I used frozen raspberries we had picked last summer and frozen for just such a delicious occasion!
Depending on the fruit you use, you may need to add more or less sugar; feel free to use unrefined coconut palm sugar in place of regular can sugar, or use honey or agave instead. Taste the filling before adding it so you know if you need more sweetener.
Top the pies with cinnamon-sugar or demerara sugar, and serve on their own as hand-held treats, or top with your favorite ice cream and enjoy with a fork.
Or do one better and make fried hand pies like we all remember (ahem … McDonald's fried pies ringing any bells?). Bake as directed below, THEN spray lightly with oil and AIR FRY for 4 minutes at 350F. Fried pie heaven!
Gluten free mini pies finished in an air fryer have a crisper outer crust and a richer color and darker appearance than pastries baked just using a traditional oven.
That crust — OH MY!!! So light and flaky!
Make any day a special one with these easy gluten free mini pies!
Gluten Free Mini Pie Recipe
Yield:
approximately 6-8 mini pies, depending on size
These precious gluten free hand pies are the perfect answer to the need for portable pie!
Ingredients
Pie Dough:
2 cups gfJules™ All Purpose Gluten Free Flour (270 grams)
1 tsp. salt
4 Tbs Shortening or coconut oil (not preferred)
6 Tbs Butter Or Non-Dairy Alternative ( e.g. Earth Balance® Buttery Sticks)
4 Tbs Vodka + 2-4 Tbs Cold Water OR 6-8 Tbs. Cold Water
Egg Wash (1 Egg + 1 Tbs. Water) OR Milk (Dairy Or Non-Dairy) for brushing on crust (optional)
cinnamon-sugar mixture to sprinkle on top (optional)
demerara sugar to sprinkle on top (optional)
Filling:
Instructions
To Make the Gluten Free Pie Dough:
In a large bowl, whisk together the dry ingredients. Cut in the shortening and butter using a pastry cutter (or the flat paddle attachment on a stand mixer or a food processor). Add the vodka/water gradually to make the consistency you need to form a ball – err on the side of it being wetter rather than crumbly. Form a disc with the dough, wrap in plastic and set aside on the counter for 30 minutes while you make your filling.
Rolling the Gluten Free Pie Dough:
After allowing the dough to rest, roll the pastry out onto a clean surface dusted well with gfJules All Purpose Gluten-Free Flour. A flexible pastry sheet (e.g. Silpat) is ideal, but not required. Roll dough out gently in every direction to gradually spread the dough into a large circle. Divide the dough in half to roll out if you have a small counter or mat for rolling. For more directions on making and rolling gluten free pie crust, check my tutorial here.
Using a 4-inch or larger cutter, cut dough out into shapes and transfer to a parchment-lined baking sheet using a spatula. Gather scraps of dough and re-roll until all dough is used. You should have 12-16 shapes cut out -- enough to make 6-8 mini pies.
If you have leftover pie dough, roll into small cinnamon rolls by spreading with butter and sprinkling cinnamon-sugar and brown sugar on top, rolling and cutting the log into smaller rolls.
To Make the Pie Filling:
Combine all filling ingredients in a bowl just before filling the mini pies. Keep filling cold if mixing in advance. If using fresh berries or the filling is particularly watery, drain before adding to the pies.
To Make the Gluten Free Mini Pies:
Preheat oven to 400 F.
Dip your finger in water and run it around the outside edge of one dough cut-out. Dollop filling in the center of the shape, leaving at least 1/2-inch around the edge so it can be sealed with another piece of dough. Lay another cut dough piece on top and gently press together at the edges with your fingers, then repeat with a fork dipped in more gfJules flour to keep it from sticking.
Cut small slits in the top of the pie before baking to allow steam to escape. Brush with milk or egg wash, if desired, to assist with browning. Sprinkle with cinnamon-sugar or demerara sugar.
Bake in preheated oven for 18 minutes. Remove to cool on a wire rack before serving.
Once fully cooled, store in a tupperware-type container or a zip-top bag to keep fresh.
Notes
To AIR FRY, bake as directed, THEN spray lightly with oil and AIR FRY for 4 minutes at 350F.
Check out my recipe for gluten free Apple Quince Mini Pies for something completely different in the filling department!
Pin this recipe to save for later!