This Gluten Free Rainbow Cake with fluffy marshmallow frosting will brighten anyone's day! It's hard not to smile when you see what's in store with a slice into this colorful treat!
And knowing it's not nearly as hard to make as it looks, you'll be smiling, too!
Once you've tried your hand at this layered rainbow technique, I'm sure you'll find all sorts of fun new things to bake up. It's not hard at all! Read on for the easy steps you'll need.
I've had readers tell me they have made this rainbow cake into rainbow cupcakes with great success, so don't be deterred if you don't have a bundt pan.
If you do want this fun rainbow effect though, use a bundt pan and spread every layer all the way side-to side in the bundt pan so that the cake layers will bow when it rises.
Otherwise, it's still quite fun and beautiful as a stripey-rainbow colored cake … and no less tasty!
This cake was baked without the layers going fully side to side (pictured below), and as you can see, it's still quite stunning!
Every slice is a different effect. I guess it's almost like a Rainbow Surprise cake!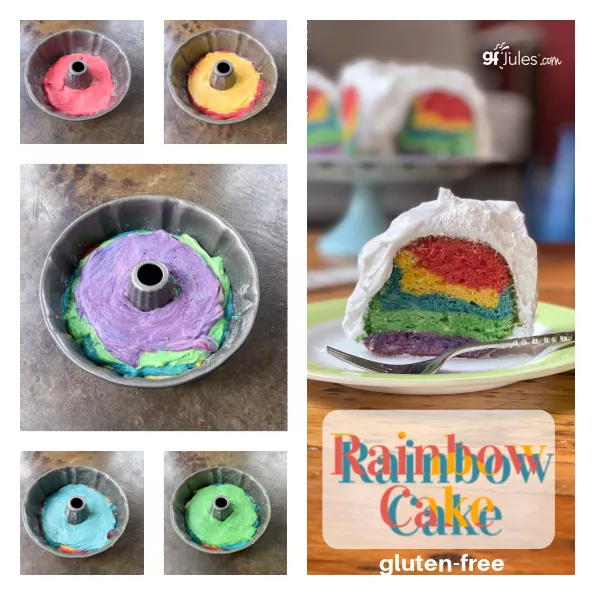 Bake this happy gluten free rainbow cake however you like and spread the sunshine!
Yield: Serves 12
Gluten Free Rainbow Cake
It's hard to make a more cheerful cake than a gluten free Rainbow Cake! And when it's also this delicious, topped with marshmallow "Cloud" frosting, it'll make you smile from the inside out!
Total Time
1 hour
5 minutes
Ingredients
Rainbow Cake
1 recipe gfJules' Birthday Cake (yellow cake)
4-6 colors of food coloring (for natural food dye use India Tree brand or Color Garden, Color Kitchen, McCormick Nature's Inspiration, or Watkins Natural Food Coloring )
Fluffy As Clouds Frosting
1 cup granulated cane sugar
1/3 cup water
1/4 tsp. cream of tartar
2 egg whites
1 tsp. pure vanilla extract
Instructions
To make the cake:
Pre-heat oven to 350º F (static) or 325º F (convection). Spray bundt or tube pan with non-stick cooking spray and dust entire surface lightly with my gfJules™ Flour.
Combine the butter and your granulated sweetener of choice and beat well with your mixer's paddle attachment, until the mixture is very light and fluffy (approximately 3-4 minutes). Add the eggs (or see egg substitute instructions in recipe) next, one at a time, beating well after each addition. Slowly add the milk, alternating with the dry ingredients, beating in between the additions. Beat just until smooth.
Divide batter into as many bowls as colors you are using. Return batter one at a time to mixer bowl and add food coloring, blending until desired color is achieved. Pour the batter into prepared (oiled and floured with gfJules Gluten Free Flour - recommended) pan, layering each color on top of the other. (Remember ROY G. BIV: Red, Orange, Yellow, Green, Blue, Indigo, Violet = the colors of the rainbow, in that order!).
Bake bundt cake for 45 minutes, or cupcakes for approximately 25 minutes; test for doneness by inserting a cake tester or toothpick in the middle of the cake to be sure it comes out clean, with very few crumbs attached. Add time if necessary to fully bake the cake.
When done, turn off the oven and leave the oven door open to let the cake cool slowly there for 5 minutes or so, then remove the cake to a cooling rack.
After 15-20 minutes of total cooling time, gently invert the cake to remove prom the pan, then flip gently back onto the cooling rack.
Frost the cake only when fully cooled, or in the alternative, wrap the cake with wax paper or plastic wrap and seal inside freezer bags to freeze or refrigerate until ready to use.
To make the frosting:
Over medium heat, stir to combine sugar, water and cream of tartar in a small saucepan. Continue whisking together until the mixture bubbles and the sugar has dissolved. Remove from heat immediately (the mixture may start to brown, but do not allow it to cook to dark brown or to burn).
Combine egg whites and vanilla in a mixer bowl. Slowly stir in the cooked sugar mixture with beaters on low. Increase mixer speed to high for 6 minutes, or until the frosting has whipped to stiff peaks when tested with a rubber spatula.
Frost cakes with a thick layer of Fluffy as Clouds Frosting, swirling designs using an off-set spatula for added dimension.
I hope you love this recipe as much as we do!
Pin this recipe to save it for later!