If you're doing meatless Mondays, Lenten meatless Fridays or otherwise looking for more vegetarian meal options, these gluten free veggie burritos should be on your short list. They're easy to make with whatever vegetables you like or have on hand, and a big batch makes great next day lunches or delicious leftover nights.
I've made these gluten free veggie burritos with store-bought gluten free corn tortillas, but they don't work nearly as well. The corn tortillas are smaller and often crack when folded. Happily, my homemade gluten free flour tortillas are super fast and easy to make to any size, and they're soft and pliable — just perfect for burrito making!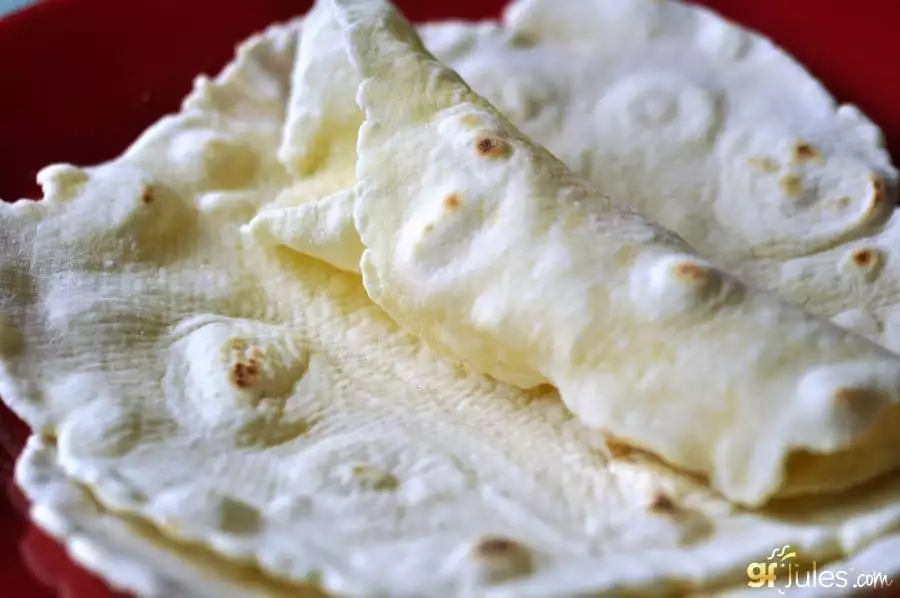 I've also given you a yummy recipe for guacamole dressing. This can be made thick for spooning on top or thinner for drizzling, whatever you prefer. It's a cool, spicy accompaniment that really takes these gluten free veggie burritos to the next level. Everyone in our house loves these — even the gluten and meat eaters amongst us — so I know your family will be asking for these again and again.
I've suggested amounts and types of vegetables to use, but feel free to change those up. What vegetables will you use to make these burritos uniquely yours?
Gluten Free Veggie Burritos and Guacamole Dressing
Ingredients
Burrito Filling:
1 cup your favorite salsa
1 cup plain, unflavored (gluten free) brown rice, prepared
1-2 Tbs. avocado or other high heat cooking oil
½ red onion, diced fine
1 cup chopped mushrooms
1 red, orange or yellow pepper
½ - 1 cup chopped asparagus or zucchini
2 tsp. cumin
1 tsp. dried cilantro or 1 sprig fresh cilantro, chopped (optional)
2 cups beans (black, great northern, or pinto), drained and rinsed
½ cup corn
½ cup salsa
salt and pepper, to taste
½ cup salsa
1/2 - 1 cup shredded cheese (I used Go Veggie® Cheddar Shreds) - optional
Optional toppings:
Fresh Cilantro
Fresh tomatoes, diced
Guacamole Dressing
Guacamole Dressing
1 ripe avocado
1 Tbs. fresh lime juice
1-2 Tbs. water
½ tsp. sea salt
½ tsp. cumin
¼ tsp. ancho chili powder
1 sprig fresh cilantro leaves
1 tsp. granulated sugar
Instructions
Preheat oven to 350ºF. Lightly oil a large casserole dish or two smaller casseroles (9x13, 8x11 or two smaller). Spread 1 cup of salsa on the bottom of the pan. (Yes, I know that salsa is listed 3 times in the ingredients - that's so you know how much you need to add at which step -- follow along with the instructions for when to add.)
Prepare the rice according to package directions.
Heat one tablespoon of oil in a large sauté pan over medium-high heat. Add onion and sauté until translucent. Add mushrooms, peppers and asparagus or other vegetables of choice. Sauté for 5 minutes or until the vegetables are softer and starting to brown.
Add the cumin, cilantro, beans, corn and salsa, stirring while cooking until warmed. Stir in 1/2 cup salsa. Taste and add salt and pepper, if needed. Stir rice into vegetable mixture.
Spoon a row of the vegetable filling in a line down the center of one gluten-free flour tortilla. Add shredded cheese if using. There are two ways to prepare the burrito from here: either roll up opposite ends of the tortilla (the two sides at the end of the row of filling) and then roll the tortilla up starting with one of the remaining sides and tucking it around the filling then rolling the burrito around itself tightly; or simply roll the tortilla up around the filling.
Lay the burrito seam-down in the salsa-covered pan. Continue with remaining tortillas. Spread ½ cup additional salsa on top of the tortillas and bake for 25 minutes, uncovered. If at any time the tortillas start to brown too much, cover the pan with foil and continue baking.
While the burritos are baking, prepare the guacamole dressing.
Scoop the flesh out of a ripe avocado and add to a blender or a small bowl if using an immersion/stick blender. Add lime juice and one tablespoon water. Blend until the dressing is smooth. Add more water if and as necessary to make the dressing the consistency you prefer. Add salt, spices, cilantro leaves and sugar. Taste and add more spices if you like.
Before serving, garnish with Guacamole Dressing, diced fresh tomatoes and cilantro.
I hope you love this recipe as much as we do!
Pin this recipe to save it for later!
Summary
Recipe Name
Gluten Free Veggie Burritos
Published On
Average Rating





Based on 4 Review(s)