There's something about ice cream shops that beckons you inside, even from several shops away. You know what it is — it's certainly not the smell of ice cream. It's that sweet aroma of fresh-baked waffle cones wafting down the boardwalk.
The smell alone makes me crave an ice cream cone any time of year, although I can rarely have one because the cones aren't gluten-free and the ice cream isn't dairy-free. It's times like this when a good recipe is all you need to recreate that feeling, and to satisfy that craving.
And I'm happy to share it with you so you never have to go without, either!
This gluten free waffle cone recipe is so quick and easy, you'll never have mad respect for an ice cream shop again. Now you know the secret and you have the power to make those delectable cookie cones anytime!
I will say that you should get yourself one of those handy-dandy waffle cone irons or a pizzelle iron.
I'll lobby you for the pizzelle iron though, because you're going to want pizzelles come the holidays and cannolis come … anytime! (And yes, I have a recipe for those, too!)
I've linked to the pizzelle iron I love and use (mine is the polished surface, not the non-stick) and I found a respectable waffle cone iron for you for under $35* – one caveat, I haven't tried it myself, but if you get it and do try it, please leave a comment about how you like it!
And if you're looking for a great homemade ice cream recipe, I have that for you, too! My gluten free vegan homemade ice cream recipe is great in any flavor, and even has added protein to make you less sheepish about having that extra scoop!
I don't recommend this recipe for a regular waffle iron or using in a pan because the batter is super duper thick. When I tried it in a waffle iron, it puffed up and made a lovely waffle, but not one you could roll into a cone.
However you choose to make these beauties, and whether you want to dip them in chocolate or leave them as pristine vanilla cookies, you'll love them. I promise!
Be sure to use my gfJules Flour – this recipe produces a delicate cone that has no grit, is soft and pliable but is nice and crunchy once set; I can't guarantee that using another blend will produce these same results.
Simply whip up the ingredients until smooth and light, then plop a dollop or two (depending on the size of your pizzelle or waffle cone maker) in your iron and bake for about two minutes. It's that easy!
I've given you an egg-free option if you need that, and the gluten free cones are already dairy-free, so choose your favorite ice cream, be it dairy or not, and hop to it! Your kitchen will be smelling like a boardwalk ice cream shop in no time!
Seriously — from start to finish, to have fresh, homemade gluten free waffle cones in under 15 minutes?? You'd be insane not to try this recipe!
Yield: 6 large cones or 8-10 small cones
Gluten Free Waffle Cones
These gluten free waffle cones smell so amazing baking! And they crisp up as soon as they cool so you're ready for an ice cream party in just minutes!
Ingredients
Gluten Free Waffle Cone
5 Tbs. (2.5 ounces) butter or dairy-free alternative, melted and cooled (Earth Balance® Buttery Sticks)
1 large egg + 1 egg white, beaten (OR egg substitute like aquafaba OR: 1 Tbs. flax meal, 3 Tbs. applesauce, 1 Tbs. arrowroot powder)
6 Tbs. granulated cane sugar
½ Tbs. pure vanilla extract
¼ tsp. pure almond extract, anise extract or lemon extract (optional)
1 tsp. baking powder
Chocolate for Dipping
¾ cup chocolate chips (Pascha® or Enjoy Life® are vegan)
1 tsp. coconut oil
Instructions
(If replacing eggs, mix 1 tablespoon flax meal with 3 tablespoons hot applesauce. Set aside and allow to cool. Next mix 1 tablespoon arrowroot powder with 1-2 tablespoons water. Whisk together the two mixtures to replace eggs and add where noted in the recipe to add eggs.)
Melt butter and set aside to cool. In a mixing bowl, whisk together eggs and sugar until light, about 3 minutes. Stir in cooled butter and vanilla plus other flavor extract, if using.
In a small bowl, whisk together gfJules Flour and baking powder. Stir into egg mixture in the larger bowl. The batter will be very stiff and tacky.
If directed by your waffle or pizzelle iron instructions, brush metal plates with a small amount of cooking oil. Preheat the iron.
Spoon 1 tablespoon batter into the middle of each preheated plate for small size cones or 2 tablespoons for a larger cone made in a waffle cone iron. (You may need slightly more or less batter depending on the size of your iron.) Close the lid. Batter should spread across the entire plate.
Cook according to manufacturer's directions. It took about 2 minutes for each set of 2 on my pizzelle iron - the cooked soon-to-be cone should not have browned much and should still be pliable, but hot.
Once cooked, immediately transfer to a paper towel or tea towel to protect your fingers from the hot cookie. Gently twist together to form a point at the bottom and flared out or tighter twist at the top.
Lay seam-side down onto a plate to fully cool. Repeat with remaining batter, working quickly so the cookies do not cool before twisting.
When the cones are fully cooled, prepare the chocolate, if using.
Stir together chocolate chips and coconut oil in a small saucepan or microwave-safe bowl. Heat at medium temperature, stirring until chips are melted.
If microwaving, start with 30 seconds, stirring and then adding 30 seconds and stirring, repeating until chocolate is smooth.
Dip cones in warm melted chocolate, and sprinkle with gluten-free sprinkles, shaved almonds, coconut or other toppings. Stand upright in cups to cool at room temperature or refrigerate until set.
Store in an air-tight container, or freeze in cups until set, then store in zip-top plastic bags in the freezer.
Makes approximately 16 small cones or 8 larger ones.
*Some links in this post may be referral links. If you do decide to purchase something at a retailer after following my link, I may receive a small commission, at no additional cost to you, which I use to pay for web hosting and services for this blog. Read my disclosure policy here.
I hope you love this recipe as much as we do!
Pin it for later!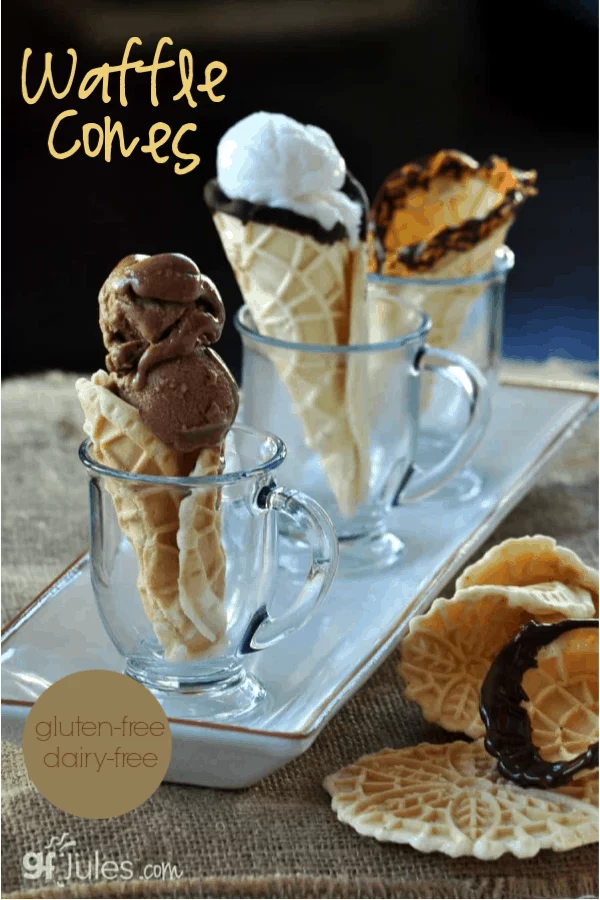 If you love this recipe and don't want to miss any other yummy ones, be sure to follow me on your favorite social media: Facebook, Twitter, Pinterest or on Instagram — and hashtag #gfJules or tag @gfJules – I love seeing your yummy recipes, too!
And to help get you in the spirit of all things cool, some of my blogger friends have shared some of their favorite gluten free ice cream-ish recipes, too!
Creamy Earl Grey Infused Ice Cream by Fearless Dining
Gluten Free Vegan Brownie Ice Cream Sandwiches by Sarah Bakes Gluten Free
Gluten Free Mud Pie by What the Fork Food Blog
Chocolate Caramel Sundae Sauce by The Heritage Cook
Roasted Pineapple Cherry Shake by Vegetarian Mamma
Chocolate Sandwich Cookie Ice Cream Sandwiches by Celiac and the Beast
Dairy Free Salted Caramel Ice Cream Pie by Allergy Free Alaska
Vegan Unicorn Pudding Pops by Flippin' Delicious
Peanut Butter Ice Cream Topping and Chips by This Vivacious Life
Pumpkin Pie No Churn Ice Cream by There is Life After Wheat
Gluten-free Caramel Sauce by My Gluten-free Kitchen