With Father's Day around the corner, it seemed as good a time as any to share this awesome chewy gluten free granola bars recipe with you. But you needn't wait — did you know that January 21 is National Granola Bar Day? And weren't you just saying you were hungry?
There are so many great occasions to make your own homemade gluten free granola bars. Like today, for example.
I don't know what it is about Father's Day, but all the stores promote buying Dad some soon-to-be forgotten gadget, gaudy tie or otherwise not-needed accessory. In my family, we try always to make something homemade as at least part of Dad's gift — a card, a craft, a special food — it doesn't have to be fancy, but it shows that at least he's worth the time it takes to plan and make something special for him!
These snacks are really great for folks of any age: they're portable and easy to eat on the run; they're full of nutrition and yummy energy; they're super tasty; and perhaps most importantly, they're gluten-free!
Come to think of it though, there's one more great thing about these bars: they'll ship! So if your dad doesn't live close, these would make a great gift!
So make these for your dad or special someone … or for yourself! Since you're in charge, add the ingredients you like or have on hand, and choose only the ones that meet your family's dietary requirements.
Gluten-free, dairy-free, egg-free, vegan, easily nut-free, but oh so full of flavor!
Feel good about all that healthy fiber and nutrition you'll be getting from purity protocol certified gluten-free oats, nuts, flaxseed meal, veggies and fruit — the ones YOU like best — all packed into portable yumminess!
You can even cut the bars to whatever portion size YOU prefer. How handy, right?
Be sure to only use purity protocol certified gluten free oats — the fact that most granola bar makers do NOT use these safe, more expensive oats in their bars, is one reason I advocate for and often make our own homemade gluten free granola bars.
I can be confident in how they were grown, packaged and tested, and never have to worry about getting glutened. Sounds like a small thing to someone who doesn't have to live gluten free, but it's everything to us — am I right?
Here's more information on how to find the right oats for you.
Enjoy!
Yield: approximately 28 chewy granola bars
Homemade Gluten Free Granola Bars Recipe
Homemade gluten free granola bars are delicious, yes, but also make eating healthy and safe on the go easy!
Ingredients
1/4 cup flaxseed meal
3 cups purity protocol certified gluten-free rolled oats, rice flakes, or quinoa flakes
2 tablespoons cinnamon
1 cup grated carrots
¾ cup baking raisins (or boil raisins in water, drain, then add to the recipe) or sultanas
½ cup dried apples, chopped
½ cup dried bananas, chopped
½ cup figs, chopped (approximately 5 figs)
½ cup grated coconut (unsweetened)
¼ cup dates, chopped
¼ cup dried cranberries, blueberries, cherries or other dried berry of choice
1 cup walnuts, chopped (if making nut-free, substitute with sunflower seeds)
½ cup agave nectar, honey, or maple syrup
1 cup unsweetened applesauce
¼ cup Blackstrap or baking molasses
½ cup sunflower nut butter (if making nut-free) or "natural" peanut, almond, or cashew butter (like Earth Balance® Natural Peanut Butter with Flaxseed)
½ cup unsweetened apple juice or cider
Instructions
Preheat oven to 375ºF.
Line a jelly roll baking pan with aluminum foil and spray with cooking oil.
In a large mixing bowl, stir together the flaxseed meal, gluten-free flour, oats, cinnamon, fruits and nuts of your choice (in similar proportions to those listed above). When fully combined, stir in the agave nectar, applesauce, molasses, nut butter, and juice, mixing with a large wooden spoon until totally incorporated. The mixture should be wet enough to press together for baking.
If you like your granola bars with lots of crunchy texture, use this wooden spoon or stand mixer (with flat paddle) mixing method. If you prefer a smoother texture, where the individual ingredients are more integrated, use a large food processor to combine all the ingredients — if your processor bowl is 14 cups or smaller, this may have to be done by dividing the ingredients in half and mixing in two batches.
Scoop the combined mixture into the bottom of the prepared baking pan and press down with the back of a rubber spatula or your wet hands.
Bake for 30 minutes or just until the edges begin to brown slightly.
Remove from the oven and cut into bars using a pizza cutter before fully cooled. To remove bars when cooled, simply lift the foil edges out of the jelly roll pan and store the cut bars in a zip top bag at room temperature or freeze.
I hope you love this recipe as much as we do!
Pin for later!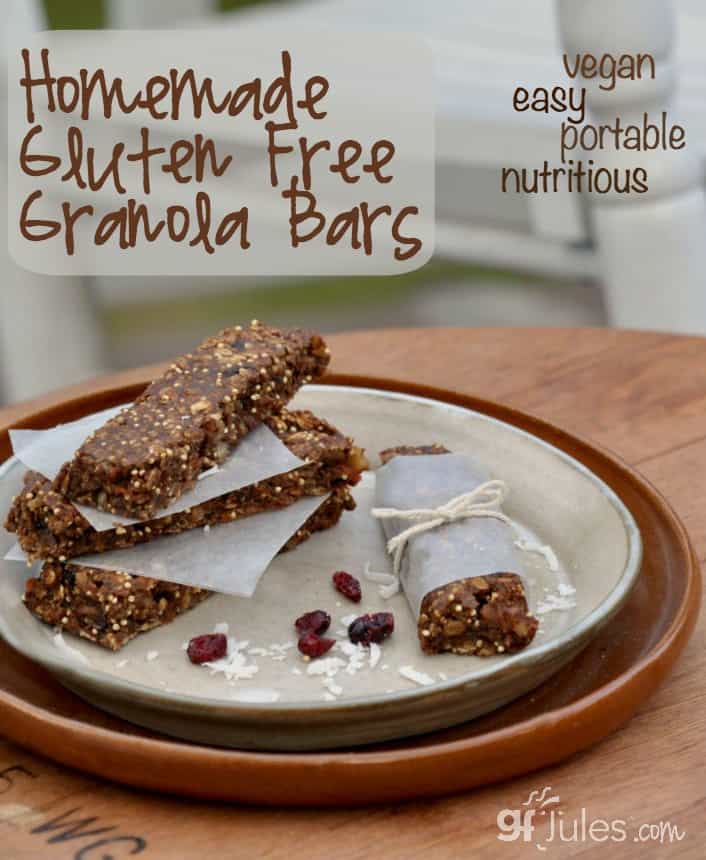 (Note: this recipe was previously shared by NFCA during their webinar, "The Gluten-Free Athlete: Improving Performance Through Diet" and this recipe, as well as over 149 more, is also available in my newest cookbook, Free for All Cooking: 150 Easy Gluten-Free, Allergy-Friendly Recipes the Whole Family Can Enjoy!)