Summer is a great time to perfect the art of grilled gluten free pizza!
No heating up the kitchen, faster cooking and that great smoky, grilled flavor no ordinary oven can provide — all reasons, in and of themselves, to try your hand at grilling homemade gluten free pizzas.
Play with your pizza! Use whatever toppings you like – you don't even feel bound to using traditional pizza sauce – this yummy version was topped with pesto and lots of fresh veggies — sooooo good!
And those grill marks!!!
With this yummy crust, the next day's cold gluten free pizza leftovers are amazing too; I suggest making two pizzas so you're sure to have more for tomorrow! (YES, this pizza is delish on day 2!)
And don't feel bound by convention when making your gluten free grilled pizza. I've even topped this delicious crust with my homemade no-garlic pesto sauce and some traditionally Greek toppings like Kalamata olives; artichokes; sun-dried tomatoes; orange tomatoes and sauteed spinach!
Basically, I treat the crust like a canvas and whatever's in my fridge as the paints.
Of course, there's nothing wrong with a tradition, but oh-so-delicious homemade pizza sauce! Check out my recommendations for dairy-free and vegan cheeses if you're in need of those.
The theory is simple: turn your grill into an oven. It's got heat and a lid, so it should work quite well, the only trick is to regulate the temperature and monitor so the crust doesn't burn.
If using a charcoal grill or your grill grate is super low, you should keep foil or a pan between your crust and the grill grate so the crust doesn't burn. If it does though, no worries! Just scrape off the top the black part and it's good as new.
This method of cooking is great for the hot summer months, so you can still enjoy amazing gluten free pizza, but your kitchen doesn't get warm. Plus, this method cooks the pizza in about 10 minutes total – another grilling bonus!
Oh, and how fun is this?
I like to start my grilled gluten free pizza on a pan just to seal the bottom crust a bit. It makes it easier to flip the crust later, but it's not imperative that you take that step. If your grill grates are hot enough, they will seal the crust as soon as it's put onto the grill and you shouldn't have any problems, but monitor closely so the crust doesn't burn.
You'll probably come up with your own grilled pizza technique after a pizza or two … I'd love to hear how you do it!
Play with your grill to get the timing and the settings just right, and enjoy eating all your yummy experiments until your gluten free pizza grilling skills are perfected. You may never go back to baking pizza in your oven!
So for those of us who don't have a wood fired pizza oven at home, the grill is your new pizza best friend. It truly makes amazing gluten free pizzas with this recipe or my (even easier) award-winning gfJules Pizza Crust Mix. It saves time, imbues the crust with a smokey flavor, and it's really quite beautiful. Not to mention, it's authentic!
Over a flame is the way pizzas were meant to be cooked, and it's the way they are still prepared all over Italy.
Pizza Margherita style, or Margherita Extra (with Bufala Mozzarella — or vegan cashew bufala style) or with loads of extra toppings — it's your pizza! Make it the way you wanna (and name it after yourself if you wanna!). You don't have to be a queen or a king to name your own pizza, you know?
One of our new favorites is surprising, but don't knock it until you've tried it for yourself: Grilled Gluten Free Peach Pizza!
What else do you like to grill during the hot months of summer, when you'd ordinarily bake it in the oven? I'd love to hear what you've tried!
In the meantime though … how will you top your delicious gluten free grilled pizza?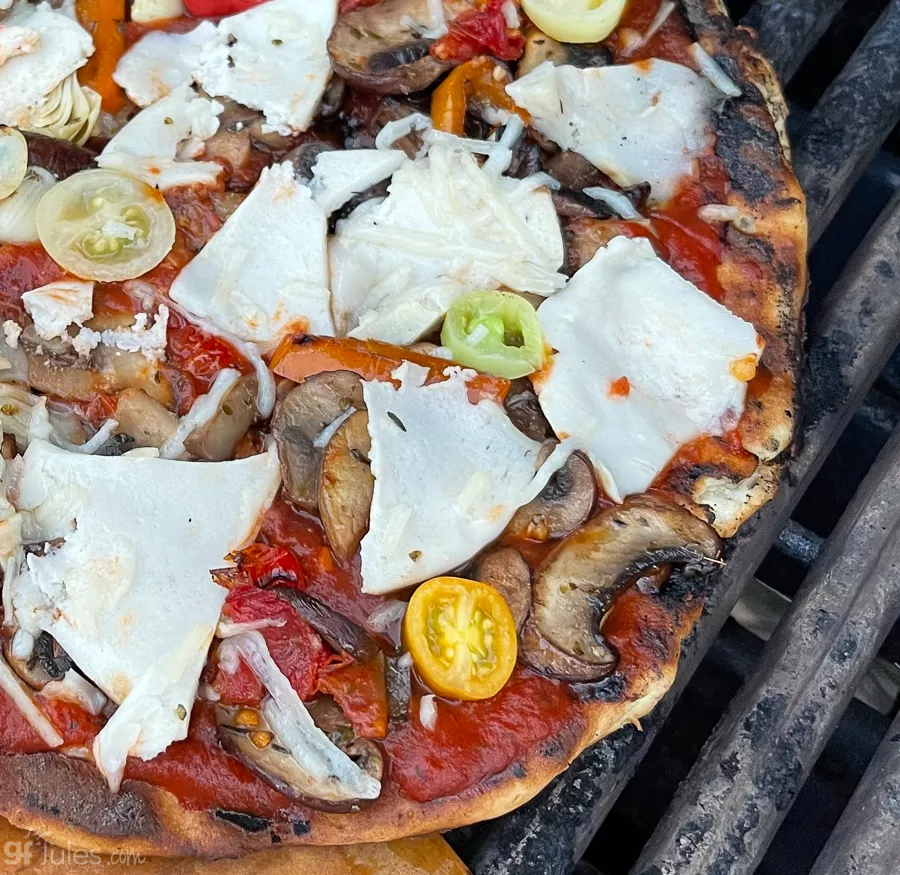 Grilled Gluten Free Pizza Recipe
Yield:
One 12 - 14-inch pizza
Additional Time:
20 minutes
Great grilled gluten free pizza is just a few simple steps, and this awesome pizza recipe, away! The only hard part is deciding what to top it with!
Ingredients
1/2 gfJules™ Gluten Free Pizza Crust Mix
OR
1 1/2 cups of gfJules™ All-Purpose Gluten-Free Flour
3 Tbs. milk powder (dairy or non-dairy) OR plain GF mashed potato flakes
1/4 tsp. oregano
Pinch or two of garlic powder (optional, to taste)
1/2 tsp. salt
PLUS
2 egg whites, room temperature OR egg substitute like aquafaba
2 Tbs. extra virgin olive oil
1/2 tsp. apple cider vinegar
½ cup warm water (if making from scratch, add 2 Tablespoons additional water)
2 1/4 tsp. rapid rise yeast, gluten-free (1 packet - included with pizza crust mix)** (for yeast-free directions, scroll to the bottom of the recipe)
additional olive oil to brush onto the crust
pizza sauce & toppings of choice
Instructions
Bring all ingredients to room temperature. If warming egg whites, place whole eggs in a bowl of very warm water for a few minutes while gathering other ingredients.

If baking from scratch, whisk together dry ingredients except yeast; set aside.

In a large mixing bowl, combine egg whites, olive oil, cider vinegar and water. Using a stand mixer (preferably), slowly add in the dry ingredient mix. Gradually add remaining liquid to get a firm but very sticky dough that can still be spread.

Pour in the yeast and beat on high for an additional 2-3 minutes. (Note: this recipe may be mixed by hand in a large bowl, using a fork or wooden spoon and very strong muscles – stir as long as you can!).

Prepare a pizza pan or baking sheet by lining with lightly oiled parchment.

Spoon the wet dough out into the middle of the pan and liberally oil your hands to spread the dough to no more than ¼ inch thick. Push gently with your oiled palms to spread the dough to the shape and size you like – an uneven shape actually looks more artisanal and authentic! (click here to watch a short video to see easy it is!).

Since you'll be grilling, spread more thinly and don't build up the edges of the crust very much, because the crust will be flipped and grilled on both sides.

Set aside the crust to rise while you prepare your toppings – they need to be ready since this pizza only takes a few minutes to cook, start to finish. You could even put the crust pan inside your grill while it's not lighted – on a hot day, the inside of a grill can easily reach 100°F, just right for rising pizza. Allow to rise for at least 20 minutes, ideally.

If using a gas grill, turn on the front and back burners, but not the middle; or the left but not the right burners. Or turn on all burners to medium.

Another option is to place a cast iron or oven-safe skillet on the grill, then lay another grill grate on top of the skillet to distance the pizza from the direct flame, but allow you to keep the flame on higher. -- The goal is to cook the pizza over indirect heat so it doesn't burn. -- If using a charcoal grill, aim for a low flame or set your grate higher so the crust doesn't burn. The temperature of the grill when closed should be around 450°F.

Put the pizza pan onto the grill and close the top. Cook for 3-5 minutes to seal the bottom crust, then slide the crust out onto the grill grate directly. Cook for another 3
minutes or so (depending on how thick you spread your crust), until sear marks appear on the underside of the crust, but it's not burned. Use a pizza peel or tongs to flip the crust to cook on the other side.

Once flipped, top quickly with sauce, toppings and any cheese. Cook another 3 minutes with the lid closed, or until char marks appear but the crust is not burned. Because the crust is often thinner for grilling, it will rise some, but not so much that it takes longer to cook. You should be in and out of cooking on the grill in 10-12 minutes.

Remove the pizza with the pizza peel or tongs, cut and serve.

You can even make a thick crust pizza on the grill with my recipe or mix – just watch to make sure it doesn't burn, since it has to cook for a bit longer. But SO worth it!
Notes
Easily doubled. To make two 12-inch pizzas, use entire gfJules Gluten Free Pizza Crust Mix (or double dry ingredients listed here) and double liquid ingredients.
**To bake without yeast:
Add to the dry mixture:
1 Tablespoon baking powder
1 heaping teaspoon baking soda
Instead of 1/2 cup water, add 1/2 cup of club soda at the very end, together with 1/4 cup of warm water. The dough will be very wet.
Recommended Products
As a member of Amazon Associates and other affiliate programs, I may earn a small amount from qualifying purchases; this amount goes to fund this blog and does not cost you anything additional.
Nutrition Information
Yield

4
Serving Size

1
Amount Per Serving
Calories

345
Total Fat

13g
Saturated Fat

3g
Trans Fat

0g
Unsaturated Fat

10g
Cholesterol

5mg
Sodium

573mg
Carbohydrates

44g
Fiber

3g
Sugar

3g
Protein

13g
Please keep in mind that nutrition information provided is per serving, which may vary. While we have taken care to provide you with the most accurate nutritional values possible, please note that this information may differ significantly depending on the exact ingredients and brands that you choose to use to make this recipe. Additionally, where options are given for ingredients, the resulting calculation may include all ingredient options instead of only one per line, skewing the totals significantly.
I hope you love this recipe as much as we do!
Pin it for summertime!