A gluten free King Cake recipe should let you honor your family's tradition without sacrificing the texture and flavor you're used to: things rice-based gluten free flours won't let you do. My gfJules Flour, and this surprisingly simple recipe, has you covered.
But first, a little history.
The Story of King Cake
After the Twelfth Night of Christmas, this culinary tradition begins in the South that most folks only associate with Mardi Gras Day in New Orleans. Biblical tradition holds that kings visited the baby Jesus by traveling for 12 days to reach him on what we now call "Epiphany."
Beginning at Epiphany and lasting only until Mardi Gras day, the tradition of a King Cake in the Southern United States has evolved from what was brought by European settlers in the 1700s to what we now recognize as one of the preeminent symbols of the revelry of Mardi Gras.
Today, King Cakes are used to select Mardi Gras Kings and Queens as well as to celebrate the season in households and at parties across the country.
King Cakes have many looks, the most classic being a crown shaped pastry dotted with the sugared colors of Carnival: purple, gold and green.
Some have fillings, others do not, though they all house a hidden trinket like a plastic (formerly porcelain) baby.
Making a Gluten Free King Cake
You'll see from the video that this cake is made by spreading the yummy cinnamon and sugar mixture down the middle of the dough.
Then roll it up like a log (much like the process for making homemade gluten free cinnamon rolls).
Then take the ends and pull them together gently to make the ring, or crown. This process is made easy because of my award-winning gfJules Flour which adds stretch to doughs like these. Not only is the dough easy to work with, but the finished product is light and flaky, too!
Do not … I repeat, do not try this with ordinary gluten free flour blends! You will wind up with a pile of crumbly dough that makes a holy mess and will make you cry (ok, maybe I'm the only one who cries when gluten free recipes go horribly wrong, but you get the idea).
There's just no sense in wasting time, energy or excitement about a recipe only to have it fail when it's not even your fault — it's because of the gluten free flour! All gluten free flours are different, and recipes like this one make it painfully obvious!
You need a blend that is soft and light but strong enough to allow you to roll it out and stretch it around the fillings. That's hard to come by.
But my gfJules Flour won't let you down. You'll see: gluten free King Cake will be in your very delicious future!
Ok, back to the rolling. Next comes the fun part that makes this cake truly unique: the baby!
The trinket hidden inside each cake adds to its popularity, although the uninitiated often fail to recognize that finding the trinket inside your piece of cake may come not only with privileges (good fortune and/or becoming the King or Queen of the ball) but just as often with responsibilities (bringing the next cake or hosting the next party!).
My daughter's marraine (mah-rehn) — her Godmother, to you non-cajun-ites!) served a King Cake at my baby shower and I served King Cake at her baby shower in return. It was quite a fun tradition to celebrate!
Until creating this recipe, I was unable to enjoy anything but the tiny plastic baby trinket I found in my King Cake, as I had never had a gluten-free version. This cinnamon-brioche-like creation is fast becoming a family favorite here, as the first one I made was devoured in a single evening! I know you'll love it too!
To see a video tutorial on how-to shape and make this delicious King Cake, hop to my YouTube video!
One more note: I don't make this cake very often (about once a year, to be exact), so my tweaks are infrequent, but those who have made it before may notice that I've added more liquid and reduced the bake time on the recipe this year. Just trust me. 🙂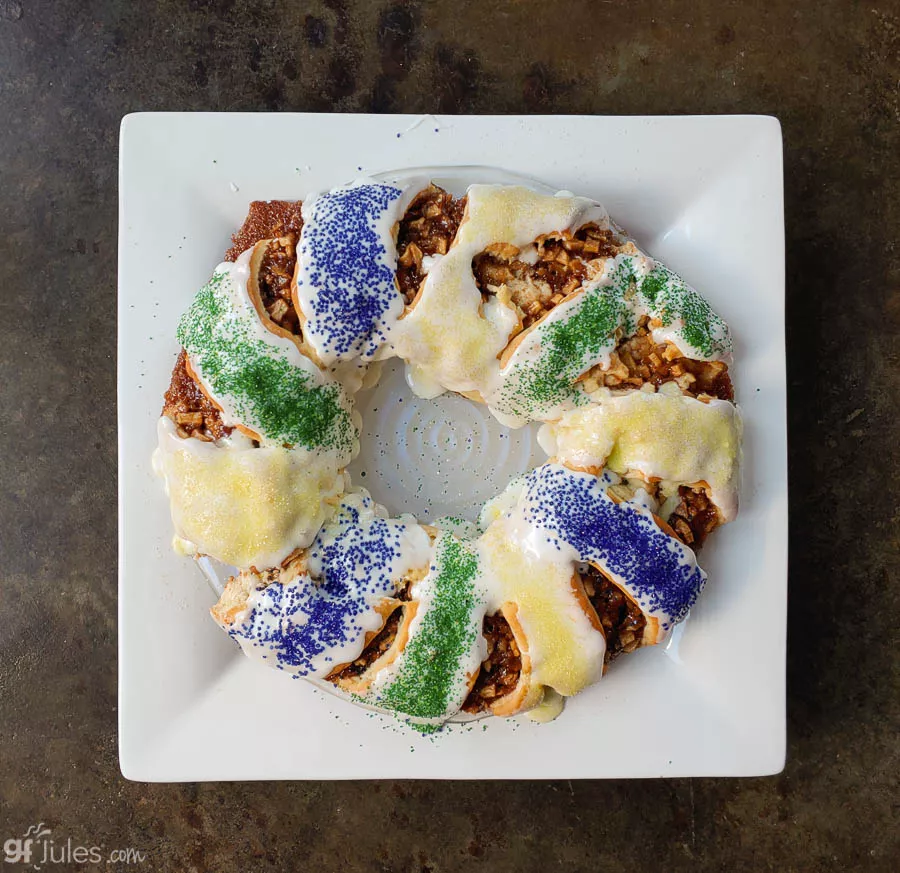 If you make this gluten free King Cake Recipe, please share a comment or even a photo below! Please also take a sec to rate it 5 stars if you love it, too!!
Gluten Free King Cake Recipe
Yield: 1 cake
Gluten Free King Cake Recipe
Gluten Free King Cake is a tradition that shouldn't be missed. This yeasty, cinnamon-y, sweet roll is nearly as pretty as it is delicious!
Prep Time
1 hour
30 minutes
Total Time
1 hour
50 minutes
Ingredients
1/2 cup warm water (110 F)
1 Tbs. granulated cane sugar
2 1/4 tsp. (1 packet) highly active, dry yeast (e.g. Fleishmann's® or Red Star® Gluten-Free Yeast)
1/2 cup cold unsalted butter or non-dairy alternative (e.g. Earth Balance® Buttery Sticks)
3 Tbs. granulated cane sugar
1/4 cup warm milk (dairy or non-dairy)
2 large eggs (room temperature) or egg substitute like flaxseed meal and water (see my article on vegan egg replacers)
3 cups (405 gr) gfJules® All-Purpose Gluten Free Flour
1/2 tsp. ground nutmeg
2 tsp. baking powder
1/2 tsp. salt (1/4 tsp. salt if using salted butter or vegan butter)
2 Tbs. milk (dairy or non-dairy) for brushing on pastry before baking
Filling Ingredients:
Icing Ingredients:
1 cup confectioner's sugar
1-2 Tbs. milk (dairy or non-dairy)
1/4 tsp. pure almond extract (optional)
colored sugar (purple, gold and green)
Instructions
Gluten Free King Cake Filling
Prepare the filling by tossing the chopped apples together with the gfJules® All Purpose Flour, brown sugar and cinnamon. In a separate bowl, melt the 4 tablespoons butter, and set both bowls aside.
Gluten Free King Cake Dough
In a small bowl, combine the warm water, 1 tablespoon sugar and yeast; stir and set aside to proof. If the mixture is not bubbly and doubled in volume after 5-10 minutes, toss out and start again with fresh yeast.
In a large mixing bowl, blend the remaining 3 tablespoons sugar and butter until light and fluffy. Add the warm milk and eggs and beat until well-integrated. Add only 2 cups of gfJules®All Purpose Flour, salt, baking powder and nutmeg and mix well.
Stir in the proofed yeast-sugar-water mixture, then slowly add the remaining 1 cup gfJules® All Purpose Flour. Beat another 1-2 minutes, until the dough is clumping together and is not too sticky. The dough should not be dry. If the dough is dry, read this article on measuring flour properly, as you may have added too much flour and you will need to add more milk to compensate at this point (if it is very dry, add 1 mixed egg or start with 1 egg white to the dough instead of adding milk).
Preparing the Gluten Free King Cake
Prepare a large baking sheet by lining with parchment paper. Turn the dough out onto a silicone pastry mat or onto a clean counter dusted lightly with gfJules® All Purpose Flour (be sure to have enough counter space, at least 30 inches wide).
Roll the dough out to an elongated rectangle 24-30 inches long by 6-8 inches wide. Brush on the melted butter, coating the entire rectangle.
Sprinkle the filling mixture on top of the melted butter, spreading to the ends of the rectangle, but leaving 1/2-1 inch without toppings on each of the long sides of the rectangle.
Using a bench scraper or a spatula, gently peel up one of the long sides of the rectangle and begin rolling it as you would a jelly roll. Once the entire pastry is rolled upon itself until no pastry remains unrolled, a 24-30 inch long roll will remain. Gently pull the two ends of the roll together to form a circle or oval. (see photos above recipe card)
Dabbing the ends of the pastry with water, join the ends together to close the circle. Gently transfer the ring to the parchment-lined baking sheet, or transfer the ring on the silicone baking mat to the baking sheet.
Brush the milk on top of the exposed pastry, then using a large sharp knife, make a cut in the top of the pastry every 2 inches to expose one layer of the roll.
Spray a sheet of parchment with cooking oil, then cover the cake and let rise in a warm spot for 20-30 minutes like an an oven heated to 200º F then turned off.
Preheat oven to 350º F (static) or 325º F (convection).
Remove the paper from the cake and bake for 15-20 minutes or until a toothpick inserted into the center comes out clean. DO NOT OVERBAKE.
Remove to a wire rack to cool.
While cooling, mix icing ingredients and drizzle over the cake. Sprinkle colored sugar on top of wet icing, alternating colors (purple; green; yellow colored sugar) between each cut in the top of the cake.
Insert a pecan, M&M or plastic baby into the underside of the cake to hide it.
Wishing you and yours a sweet Mardi Gras!
Laissez les bons temps rouler!
Pin for later!