Baking Gluten Free Bread in a Breadmaker
Baking gluten free bread in a breadmaker can be an easy entree into baking gluten free bread from scratch. Add the ingredients, push the button and GO! Let the bread machine do the heavy lifting.
Using an easy gluten free bread mix makes things even more of a breeze. (The loaves pictured below are all made with my gfJules Bread Mix, which was just voted #1 Gluten Free Bread Mix again in the 2022 Gluten Free Awards – for the sixth time!)
But which gluten free bread maker is best? Does it have to have a gluten free setting to bake gluten free bread? What gluten free bread recipes work best in bread machines? Read on for answers.
All about Gluten Free Bread Machines
For anyone leery of baking gluten free bread from scratch, and for those who don't have a stand mixer, a bread maker may be your new best friend.
Since the hardest part is often just finding the patience to wait for that yummy nirvana of heavenly yeasty bread aromas to permeate every room of your home, beckoning you to make a sandwich or slather a warm fresh-baked slice with butter … it's easy to see why gluten free bread machines are so well-loved!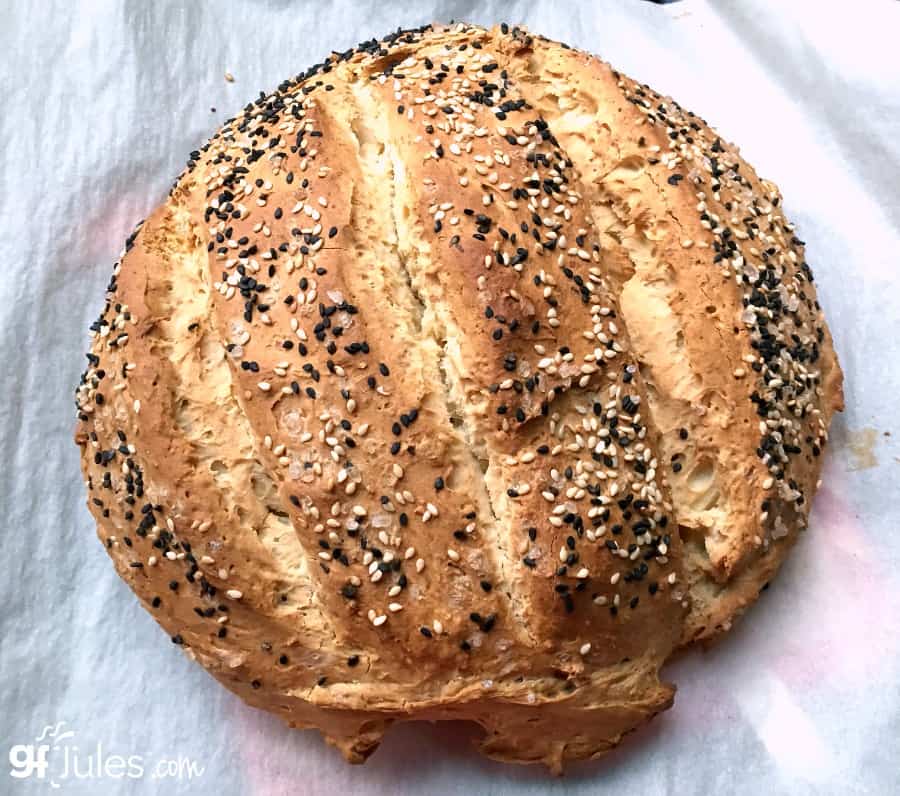 BUT … don't hesitate to try baking gluten free bread from scratch if you don't have or can't afford to buy a gluten free bread machine. The homemade gluten free bread recipes on my site are all designed to be made without a bread machine, though many may be made in a bread machine, as well. And you don't have to be a bread baking expert to bake them — I promise!
Some of my favorite gluten free loaves are baked in my oven, and some recipes don't even require a bread pan! Gluten free sandwich bread, challah, gluten free bread sticks, 10 Minute Gluten Free Focaccia … are just some of the amazing homemade gluten free bread recipes on my site that can be made easily without a breadmaker.
Tips for Making Gluten Free Bread in a Bread maker: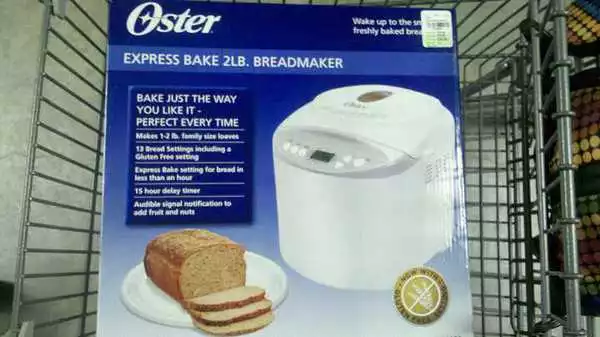 1- You don't have to have the most expensive breadmachine to have the best bread. I travel with my bread makers for many cooking classes, and I won't risk a big investment being in the hands of the TSA. So I tend to prefer mid-range bread makers for travel: Oster®, BreadMan® or Cuisinart® and Hamilton Beach®. These are all typically in the $85-$150 range.
But I truly love the loaves my reliable, two-paddled Zojirushi® turns out; I don't risk traveling with it because it is a costlier machine. You can read about the Zojirushi as well as my preferred mid-range and travel machines in my gluten free bread machine reviews.
The process of baking gluten free bread in a bread machine is the same, no matter which model you use: liquids first, then dry ingredients, then yeast. Here's a quick video showing you how:
(The short video above shows bread being made with my gfJules Bread Mix; to make with a scratch recipe, simply use the ingredients in this Gluten Free Sandwich Bread or Dinner Rolls Recipe)
2- You don't have to have a bread maker with a gluten free setting to bake gluten free bread. But it helps. If you have an older bread machine without a gluten free setting, make sure it's totally clean from any gluten residue. If there are scratches on the pan or the paddle, buy new ones because they could house gluten left behind from the last loaf.
If you are in the market for a new bread maker, buy one with a gluten free setting. Check my review of gluten free bread machines though, as they are not all created equally; just because a machine has a gluten free setting, does not mean it will produce a good loaf.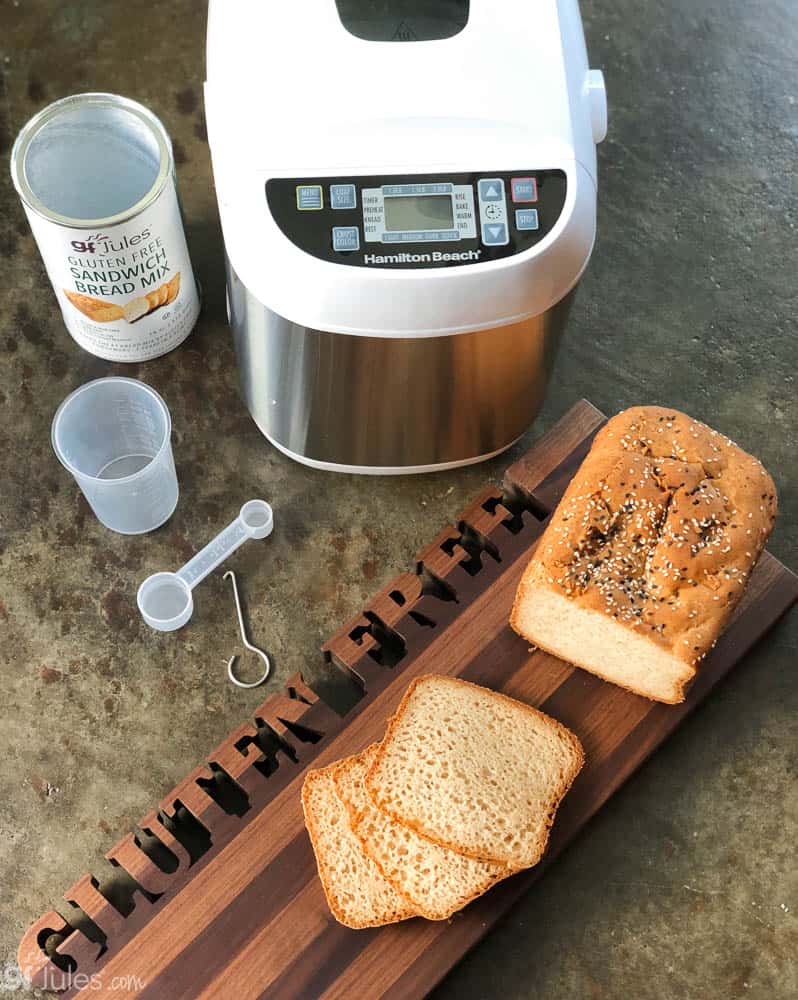 3- Using bread makers without a gluten-free setting. Read your manual to find out if it will allow you to, and how to override the pre-programmed settings.
How to Program Your Bread Machine for Gluten Free Bread:

1. a 20-minute mix cycle

2. a 1-hour rise cycle

3. a 1-hour bake cycle

Do not allow the machine to do a "punch down" or second rise! Those are settings specific to gluten breads, but they will damage your gluten free loaf.
4- Always bring ingredients to room temperature before mixing gluten free bread dough. For eggs, heat a bowl of water and put the un-cracked eggs in the bowl to bring them to room temperature.
5- Always put liquid ingredients into a bread maker pan first. Dry ingredients go on top. If you can whisk the dry ingredients together before pouring them into the pan, that is best.
6- Keep a rubber spatula handy and help the bread maker out a bit during the mix cycle. Go around the pan with the spatula to help the ingredients incorporate. Th mixing paddles on bread machines don't always get the dry ingredients off the sides of the pan, so using a rubber spatula can help. You'll know after first use if your machine needs a little help mixing or not.
If you don't want holes from the paddles when you remove them after baking, once the bread is mixed and before the rise, reach into the dough and remove the paddles; use the rubber spatula to help clean them off and smooth the top of the bread before rising. Note: it's totally fine to leave the paddle inside the loaf as it bakes — it's purely aesthetic whether you want a hole in the bottom of the loaf or not. With most machines, there is only one paddle, so only one small hole in the bottom center of the loaf.
7- Buy an instant read thermometer. They're not expensive but make all the difference in helping you decide if your gluten free bread is really fully cooked. Always take your bread's temperature before you take it out of the oven or the bread maker. It might look and smell done, but if it's not over 205° F, it's not done in the middle. Add extra time to your bread maker or put the bread maker loaf pan into your oven on 350° F for another 5-10 minutes (keep taking its temperature).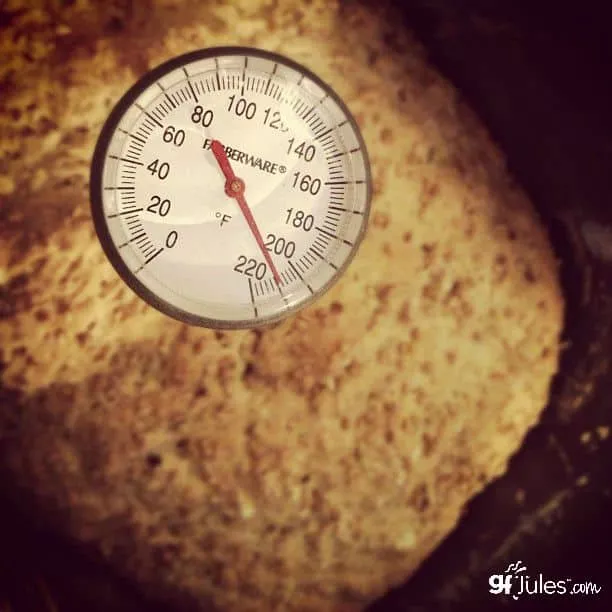 8- Let your bread cool in the pan for about 5-10 minutes. Lay the pan on its side for a few minutes, then shift to the other side for a few minutes. Gently remove it from the pan after it has cooled a bit, then cool completely on a wire rack before cutting (if you can resist!).
9- Store fully cooled bread in a zip-top bag on your counter – Squeeze the air out of the bag first, then seal. Depending on the recipe and ingredients, it should stay fresh that way for a few days. Remember: this is homemade bread, not commercially-made, processed bread loaded with preservatives, so it will naturally be softest and taste freshest the first day or two. In France, people still buy fresh baguettes every day — there's a reason!
10- Never refrigerate your breads or you will dry them out! If you can't finish the whole loaf before it starts to get dry, you can slice the bread and freeze it in a zip-top freezer bag so you always have bread handy. Put parchment or wax paper between the slices to make separating the frozen slices easier. Then, just toast to enjoy! Or, use leftover bread that's past its prime in homemade gluten free French Toast!
Bonus #11 – If you really want a tall, fluffy loaf of bread, use a carbonated beverage like gluten free beer, club soda or ginger ale! Check out the height of my gluten-free beer bread! This is my favorite, reliable from-scratch gluten free sandwich bread recipe which can also be made with carbonated liquids.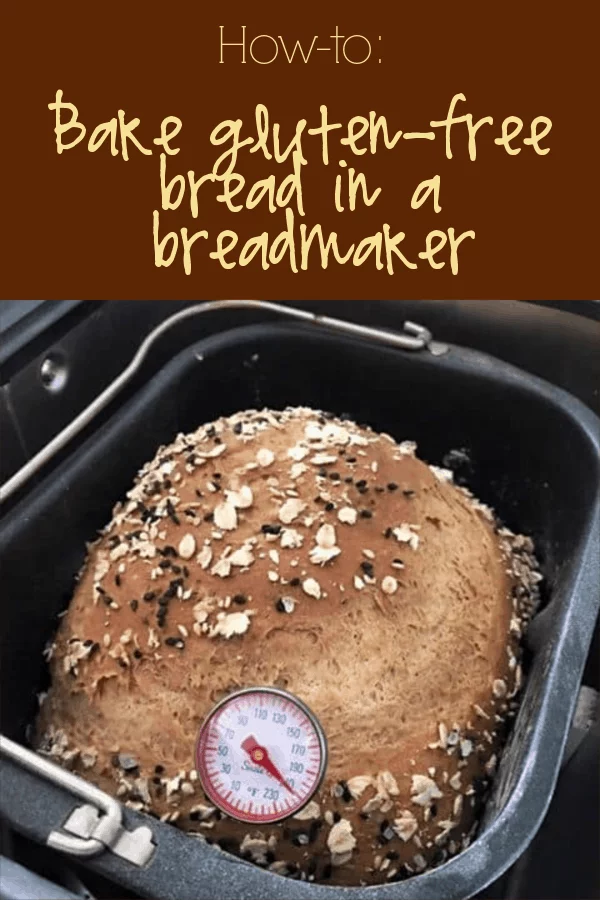 *Some links in this post may be referral links. If you do decide to purchase a product at a retailer after following my link, I may receive a small commission, at no additional cost to you, which I use to pay for web hosting and services for this blog. Read my disclosure policy here.