Lots of folks ask me for my gluten free bread machine reviews. Which bread machine do I prefer for baking gluten free bread? Which are the best bread machines for gluten free bread, specifically? And do you have to have a bread machine with a gluten free setting?
In the many, many years I've been baking gluten free bread, I have tried just about all the bread machines out there — those with gluten free bread settings and those without. Here I review some Zojirushi, Hamilton Beach, T-fal, and Panasonic gluten free bread machines and compare their features for you. I also share my results with a Cuisinart bread machine.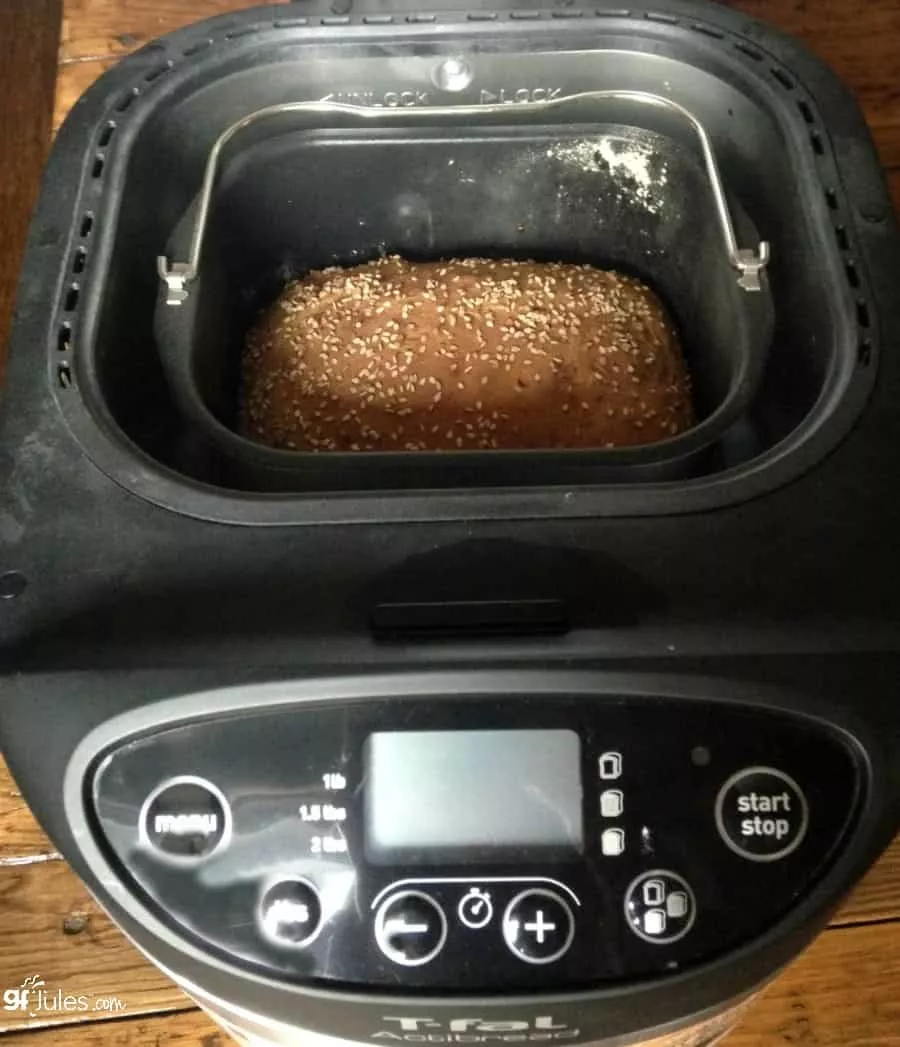 Even within brands, there are some bread machine models to avoid, so pay attention to model numbers and links provided.
But first, let's look at whether you NEED a bread machine to bake great gluten free bread.
While it IS nice to simply plop all the ingredients into a pan, press a button and walk away … it's certainly not difficult to bake homemade gluten free bread in the oven with a pan. You just need the right gluten free ingredients and the right recipe.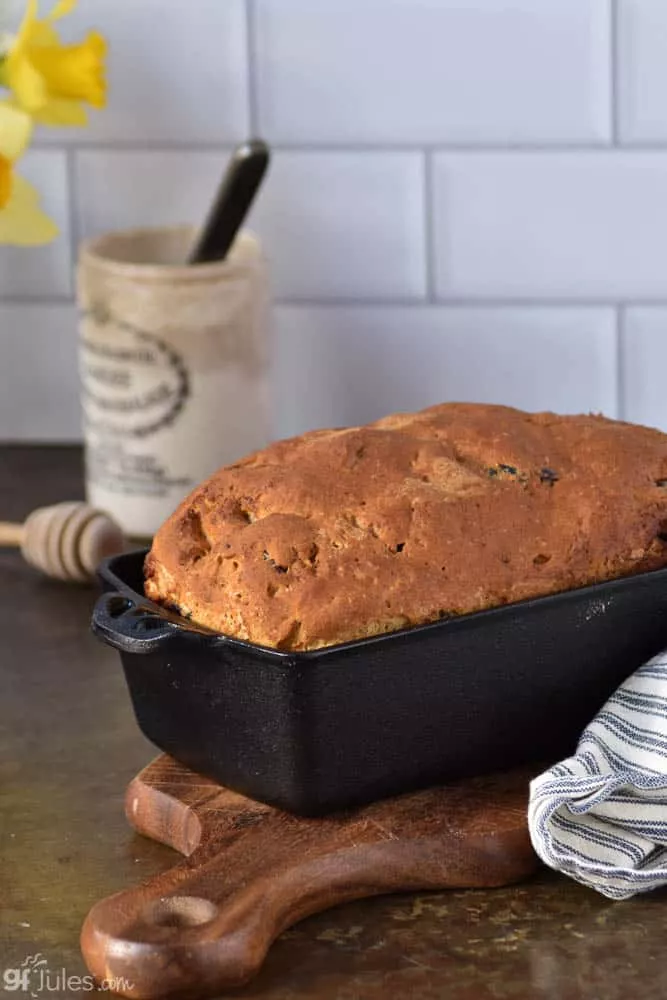 Do I need a Gluten Free Bread Machine?
First off, let me say that you do NOT need a bread machine to make awesome gluten free bread. But if you want to use a bread maker, please read my article full of tips on what and how to use one.
If you're looking for more gluten free bread baking tips, applicable to both oven and bread maker baking, also check out my Top 18 Gluten-Free Bread Baking tips.
Whether you decide to bake gluten free bread in an oven or a bread machine, there are so many reasons to try baking your own gluten free bread at home:
it's not hard to make delicious gluten free bread when you use the right ingredients;
the results are far better than any frozen gluten free loaf you would buy at the grocery store;
the slices are sized to make real sandwiches (without holes!); and
it is far more cost effective in the long run to bake delicious gluten free bread at home (how much money have you already wasted buying gluten free bread your family wouldn't eat? I rest my case).
Click on the photo to watch the quick video about the bread machine being used for gluten free panettone.
Gluten Free Bread Machine Reviews
All my bread machine testing has been done using my award-winning gfJules Bread Mix so that the results of each bake-out are dependent only on the machine as the variable.
Direct Comparison of 3 Bread Machines for Gluten Free Bread
All three of these models are reviewed in depth below, but here's a sneak peak at the difference a bread machine can make when the same bread mix, the same ingredients and the same user (ME!) used three different machines on the same day!
As you can see, the structure of each loaf is different when sliced. Each was soft and easily sliced thin or thick, but the Hamilton Beach cell structure was the most open and airy; the T-fal was the most dense of the three.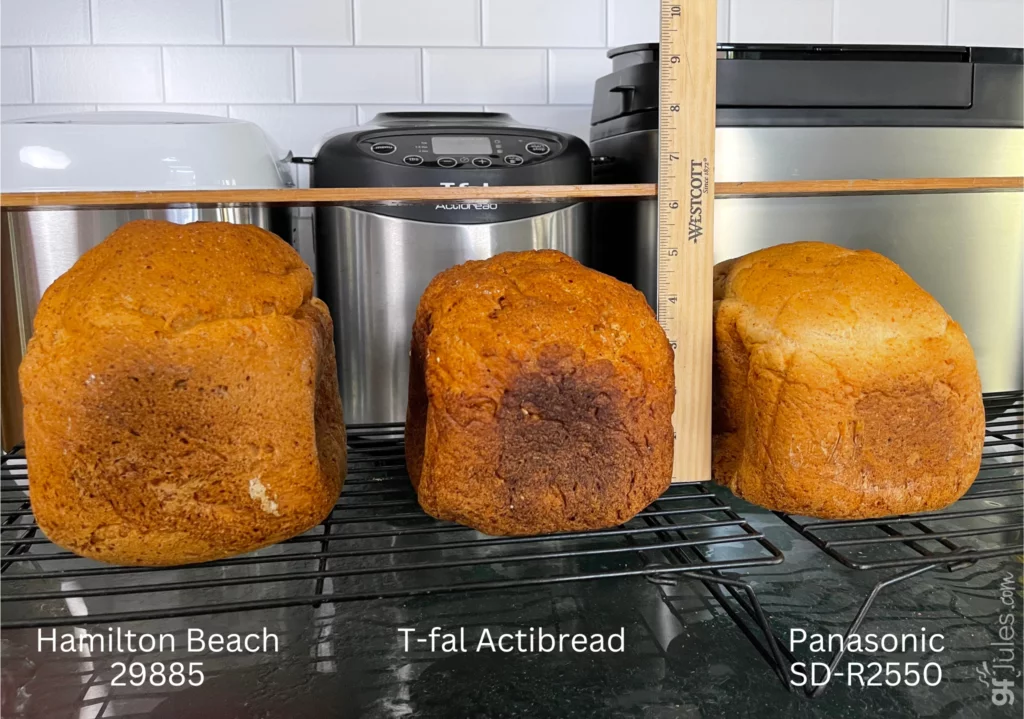 The pan size on each machine is different (see reviews below), so it's understandable that the height would also vary. However, the height difference with the Hamilton Beach was notable.
It's easier to see the pan size difference when comparing the finished loaf length size. The T-fal is the shortest loaf; the Panasonic is the longest loaf. See more details in the reviews below.
Zojiurushi Gluten Free Bread Machine Review
I'll start with the Zojirushi® Home Baker Virtuoso (it's now called the Virtuoso Plus), as it has traditionally been the most highly regarded gluten free bread machine by most bakers (including myself). Its one drawback: the price.
I have traveled all over the country teaching gluten free bread baking classes and have most often used my trusty Zojirushi. While it has a pre-programmed gluten free setting, I program my own gluten free setting to avoid some of the issues which can arise with the pre-programmed one (including a punch-down setting which I never recommend for gluten free bread).
For more information on how to easily program a bread machine like the Zojirushi for baking gluten free bread (one of the attributes I like most about it), review my comprehensive article on baking gluten free bread in a bread maker.
Widely recognized as the gold standard for bread machines — especially in the gluten free category — the Zojirushi Home Bakery Virtuoso or Virtuoso (Plus) is the bread maker that does it all, and it's the one I've reviewed here for our sandwich bread baking purposes. While most bread machines are compared to the Zojirushi, and you certainly can't go wrong with this brand, the pricetag is steep. Depending on the model and where you find one, the price can range from $375 – $650! It's an investment I've rarely heard anyone regret, however.
As I mentioned, it comes with a pre-set gluten free setting, but I prefer to program my own homemade cycle with this machine, as the pre-set GF setting calls for a punchdown and second rise, which is never a good idea with gluten free breads. Luckily, the homemade settings are easy to program and we can get our gluten free bread just right that way!
There are really no cons about this machine other than its price tag. But, if you're going to be baking a lot of bread or really love the idea of a machine doing it for you, this is a worthwhile investment. I don't know anyone who owns one who doesn't love it.
The idea with any bread machine is that you put all the liquids into the pan, dry ingredients on top, then the yeast. Push a button and the machine does all the work, producing a lovely gluten free loaf in a little over 2 hours.
One of the best features of the Zojirushi is its long pan with double mixing paddles. The machine mixes the dough better than most other machines due to the double paddle design. The long loaf also makes the bread shaped and sized to a more typical sandwich bread.
The Zojirushi produces a reliably well-mixed, well-cooked loaf every time, with the right gluten free bread recipe or mix, of course.
One note: unlike some other bread machines, it does not make a very crusty gluten free loaf. The crust is more like a store-bought, soft crust bread which is great! … unless you're looking for a crusty loaf of bread.
Zojirusihi also makes a Home Bakery Maestro upright bread machine that makes a vertical-shaped loaf. I used this machine for my gluten free Panettone Recipe and it worked quite well!
The machine is about the same price as the Home Bakery Virtuoso, though, and for my money, I would stick with the larger, two-paddle, horizontal loaf machine instead.
I recently tested an even more affordable bread machine option: the Hamilton Beach Artisan Dough & Bread Maker 29885.*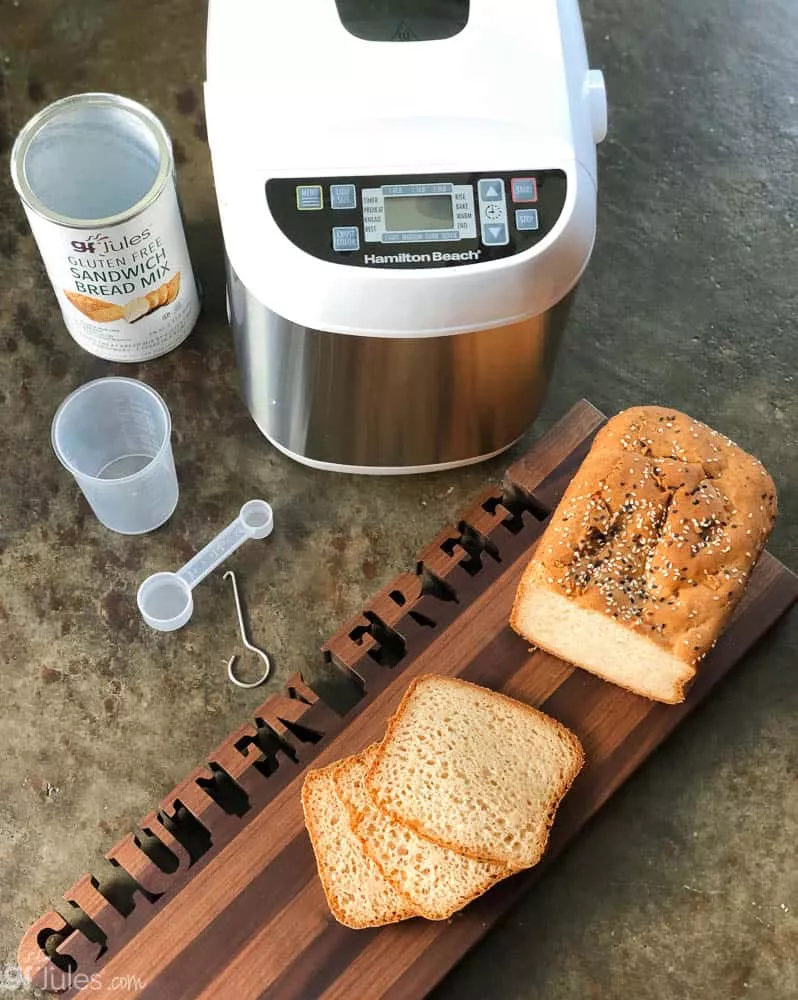 Like the T-fal gluten free bread machine, the pan is more compact than the Zojirushi, and has only one paddle for mixing. The bake time for the gluten free setting is a bit longer than the T-fal, but it's still possible to have a fresh, hot loaf of homemade gluten free bread in under 3 hours, which is a pretty great option.
*Note that the model number machine I reviewed — which I liked — is 29885. Model numbers 29886 (red) 29887 (white) appear to also have the same mixing cycles which will work well. Please only buy these model numbers, as other Hamilton Beach models are not programmed properly for gluten-free breads, even with a gluten free setting!
There are other Hamilton Beach bread machine models, and at least one (model #29882) has a gluten free setting which includes two rise times with a first kneading of 10 minutes followed by a second kneading cycle of 20 minutes after resting/rising for 25 minutes. That would spell disaster — or in this case a very flat gluten free loaf. In other words — do NOT buy model 29882 for gluten-free bread baking.
I can't understand the thinking behind that program (and so many other similar "gluten free bread machine programs" on other branded machines), but do not buy that machine!
Many thanks to reader Patty S. who shared her manual with me on this machine, but very sorry to hear of her bad experiences because of those settings! Here's how Patty's experience with the Hamilton Beach #29882 machine went:
I made my bread using the dough setting and then the bake setting, like we talked about. The instruction book said it would mix/knead the dough then it would rise. Well during the rise period (30mins) about 17 minutes in, all of a sudden I heard it mix. It spun the paddle once, then a brief rest period then it spun again. As soon as I heard it I headed into the kitchen and shut it off and left it rise the remaining time with the machine off. I have no idea how many more times it would have spun if I had not shut it off. After waiting the remaining time I did start the bake only cycle.

The bread turned out wonderfully thanks to your assistance and information. It's delicious!! I had toast for breakfast today which is the first time in 2 ½ yrs. I was in heaven!

With this all being said that machine will work but you really have to babysit it. If there were no other machines available I would definitely not mind. Although there are other machines so mine is going back and I'm ordering the correct Hamilton Beach #29885, which is actually $16 cheaper. Yeah me! Haha

Thanks again for your assistance and wealth of information! My bread would not have been a success without you!! Thank you thank you thank you!!!
And then, after Patty returned it for the Hamilton Beach #29885 I recommend instead:
I used the 29885 and the bread turned out wonderful! I did not bake it for the additional time because when I stuck the thermometer in it read 205. The bread was done the whole way through, nothing was undercooked. I made your

cinnamon raisin recipe

this weekend, no extra bake time was needed for this also. It's delicious!

Thank you for your fabulous flour, recipes & wealth of information!
Way to go, Patty, for sticking with it! She was rewarded with great gluten free bread and now she has a great gluten free bread machine she can rely on!
Back to my bread machine testing: check out the size of these slices with a standard veggie burger — now that's a good size slice of bread! Unlike most store-bought gluten free loaves, these bread machine loaves produce sandwich bread with generously sized slices to make real sandwiches.
One thing to note about this gluten free bread machine: I tested the loaf with a bread thermometer at the end of the pre-programmed gluten free cycle and it needed more bake time to reach 205F internally (note from above that reader Patty did not need to add time, but that's why it's always good to have an instant read thermometer so you know for sure!).
The good news is that this Hamilton Beach 29885 or 29887 has a simple bake setting which makes it easy to add bake time (unlike the Cuisinart**).
I ended up adding 10 minutes more to the bake and the loaf tested done. After all the opening and closing of the lid though, some sinking did occur in the top of the crust.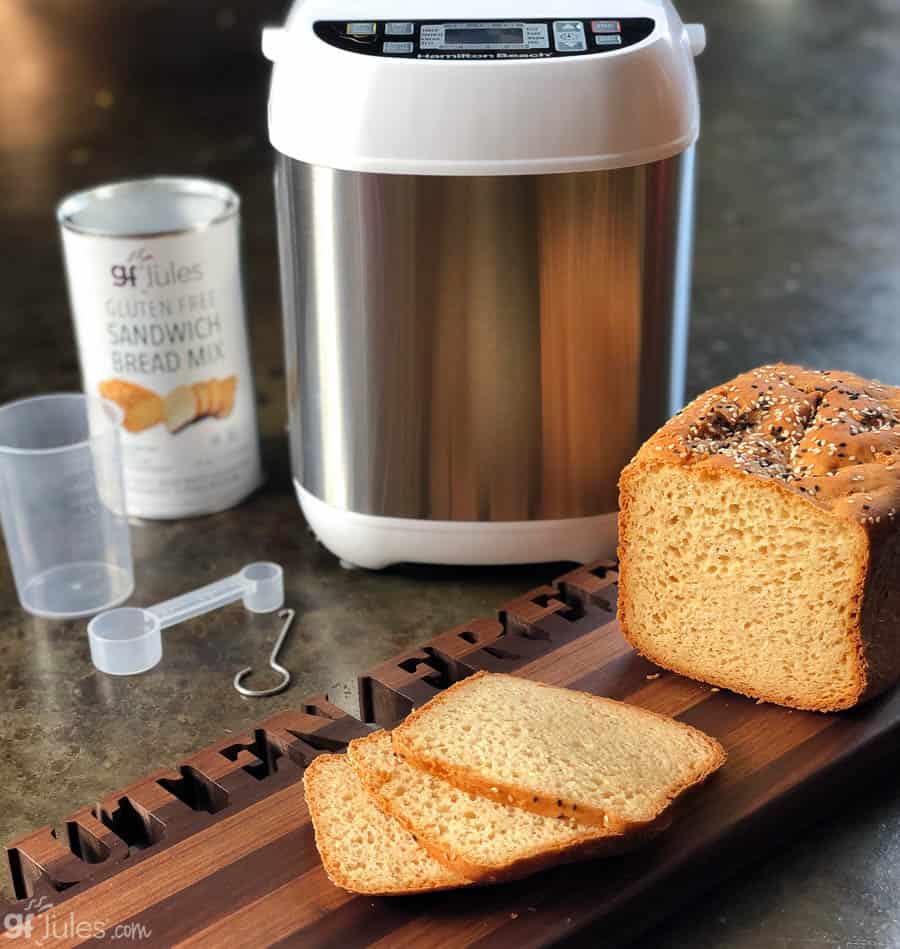 It still tasted fabulous and was completely cooked, so I would count that as only a minor ding against this machine; next time I will know to add 10 minutes and won't have to open the lid early at all.
The crust was much softer and more akin to the Zojirushi crust than the hearty T-fal crust, so take that into consideration when deciding which machine suits your family's tastes.
I also liked that this machine comes with a paddle hook to help remove the paddle from the baked loaf if it stays inside the bread (which mine did not do).
As with any bread machine, the room temperature liquids go on the bottom of the pan, then the dry mix ingredients, then the yeast in a well in the middle.
When the bake cycles are complete, simply remove the pan from the machine (with a pot holder) and allow the loaf to cool for a few minutes in the pan before gently sliding the loaf out of the pan to finish cooling on a wire rack.

Compact Size & lightweight machine
Bakes a beautiful, tall, 5 5/8″ loaf that's 6 1/2″ long
One Gluten Free Setting pre-programmed
Bake only setting available to add time or program your own
Sweet Bread, Dough, Jam, Rise and Bake settings also available (which would work for gluten free)
Start to finish, 2-lb loaf with nice crust done in under 3 hours (2:45)
less expensive than Zojirushi® or T-Fal® or Panasonic®
bread has a soft crust
dough paddle tends to remain in the pan, rather than in the baked loaf
comes with a paddle hook to help remove the dough paddle from the loaf if it does stay inside when the loaf is removed
Cons:
Compact bread pan size bakes a tall loaf, but means slightly fewer slices (approximately 16, depending on how thick they are sliced)
Only one paddle to mix – need to use a rubber spatula to help mix the batter fully
Machine sometimes did not fully cook my gluten-free loaf to 205º F in the bake time as programmed
Pan is 7 1/4 inches long; Zojirushi® pan is 9 inches long
bread has a soft crust – if you prefer a crunchy crust, I recommend the T-Fal® bread machine instead
This new (2022) machine is quite impressive. I was happy with the results I got from this easy to use model, and excited about the features this machine boasts that others don't. At close to $300 though, this bread machine is on the higher end of the continuum of prices of machines I've rated. Let's take a look at what it offers.
One of the unique features of this machine is the nut/seed dispenser on the top. This well holds whatever seeds, dried fruits or finely chopped nuts you like, and the raisin/nut dispenser will add them at the optimal time to distribute them throughout the dough. The manual cautions not to add sugar-coated ingredients or alcohol-brined fruits, cheese or chocolates to the dispenser. I haven't had a chance to try this feature with my gluten free Cinnamon-Raisin Bread recipe yet, but I'm eager to put this feature to the test!
While the nut dispenser is fun, it means that this machine does not have a window on the top, as all the other models do. Not a deal-breaker, but be forewarned that once the rise cycle begins, you will not be privy to what's going on inside until it's time to check that it's done!
As with other machines, I would encourage you not to use the gluten-free recipe that comes with the manual, as it's a brown rice and potato starch recipe that isn't likely to be nearly as yummy as the one that I tested and is pictured here. (Brown rice flour tends to make recipes gritty and dry.) I used my gfJules Gluten Free Bread Mix; another great recipe to try from scratch is my Gluten Free Sandwich Bread recipe instead.
The pan size is on the larger size, though not as large as the Zojirushi®; it has only one paddle. It does a great job of mixing, but the manual recommends that you open the lid and scrape down the sides with a rubber spatula when it beeps after 6 minutes. I found this step to definitely be necessary.
I also smoothed the loaf at the end of the mixing cycle, as the rapid mixing of this paddle tended to cause the dough to form a high peak at one side when done.
The paddle does stay put and has not come out with any of my loaves, which is a nice bonus, as most bread machines I've used wind up with the paddle coming out with the loaf.
Another interesting feature is that it offers two other settings which should work for gluten-free: a Gluten-Free Cake setting and a Sourdough Starter setting.
Overall, this Panasonic® model has produced some lovely loaves for me using my gfJules® Gluten Free Bread Mix. All just over 2-lbs and in this machine, 5 1/4″ tall and 7″ long. A very nice sized loaf.
Pros:
Bakes a lovely, smooth topped, 5 1/4″ loaf that's 7″ long
One Gluten Free Setting pre-programmed
Bake only setting available to add time or program your own
Gluten Free Cake setting also available (note: I have not yet tested this setting)
Sourdough starter setting (which should work for gluten free sourdough starter — recipe here)
Start to finish, 2-lb loaf done in under 2 hours (1:50-1:55)
bread has a soft crust
dough paddle tends to remain in the pan, rather than in the baked loaf
Raisin/Nut Dispenser
Cons:
Large size machine takes up more space in the kitchen
Only one paddle to mix – need to use a rubber spatula to help mix the flour around the edges and at the end of the mix cycle to smooth out the loaf
Bread has a soft crust – if you prefer a crunchy crust, I recommend the T-Fal® bread machine instead
No window
More expensive than the T-Fal® or Hamilton Beach®
T-fal Gluten Free Bread Maker Review
If you are in the market for a new bread machine with a gluten free setting, I am happy to add this T-fal® Actibread Machine to my favorite kitchen appliances for you to consider.
Pros:
Compact Size
Bakes a beautiful, tall loaf with nice crown
Gluten Free Settings pre-programmed (including sweet bread & cake settings)
Bake only setting available to add time or program your own
Different loaf size & crust settings available
Start to finish, 2 lb loaf with nice crust done in just over 2 hours
Machine fully cooked my gluten-free loaf to 205º F in the bake time as programmed
less expensive than Zojirushi®
bread has a very crunchy crust
Cons:
Lid attachment seems loose and may compromise oven seal with extended use
Compact bread pan size bakes a tall 5″ loaf, but means slightly fewer slices (approximately 16, depending on how thick they are sliced)
Only one paddle to mix – need to use a rubber spatula to help mix the batter fully
Pan is 7 inches long; Zojirushi® pan is 9 inches long
More expensive than Cuisinart®
dough paddle usually stays inside the baked loaf and can be awkward to remove, as well as leaving a large hole in the bottom of the middle of the loaf
bread has a very crunchy crust – if you prefer a soft crust, I highly recommend another machine instead
All in all, I am quite pleased with the results of this T-fal gluten free bread machine. It has produced beautiful results comparable to those of machines that cost far more, so I would highly recommend it if you are interested in baking homemade bread with a bread machine.
NOTE: as of 2021, T-fal has notified me that it is no longer manufacturing ANY bread makers. If you happen to get your hands on one of the T-fal gluten free bread machines left on the market — lucky you! Sometimes you can find them on ebay or other such sites. Otherwise, check out one of these other recommended gluten free bread makers.
What's Your Opinion on Bread Machines for Gluten Free Bread?
Do you have a bread machine and use it to bake gluten free bread? Is yours a gluten free bread machine or a standard bread machine you have to program for gluten free loaves? Please leave a comment below with the bread maker you use and your review of it so others will learn which machines are worth trying.
Thanks for contributing your experiences!
**Note: I had previously recommended a Cuisinart®​ machine among those I liked to use, but after after repeated problems with my Cuisinart bread maker not fully baking the loaves, I no longer recommend that machine. I have learned a work around (preheat your oven to 350°F and place the bread pan from the Cuisinart bread machine into the oven to bake approximately 10 more minutes at the end of the bread baking cycle), but this is not ideal. One reason we use a bread machine is so that we don't need to turn on the oven, or perhaps because there is no oven available. Since this bread machine does not have a separate bake setting, access to an oven is required. I have heard from many other Cuisinart bread machine owners that they have had the same issues and have also learned to use the oven to fi3 slicenish baking the loaf. If you currently have a Cuisinart bread maker, I highly recommend purchasing a bread thermometer so you can determine if the gluten free bread is fully cooked on the inside before removing the bread to cool.
*Thanks to Zojirushi®, T-fal®, Hamilton Beach® and Panasonic® for supplying me with gluten free bread machines to test and review. My opinions on bread machines are entirely my own, and a favorable review was not required. (I have since purchased two of these machines as gifts, just so you know — I'll leave you to guess which ones!) I only work with companies and products that I love and recommend. Some links in this post may be referral links. If you do decide to purchase a product at a retailer after following my link, I may receive a small commission, at no additional cost to you, which I use to pay for web hosting and services for this blog. Read my disclosure policy here.