Key Lime pie is a perennial favorite in my house. Trouble is, restaurant varieties always contain gluten in the crust and dairy in the pie — a double no-go for us. On the other hand, this homemade gluten free and dairy free Key Lime Pie is so amazingly delicious that I don't even complain about having to make it at home rather than ordering out.
Even our dairy- and gluten-eating friends tell me this recipe makes the best Key Lime Pie they've ever had. High praise, indeed. Sounds like recipe you need to try for yourself, don't you think?
Fresh, light, and oh-so tangy, it's truly one of my favorite desserts of all time.
I mean, how cool and creamy does this treat look?
And no gluten or dairy was harmed in the making of this delicious, iconic pie!
It's not needed and it's certainly not missed! Check my recipe for the cool ingredients I used to get around any need for gluten or dairy.
You can even make the filling in a blender! (I used my trusty Blendtec — Enter code GFJULES for 20% off Blendtec blenders and accessories at https://www.blendtec.com)*
My gluten free Key Lime Pie boasts 3 fancy layers: gluten free graham cracker crust; sweet-tart creamy key lime filling; light and airy meringue top. But there's actually nothing complicated about making this yummy pie.
It all starts with homemade gluten free graham crackers. I mean, when your graham crackers are this good, the homemade gluten free graham cracker pie crust is bound to be amazing!
Just bake the gluten free graham cracker crust, pour the filling ingredients into a blender or mixer, bake, and top with meringue (so easy to make – I promise!), and bake again.
If you allow enough time for every step, it'll be a stress-free baking experience because this pie is seriously simple to pull together.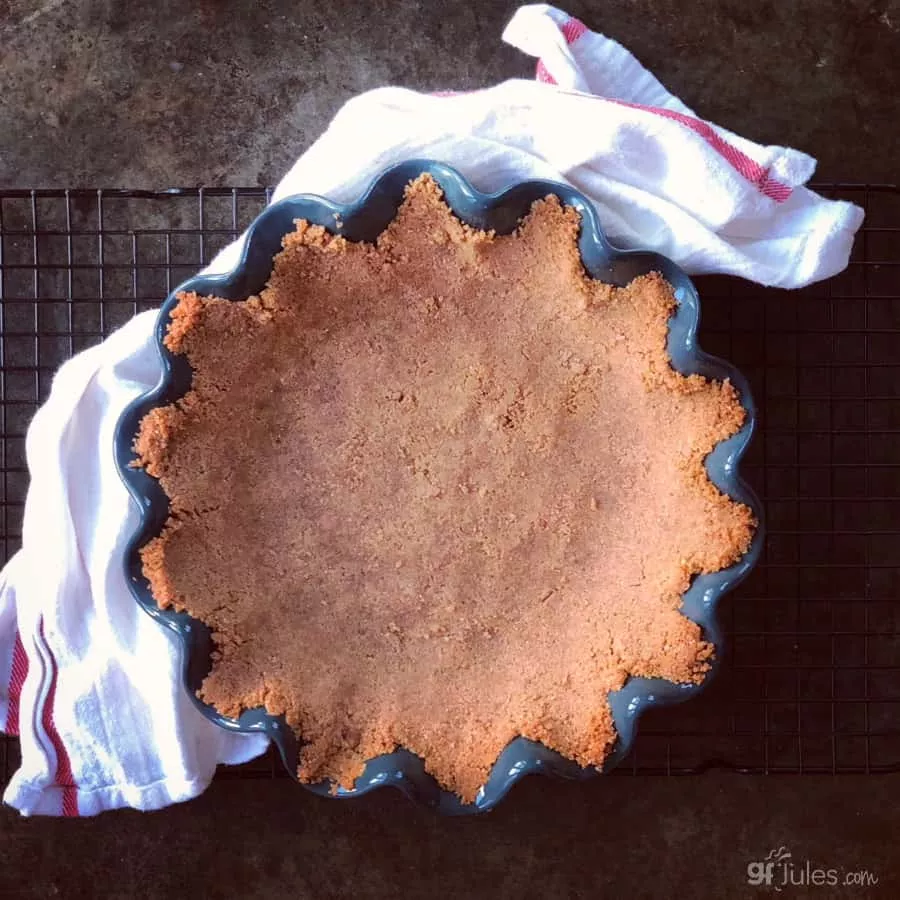 Just crush the graham crackers, add some sugar and melted butter (or vegan butter) and press into the pan. Bake for 10 minutes, then fill with the key lime filling to bake again. (Check out my quick recipe videoto see for yourself how easy it is to make this homemade gluten free graham cracker crust!)
Top with the meringue (which looks fancy and complicated, but it's so NOT!) and bake again for 10 minutes or until the tips of the meringue are getting lightly browned but not burning.
And with these gluten free and dairy free key lime pie ingredients, it's also surprisingly … dare I say … healthy? Don't tell your family until after they rave about it, but especially if you use the tofu ingredient option, there's nothing to keep you from having a second piece!
You can find Key Lime Juice at the store, or juice your own, but if you decide to opt for the latter, make sure you buy a whole bag. Check out how many of these tiny limes it's going to take to get the 1/2 cup of fresh juice you'll need for this pie!
Want to make this heavenly treat even easier? Buy the juice in a bottle! It does taste different than regular lime juice (not that a regular lime pie wouldn't also be delish!) — the flavor is milder and just all around perfect.
You can also save some time by setting aside extra homemade gluten free graham crackers or gingersnaps whenever you make them; freeze at least a cup or two in a bag so that you can whip up a graham cracker crust quickly whenever you need one … like I did today!
Enjoy this cool pie on these hot summer days!
Watch the Recipe Video to See How to Make this Easy Homemade Gluten Free Graham Cracker Crust
Yield: serves 6-8
Gluten Free and Dairy Free Key Lime Pie
Prep Time 30 minutes

Cook Time 1 hour

Total Time 1 hour 30 minutes
Ingredients
Gluten Free Graham Cracker Crust
Key Lime Pie Filling
2 Tablespoons gfJules® All Purpose Flour
3 large eggs
1 1/4 cups milk, dairy or non-dairy
3/4 cup granulated cane sugar
1/2 cup firm tofu or cream cheese, dairy or non-dairy
1/2 cup Key Lime juice
2 tablespoons fresh lime zest (don't skimp on this ingredient!)
1 teaspoon pure vanilla extract
Meringue
3 large egg whites
1/2 teaspoon lime juice
6 tablespoons granulated cane sugar (finely granulated sugar is best)
Instructions
* Bake out my gfJules™ Graham Cracker/Gingersnap Mix or use this great homemade recipe for plenty of delicious graham crackers to make this crust and have lots left over for munching!
Crust Directions:
Preheat oven to 350°F.

Chop the graham crackers and almonds, if using, in a food processor until fine. Once uniformly crushed, measure out to be sure you have 1 2/3 cups of crumbs-repeat if you need more crumbs.

Pour the sugar into the food processor with the crumbs and pulse until integrated. Add in the melted butter, pulsing until the crumbs begin to stick together (alternatively, stir together in a bowl with a fork). If you find you need slightly more butter to get the crumbs to hold together, melt an additional tablespoon and add it in the same way.

Pour the crumb-butter mixture into a pie pan and press with your fingers to create an even thickness along the bottom and sides of the pan. Bake in preheated oven for 10 minutes-do not allow the edges to burn, though. Remove and set aside until the pie filling is prepared.
Filling Directions:
Combine all ingredients in a large food processor or mixing bowl and process or beat until smooth; sift gfJules Flour when adding to reduce lumps.

Pour into cooked crust and bake for 40-50 minutes, depending on the size of your pie pan and therefore, the depth of your pie. If the crust edges are browning too much, cover with a pie crust saver or aluminum foil.

Remove from oven once the center of the pie is no longer jiggly, and prepare meringue according to directions, or set baked pie aside to cool for two hours and serve plain, with whipped topping or fresh berries.
Meringue Directions:
Separate the egg yolks and egg whites, throwing away the yolks and breaking the whites into a clean metal bowl (be sure there is no yolk at all in the bowl with the egg whites).

Beat the egg whites in a clean metal bowl with clean whisk attachments to your mixer until the whites are foamy. Add the lime juice and continue beating on high until peaks begin to form. Add the sugar in gradually while beating, and whip until the mixture is stiff.

When the pie is done baking, remove from the oven and swirl the meringue over the top of the pie, spreading to touch the outer edges of the pie pan, covering the entire pie.

Return to the oven and bake until the meringue tips are light brown, approximately 10-15 minutes.

Remove from the oven to a cooling rack and cool in the refrigerator for 2 hours before slicing.

Serves: 6-8
Nutrition Information
Yield
8
Serving Size
1
Amount Per Serving Calories 386Total Fat 18gSaturated Fat 7gTrans Fat 0gUnsaturated Fat 10gCholesterol 96mgSodium 235mgCarbohydrates 49gFiber 2gSugar 38gProtein 10g

I hope you love this recipe as much as we do!
Pin it for later!
**I am a Blendtec brand ambassador; as always, all opinions are my own. Enter code GFJULES at https://www.blendtec.com for 20% off anything except already discounted Pro Series)