While making a homemade gluten free doughnut recipe is not hard, there are a few must-dos when it comes to making traditional fried doughnuts that taste yummy, light and airy, not soggy or oily (ew!).
It's actually easy to make a great gluten free doughnut, you just need the right ingredients and these easy no-fail frying tips!
First is to use the right gluten free flour. Using a gritty rice-based flour will leave you with a gritty gluten free doughnut (yuck!) and using a heavy flour will make your doughnuts more like bricks. My award-winning gfJules™ Flour will get them light and fluffy, just like you want them.
Second, your oil must be consistently heated to the proper temperature — I go into this more in the instructions, so pay attention!
And third, finish with mouth-watering glaze, powdered or granulated sugar, chocolate or sprinkles … any way YOU like it, anytime YOU want a great gluten free doughnut!
The beauty of baking a gluten free doughnut yourself — in addition to being able to satisfy a true donut craving any time you have one — is that you can make them just the way you like them.
For example, celebrate May Day by honoring the tradition of Finnish Munkki: just add 1 teaspoon ground cardamom to my gluten free flour in this donut recipe and voilà! Happy May Day!
And mark your calendar for June 2 — it's National Donut Day (can't miss that)! Or just make Donut Day any ol' day you need an excuse to bake happy!
Need more gluten free doughnut ideas? Try baked donuts and get your donut fix without the oil. Hop over to one of my favorite recipes, Gluten Free Pumpkin Pie Doughnuts!
Feeling chocolatey? Take on my Gluten Free Chocolate-Zucchini Donuts! Or healthier Gluten Free Donut Holes made with protein and coffee! Or search for lots of other fun Gluten Free Donut Holes recipes and others on my site – just use the search bar at the top of each page.)
Or try this recipe in an air fryer — it works beautifully! Check them out!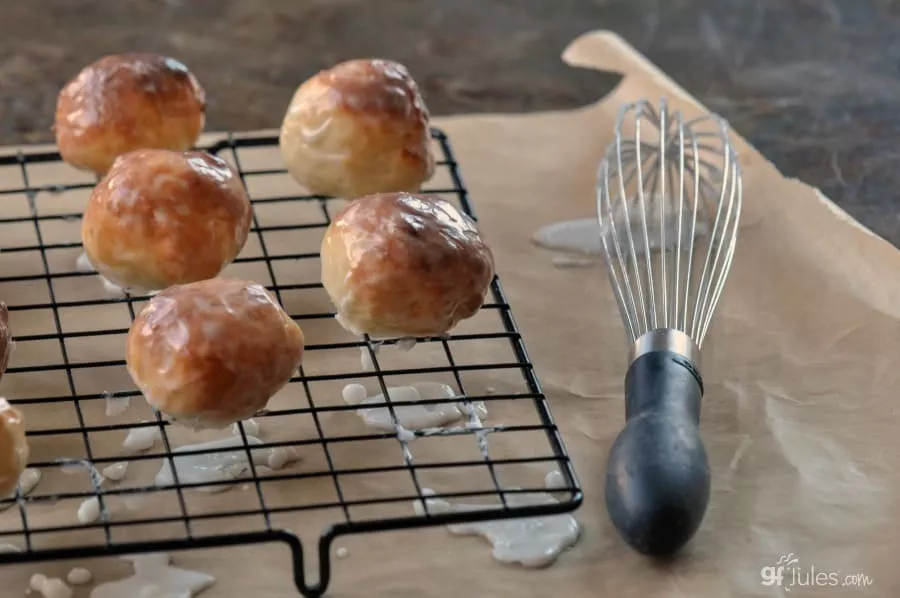 (If you'd like to make a New Orleans gluten free donut, aka Beignets, hop to my Gluten Free Beignet recipe! And just for fun, how 'bout Gluten Free Apple Fritters? They qualify as a doughnut, right?!)
All right already – time to make the donuts!
If you love this recipe and don't want to miss any other yummy ones, be sure to follow me on your favorite social media: Facebook, Twitter, Pinterest or on Instagram — and hashtag #gfJules or tag @gfJules – I love seeing your yummy recipes, too!
Gluten Free Fried Doughnut Recipe
Gluten Free Donut Recipe
Yield:
dozen full-sized doughnuts or 24 doughnut holes
The beauty of baking a gluten free doughnut yourself -- in addition to being able to satisfy a true donut craving any time you have one -- is that you can make them just the way you like them. Fry in oil or bake in an air fryer!
Ingredients
Doughnuts
3 2/3 cups (500 gr.) gfJules™ All Purpose Gluten Free Flour
1/2 cup granulated sugar
1/2 tsp. baking powder
1 tsp. sea salt
1 tsp. ground cardamom (if making as Finnish Munkki for May Day)
1/4 cup shortening (I like Spectrum® Palm Oil Shortening)
1 egg + 1 egg yolk (or egg substitute)
1 cup milk (dairy or non-dairy)
1 1/2 Tbs. vanilla paste or 5 tsp. pure vanilla extract
1 Tbs. granulated sugar
2 1/2 Tbs. rapid rise yeast (or 4 packages rapid rise yeast, 1/4 oz. each) – Red Star® Quick Rise Yeast
High heat vegetable oil, for frying
Confectioner's sugar for dusting or prepared glaze recipes (below)
Glaze
1 1/2 cups confectioner's sugar
2-3 tablespoons milk (dairy or non-dairy)
1 teaspoon pure vanilla extract
1 Tbs. milk (dairy or non-dairy)
2 Tbs. cocoa powder
1 Tbs. chocolate syrup (optional)
1 cup confectioner's sugar
Instructions
In a large mixing bowl, add 1 cup gfJules Flour, 1/2 cup granulated sugar, baking powder, salt and shortening. Beat until the shortening is integrated into a mixture resembling small pebbles.
Warm milk to just above body temperature (approximately 100°F) by heating in a small saucepan or in a microwave for 1 minute. Add vanilla paste, 1 tablespoon of sugar and yeast. Whisk to combine and set aside.
After five minutes at rest, and when the yeast mixture has begun to bubble and rise, gently stir into the flour mixture with the eggs (whisk together first before adding). Add remaining gfJules Flour, 1 cup at a time, until the dough is firm but slightly sticky.
Lightly flour a clean countertop or pastry mat with gfJules™ Flour. Transfer the dough and pat it into a flat disk shape, then gently roll out to 1/2 inch-thick.
To make donuts, flour (with gfJules Flour) a large round cutter (2-inches or larger) and press into the rolled dough. Use a small round cookie cutters to cut out the middles.
To make donut holes, use a 1-inch or smaller size cookie cutter. Gently press scraps of dough together to re-cut so that all the dough is used.
To make donut holes, roll each cut circle lightly between your palms until it is shaped like a ball. Once cut or rolled, place donuts onto baking sheets lined with parchment and cover with another sheet or parchment.
Place in a warm location or oven turned on to 200°F and turned off. (Place a pot of boiling water in the oven with the dough to help the rise.) Allow the donuts to rise for at least 30 minutes.
To Fry:
In a large saucepan, heat 2 inches of vegetable oil to 350°. Add 3 or 4 donuts at a time, adjusting the heat to keep the oil between 325° and 350°.
Fry the donuts until golden brown, flipping so both sides are cooked. This process can take less than 1 minute total with these yeasted doughnuts, so watch closely to ensure they are not over or under-cooked.
Remove cooked donuts with a slotted spoon and let drain on a wire rack. If rolling in sugar, do so while the donuts are still hot; if using glazes, allow donuts to cool first.
To Air Fry:
Set the machine to Air Fry at 350F and turn the timer on to start the machine (with my Cuisinart Air Fryer/Toaster Oven the timer must be running for the Air Fry setting to turn on). Put the baking tray on the pan onto rack position 2 (or follow instructions on your air fryer model).
After about 4 minutes, take the doughnuts out — that's it! They should be lightly browned and fully cooked inside. The first batch I let cook for 5 minutes, and it was a touch too long. I'm sure it depends on the size of your doughnut holes, but you don't want them to get too brown or crunchy.
Glaze:
To make glaze, whisk ingredients together in a small saucepan over low heat. Once integrated and warmed, dunk donuts into the glaze and set aside on a cooling rack covered with wax paper.
To make chocolate glaze, whisk ingredients together until thick but still spreadable. Dip the tops of donuts into the glaze, then set aside on a cooling rack covered with wax paper until glaze is set. Add more or less milk or sugar until the consistency is right.
To fill the donuts, once the doughnuts are fried and cooled, fit a large opening metal icing tip onto a pastry bag and fill with jam, preserves, frosting or cream as you withdraw the tip.
Push the metal tip into the side of the donut hole almost into the middle, and squeeze the jam or cream inside the donut.
For larger donuts, insert a pastry bag fitted with a long metal tip into the middle, then squeeze filling as you withdraw the tip.
As with any fried donut, these are best when enjoyed the day you make them.
Make them the old-fashioned way in hot oil, or try them in an air fryer! You'll love them either way!
Pin for later!