If you need to be gluten free AND dairy free, don't despair! There are some truly amazing vegan and lactose free cheeses, yogurts, creams, desserts … to choose from! (and yes, there's a difference between vegan, dairy-free and lactose free products!)
For more information on what it means to be dairy free and the reasons why you may want to try going dairy free for your health, hop to my article on lactose intolerance, milk protein allergy and casein.
From vegan ricotta to vegan cream cheese to vegan yogurt to vegan artisanal cheeses, mac & cheese and ice cream … you can find just about anything you need now, dairy-free! I've linked to a ton of our family favorites, but more are being added every day — lucky us!
I update this post regularly, as I attend trade shows and find new products to share. Some photos below are from trade show floors and depict products that are coming to market soon, so be on the lookout! Follow along on my Instagram Stories and Highlight reel with my favorite brands and products as I share!
What are your favorite dairy-free products? Leave a comment and let me know!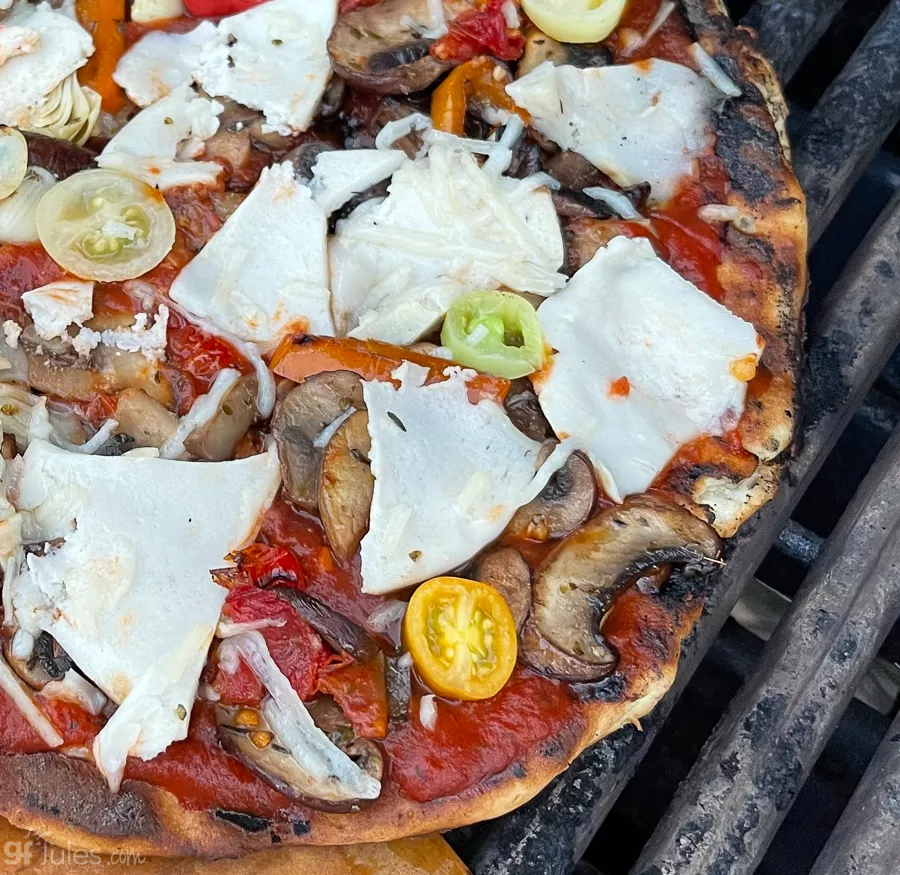 CAUTION for Gluten Free Consumers about Dairy-Free Alternatives: Some Dairy-Free Cheese Contains Gluten
When it comes to dairy substitutes, cheese is where it's at, so that's where this list will begin. What would a good cheesesteak be with out the cheese? A slice-a pizza be without hot, melty cheese? A cheeseboard be without the … well, you get the idea.
I've found some great dairy-free substitutes for you for all these things and more, starting with my favorite: PIZZA! Even buffalo mozzarella is now deliciously dairy free (Miyoko's Creamery) and melty shreds are getting better and better. But not every product from these vegan brands is necessarily ALSO gluten free (even Miyoko's, which makes some products using standard oats).
Let me repeat: NOT all of the new dairy-free products on the market are both vegan and gluten free. Always read labels!
An example of a vegan product NOT suitable for gluten free consumers is this plant-based mozzarella from Whole Foods which contains wheat:
ALWAYS, always, always read every label!
Some of my favorite dairy-free &/or lactose-free & gluten-free products & ingredients*:
(check ingredients to ensure they suit your particular dietary needs — not every item pictured below is recommended)
Dairy-Free Cheeses: Shreds, Slices, Cream Cheese, Soft Cheeses, Sticks & More

Vevan® – made by artisan cheese makers in Wisconsin. Vegan, coconut and potato-based cheeses with probiotics. Cheddar, Mozzarella and P' Jack Shreds; Uncream Cheese, Mozza Bites and Snax.
So Delicious® Cheese Alternatives — Shreds, Slices, Spreads. Coconut-based. Shreds come in Mozzarella, Cheddar and Mexican flavors. Certified Gluten Free from GFCO.
Forager Project® — cashew-based vegan cheeses (Vegan Parmesan, Vegan Mozzarella, Vegan Jack and Vegan Queso Fresco)
Daiya™ Cheddar and Mozzarella-Style shredded & sliced dairy-free cheese (*note: my family only likes the "Cutting Board Collection"), vegan cheeze sticks, Cream Cheese Style Spread (soy-free) — I find when using this cream cheese alternative in recipes like cream cheese frosting, it requires additional sugar, whereas other brands do not
Violife 100% Vegan Cheeses — all coconut oil based and nut-free (contains coconut, potato, corn) shreds, slices, cream cheese, feta, parmesan block, plant butter, dips, cream cheese, cocospread and more.
Parmela Creamery™ Slices and Shreds — cashew-milk based
Good PlanEt Foods™ cheese slices and shreds — coconut oil based and nut-free (contains potato and tapioca). Also new Smoked Gouda and Smoked Cheddar Wheels, Snackable Wedges and Snack Packs.
Field Roast® Vegan Chao Slices – made with soy; no gluten free claim is made and Field Roast does make other grain products containing gluten.
Follow Your Heart® Slices (Gouda; Pepperjack; Provolone) & Follow Your Heart® shredded vegan Parmesan & Follow Your Heart® Cream Cheese Alternative (soy)
Miyoko's Creamery™ Artisan Cheese Wheel and other spreads — cashew based
Miyoko's Creamery™ Cashew Milk Mozzarella (traditional mozzarella di bufalo-style pictured on pizza, above)
Miyoko's Creamery™ Farmhouse Cheddar and Pepperjack — NOTE: made with oat milk and no gluten free claim is made; I do not recommend this product for anyone with celiac disease or gluten sensitivity due to the cross-contamination risk from oats.
GO Veggie!® Lactose Free or Vegan shredded cheese, cream cheese, blocks, bars, parmesan, slices & GO Veggie® Vegan Parmesan; Parma! Vegan Parmesan
Treeline™ — cashew-based soft cheeses, cream cheese and aged artisanal cheeses as well as vegan goat cheese. For more on my most recent review of Treeline products from Natural Products Expo East, check out my full article here.
Kite Hill™: almond milk cream cheese, yogurt, ricotta, soft-ripened artisanal cheeses
Tofutti® Better Than Cream Cheese; Sour Cream; Ricotta; American Style Slices (soy)
Armored Fresh: a fermented almond product line that really does taste like cheese! Their cheese cubes are super portable for lunch boxes and other snacking — kid-approved! Also slices, shreds and spreads. (some products contain carrageenan)
Spero Sunflower Cream Cheese Spreads – multiple flavors from smoked salmon to strawberry to cheddar and of course, plain, all vegan; also sunflower goat cheese.
Lisanatti Foods® Almond Mozarella or Cheddar-Style Shredded Cheese; Rice Cheeze Sticks (only lactose-free, not dairy-free/vegan)
Nuts for Cheese fermented cashew cheese in amazing artisanal flavors from vegan Blue Cheese to Smoked Gouda to Brie! Also Nuts for Butter fermented cashew butters. No starches or gums or fillers.
Dairy-Free Butter Substitutes
Earth Balance® Vegan Buttery Sticks & Soy-Free Buttery Sticks (my preferred baking products)
Earth Balance® Coconut Spread (vegan & soy-free)
Melt Organic Butter sticks and spread (Jules note: DO NOT USE FOR FROSTING!)
Miyoko's Kitchen™ vegan butter (Jules note: this product does not contain preservatives and will grow mold quickly, so use soon after purchase!)
Dairy-Free Milk
Milkadamia has a full line of vegan nut-based milks, as well as seasonal nut-based vegan milks and nogs that are quite delicious. Their creamers are spot-on, as well.
So Delicious® Coconut Milk Beverage
Pacific Foods (almond, hemp, soy, hazelnut, coconut, cashew, oat)
OWYN Protein Drinks, Vanilla Milk and Chocolate Milk
Silk Almond, Cashew, Coconut or Soy Milks (or oat)
Forager Cashew Milk (or oat)
Good Mylk (almond, hemp and oat milks — oat milk is purity protocol)
Siggi's Plant-Based Drinkables (probiotic coconut drinks with gut-friendly probiotics)
Is Oat Milk Gluten Free?

Good question. Oats are naturally gluten free, but they are an inherently risky ingredient for anyone living gluten free for medical reasons (celiac, gluten sensitivity, etc.). Read all about how cross-contamination with gluten grains is rampant in oat crops, and how to find the safest gluten free oats — aka "Purity Protocol Oats." Those manufacturers making a gluten free claim but not using purity protocol oats are less safe than those using purity protocol oats, so it's important to know the difference, but the choice is yours about whether these products meet your particular dietary needs. When in doubt, contact the manufacturer directly.

Oat milk is the next BIG THING. Plant-based folks and anyone wanting more nutritious milk on their cereal is hopping on the oat milk bandwagon, so there are lots of oat milks out there. Did you know oat milk has double the fiber of other plant-based milks like almond and soy! And that cow's milk as no fiber?!

But if you're celiac or need to eat gluten free for medical reasons, stick with only oat milks from manufacturers which use purity protocol oats or at least those which are using certified gluten free oats. See some below.
Better Body Foods Oat Milk
– manufacturer discloses oats are grown in England and processed in Italy. Manufacturer claim:"We test the raw ingredients and the final product to ensure they're Gluten-Free." Confirmed via email with the company that they do use purity protocol oats for the "Oatsome" line which includes oat milk, chocolate oat milk, milk barista, coffee creamer and creamer lite. Tested and confirmed gluten free by Gluten Free Watchdog.
Elmhurst1925 – manufacturer makes gluten free claim and "certified gluten free" claim, but it is unclear who the certifying agency is. When contacted directly, the manufacturer confirmed they are using purity protocol oats.
Elmhurst 1925 has also introduced some lovely new and seasonal oat milk, creamer, nog and latte options, as pictured below. Everything I sampled was creamy and delicious. Their products are vegan, carrageenan-free, gluten-free. And yes, they have pumpkin spice creamer.
Oatly from the manufacturer: "we source only certified gluten-free oats for our US products." Oatly milks are certified GF from the GFCO.
Moola Oat Milk with Coconut — manufacturer claims its products are made with "gluten free oats." CeliacAndTheBeast reports that a purity protocol claim was made.
Good Mylk from the manufacturer when I contacted them directly: "We use Certified Gluten-Free Oats*, Tigernuts* (not a nut, a vegetable!), Dates*, Alkaline Water, Ancient Mineral Salt. Our oats are purity protocol." They also sell in concentrated packets, which is pretty cool.
Califia Farms Nitro Latte with Oat Milk — labeled gluten free. Tested for gluten by GlutenFreeWatchdog.com.
Chobani Oat Milk – claims its oat milk is free from gluten and made from organic gluten free oats from Saskatchewan, Canada. No further information is provided. (Also offers creamers, yogurts and horchata in oat-based formulas.)
Planet Oat – manufacturer claims in its FAQs that its oat milk is gluten free; no information on sourcing is provided.
AVOID: Pacific Foods from the manufacturer: "Is the Organic Oat Vanilla gluten free? No. Regular crop rotation can allow inherently gluten-free oats to become cross-contaminated with wheat. To play it safe, given that oats are at high risk for commingling with other grains, we do not make a gluten-free claim on our Oat beverages. Your health and safety is always our first priority."
Vegan Canned Milks
Vegan Evaporated Milk — coconut milk from Nature's Charm
Sweetened Condensed Milk — coconut milk from Nature's Charm
Sweetened Condensed Organic Coconut Milk — Let's Do … Organic
Heavy Coconut Whipping Cream — Let's Do … Organic
Unsweetened Organic Coconut Cream — Native Forest (also comes in Curry flavor)
Vegan and Dairy-Free Yogurt
So Delicious® Coconut or Oat Yogurt (their oat yogurt is certified GF but not everyone can tolerate gluten free oats)
Kite Hill Almond Milk Yogurt and Kids' Yogurt Tubes
Silk Almond, Soy or Oat Milk Yogurt (note: this oat yogurt not certified gluten free)
Green Valley Organics® Lactose Free Yogurt
Culina Coconut Yogurt — maple syrup sweetened
Siggi's Plant-Based Yogurt (plant-based coconut, macadamia, and pea protein blend with 3x more protein and 35% less sugar than leading yogurt alternatives)
Ayo Organic Almond Yogurt — made by 4th generation California almond farmers, this farm-to-spoon organic yogurt tastes amazing! Loaded with probiotics and non-GMO, gluten-free, vegan ingredients. Carrageenan-free; soy-free.
Vegan and Dairy-Free Creamer and Nog
So Delicious® Coconut Milk Creamer (or oat milk)
So Delicious® Vegan Holiday Nog
Bhakti® Holiday Spiced Nog -vegan
Silk Almond or Soy Creamer (they even have Pumpkin Spice!)
Laird Superfood has powdered creamers and now liquid Superfood Creamers as well. Vegan (coconut milk-based) and gluten free, and of course come in pumpkin spice flavor, but they include three functional mushroom ingredients (Lion's Mane, Cordyceps and Chaga) as well as aquamin and other plant-based minerals.
Ripple Half & Half (pea protein)
Nutpods Almond + Coconut Creamer
Good Mylk Almond Creamer (or oat)
Vegan and Dairy-Free Sour Cream & Ricotta
Follow Your Heart® Sour Cream Alternative (soy)
Tofutti® Better Than Sour Cream (soy; non-hydrogenated)
Vegan Gourmet®/Follow Your Heart Sour Cream (soy)
Green Valley Organics® Lactose Free Sour Cream
Kite Hill Almond Milk Ricotta Cheese
Good Karma Sour Cream (made from coconut, tapioca and pea protein)
Vegan and Dairy-Free & Gluten Free Mac and Cheese
Annie's® Homegrown Vegan, Gluten Free Mac and Cheese
Healthy Vegan & Gluten Free Mac and Cheese recipe
Banza Chickpea Pasta Plant Based Mac
Daiya Cheddar Style Deluxe Cheezy Mac
Vegan and Dairy Free Dessert Options:
So Delicious Coconut Milk, Cashew Milk, Almond Milk or Soy Milk Ice Cream
So Delicious® Minis
So Delicious® CocoWhip Coconut Whipped Cream
Pin to save this post for later!
*some items may include affiliate links. If you choose to purchase an item through one of these links, your cost remains the same but I may receive a small portion of the price to use to fund this website. See my full disclosure policy here. As always, all opinions are my own.