This gluten free Lemon Cake is one of my favorite cake recipes. Its fresh, tart flavor and light, moist crumb seem to please nearly every palate. Frost with my Lemon Buttercream Frosting for the proverbial icing on the cake!
Bake as a sheet cake, in two rounds or as cupcakes — any way you chose, it's delicious! The glaze helps to permeate this delectable cake with tart flavor, while the Lemon Buttercream Frosting offers enough sweetness to make this dessert a delight for all your tastebuds.
And seriously, how pretty is it with just a simple decoration of sliced lemon rounds atop a thin layer of frosting? No fancy cake decorating skills needed. It's a winning combination any way you slice it.
Of course, feel free to pipe on some frosting if you feel the urge. That's pretty fun, too.
Have a look at some of the comments on this recipe and you'll see what a crowd favorite it really is. And if my love for this cake needs more proof, it's now been my choice as both my gluten free wedding cake and my 50th birthday gluten free cupcakes. It really is THAT good.
And because it's been proven in these special occasion cakes, I can assure you that this delicious cake stands up to layers — even wedding cake layers. It's pretty much the perfect cake for anyone who loves lemons.
As for technique in making this delightfully light, sweet and tart cake?
Nothing much special — just the right ingredients which, in gluten free, must start with the right gluten free flour.
This amazingly spongy and wheat-like cake only turns out as magically as it does because it's made with my award-winning gfJules Flour. It's light, fine, not gritty or funky-tasting and yet it has enough structure to support a delicate cake like this without sinking or becoming dense.
It just works and it just makes your life easier and so much tastier.
After the right ingredients, the other secret to this amazing gluten free lemon cake recipe is to poke holes in the top after baking and drizzle on the yummy lemon syrup!
It turns a great lemon cake into a fantastically dreamy lemon delight!
Simply boil the sugar and lemons, drizzle the glaze over the cake (first poke holes in the top like a traditional "poke cake") and then use the lemons to decorate. It's a beautiful presentation for what's bound to become a favorite cake.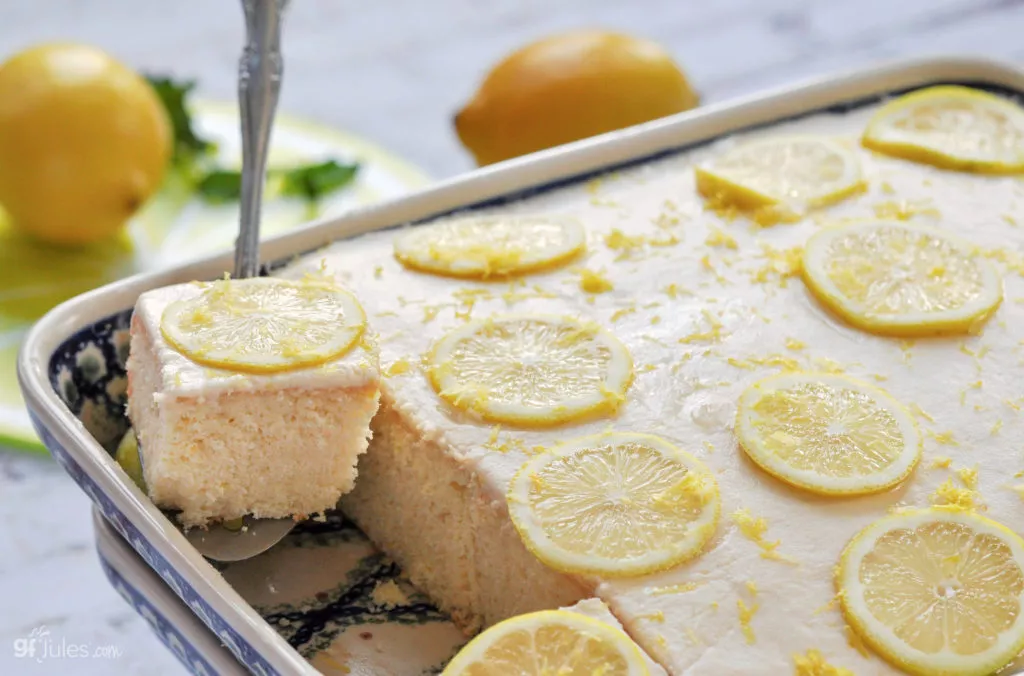 Yield: serves 20
Gluten Free Lemon Cake with Lemon Buttercream Frosting
The perfect light, sweet and tart cake for any occasion: gluten free lemon cake with lemon buttercream frosting! Birthdays, weddings, or anytime you crave the perfect cake or cupcakes, this will be your go-to recipe!

Prep Time 20 minutes

Cook Time 40 minutes

Additional Time 15 minutes

Total Time 1 hour 15 minutes
Ingredients
3 cups (405 grams)  gfJules All-Purpose Gluten-Free Flour
1 Tablespoon baking powder
1/4 cup powdered gluten free vanilla pudding mix (like Jell-o brand) or almond meal
1/4 tsp. salt
1/2 cup butter or non-dairy alternative (e.g. Earth Balance® Buttery Sticks)
2 cups granulated sugar (or alternative like Swerve)
3 eggs + 1 yolk (or substitute)
2 Tbs fresh squeezed lemon juice
3/4 cup milk (dairy, coconut, almond, hemp, soy ...)
1 Tbs. lemon zest
1/2 Tbs. poppy seeds (optional)
Glaze:
1/2 cup granulated sugar (or alternative like Swerve)
1/2 cup water
1/4 cup lemon juice
1 lemon, sliced thinly and seeded for top of cake (optional)
Instructions
Preheat oven to 350° F (static) or 325° F (convection).

Cream butter and sugar in a large bowl, beating until light and fluffy. Slowly add eggs and yolk, one at a time, mixing to integrate. Add 2 tablespoons lemon juice and mix.

In a separate bowl, whisk together dry ingredients. Then alternately beat the dry ingredients and milk into the mixing bowl, just until combined and batter is smooth. Stir in lemon zest and poppy seeds, if adding.

Oil one 9×13 pan lightly. Pour in cake batter and smooth with a rubber spatula. Bake until cake pulls away slightly from the sides of the pan, approximately 40 minutes. Test for doneness by inserting a toothpick into the center of the cake – if it is clean or has very few crumbs, the cake is done.

OR if baking cupcakes, line pans with 22-24 cupcake lines or oil well. Fill 2/3 full with batter and smooth tops. Bake for approximately 25 minutes, testing with toothpick for doneness.

Let the cake cool on a wire rack for 10-15 minutes. Run a knife around the edge of the pan, if necessary to release the cake, and invert onto a wire rack if desired.

While cake is baking, bring 1/2 cup sugar and 1/2 cup water to a boil in a small saucepan. Add lemon slices and reduce to simmer for 25 minutes. Remove the lemon slices and set aside; stir 1/4 cup fresh lemon juice into the syrup.

Using a toothpick, poke holes into the warm cake while it is cooling. Pour lemon syrup over top and into the holes. Let cool completely before frosting. Add the cooked lemon slices to the top of the cake for decoration after frosting.
Nutrition Information
Yield
20
Serving Size
1
Amount Per Serving Calories 219Total Fat 10gSaturated Fat 4gTrans Fat 0gUnsaturated Fat 5gCholesterol 53mgSodium 181mgCarbohydrates 32gFiber 1gSugar 29gProtein 3g

Please keep in mind that nutrition information provided is per serving, which may vary. While we have taken care to provide you with the most accurate nutritional values possible, please note that this information may differ significantly depending on the exact ingredients and brands that you choose to use to make this recipe. Additionally, where options are given for ingredients, the resulting calculation may include all ingredient options instead of only one per line, skewing the totals significantly.

I hope you love this recipe as much as we do!
Pin it for when you feel like some lemony goodness!