Over the years, readers have shared their family gnocchi recipes with me, effusively praising how amazing they are when made as gluten free potato gnocchi with my gfJules Flour. Until a few years ago though, I hadn't had a chance to try my hand at gluten free potato gnocchi.
I actually remember right after my celiac diagnosis, clinging to the hope that potato gnocchi was gluten free, but becoming further downtrodden when I learned that (like potato bread), regular gnocchi was also made with wheat flour.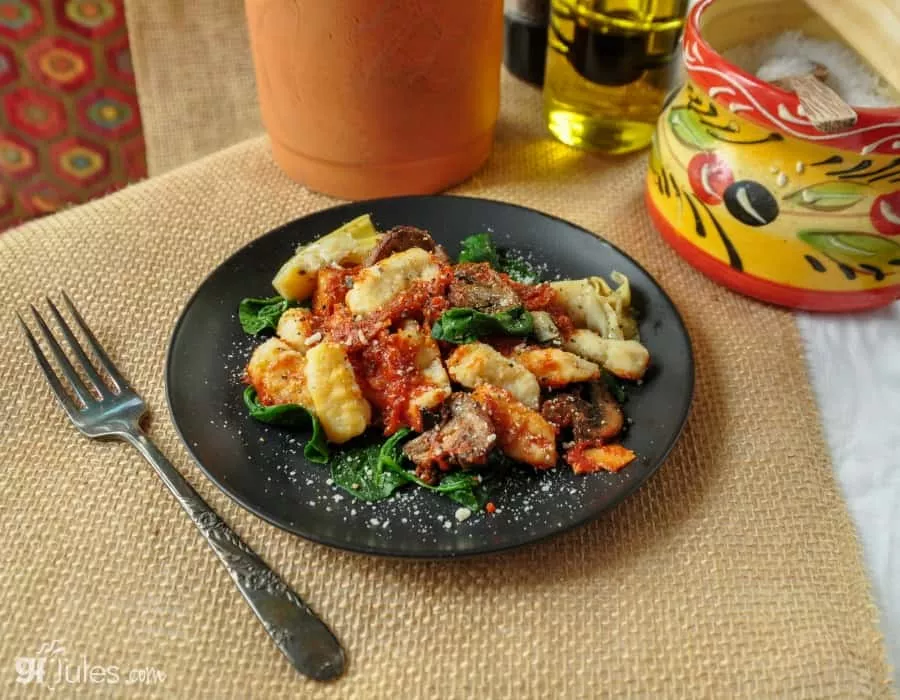 How happy was I when I finally got around to making homemade gluten free potato gnocchi! I was surprised at how amazingly simple it was to make — why had I not tried this before?! I published this recipe in my cookbook, Free for All Cooking, but I'm sharing it now on my blog in hopes that even more of you will try it.
I suppose there was some mystique about making homemade pasta since I'd never made it in my pre-gluten-free days, but now I've made homemade gluten free ravioli and gluten free pierogi and now gluten free gnocchi, and they are all so easy and delicious to make with my gfJules Flour.
If you're in search of warming comfort food, longing for yummy pasta or just hungering for something that seems fancy, this gluten free potato gnocchi recipe is for you!
Make it with regular white potatoes or for fun, try sweet potatoes or even blue potatoes!
They all require different amounts of gfJules Flour added to the recipes, so take note when you're preparing ingredients, but they're all equally delicious!
And while you can make the gluten free gnocchi by hand using the tines of a fork as I have in these photos, there's this magical board called a gnocchi board which makes the process go much faster!
Reader Susan Y-T used a gnocchi board (who invented this magical board?! SO smart!) and made the gorgeous gluten free gnocchi you see above with my gfJules Flour and pre-made mashed potatoes. Here's what she says about how she did it:
I used mashed potatoes, added 1 cup gfJules Flour, mixed in mixer. Added the 1 egg, olive oil, then more flour until the right consistency.

If I didn't have your flour my cooking would be terrible! Sometimes people try to be nice and buy me flour or dessert items, but 99% of the times for the desserts- they are blah! I've tried the flours (mostly I mix with yours) and I don't like the underlying flavors. I am a true gfJules woman! I usually use my own recipes too.
So what are YOU waiting for? Delicious homemade gluten free pasta awaits you!
Gluten Free Potato Gnocchi Recipe
Authentic Italian gluten free Gnocchi, homemade anytime you're craving it!
Instructions
To make the gluten free potato gnocchi, boil or microwave the washed potatoes (if microwaving, pierce potatoes with a fork in several places) until fork tender – approximately 20 minutes for boiling, 8 minutes for microwaving, depending on the power of your microwave. Set aside to cool until you can hold them to peel.
Once cooled, place peeled potatoes in a large bowl and mash with a potato masher until there are no remaining lumps. Shake ¼ cup gfJules Flour over top of the potatoes, along with the salt. Squish together with your hands until incorporated with the potatoes. Repeat by the ¼ cup full, incorporating until the full cup is added. (This process can be done in a food processor or using a stand mixer with paddle attachment)
Form the potato mixture into a mound and make a well in the center. Pour the oil and beaten egg into the well and knead together until fully incorporated into the potato/flour mixture. It should no longer be wet, but will hold together if you squeeze a handful together. If it is too wet, add more gfJules Flour by the tablespoon; if it is too dry, add a touch of milk (dairy or non-dairy).
Flour a clean surface or baking mat with gfJules Flour. Pat the potato mixture out to approximately ½ inch thickness and cut into strips approximately ½ inch wide.
Cut each strip into ½ inch pieces. Take each piece and round the edges with the tines of a fork, forming tubular pieces like miniature barrels.
Place each piece of formed gnocchi onto a parchment-lined baking sheet and when finished forming the pasta pieces, cover with a cloth and refrigerate until ready to boil or boil right away.
Bring a 6 quart pot of water to boil in preparation for the gnocchi.
Place the gnocchi individually into the boiling water, boiling only enough to cover the bottom of the pot. Boil for 5 minutes; they should float to the surface before removing. Remove with a slotted spoon and serve with your preferred gluten free sauce.
Notes
If using other types of potatoes like sweet potatoes, they will need extra gfJules Flour. Sweet potatoes require approximately 1 ½ cups gfJules™ Flour; purple potatoes need extra ½ cup gfJules™ Flour.
I hope you love this recipe as much as we do!
Pin it for later!