Homemade gluten free ravioli is so much easier to whip up than you might think. My cooking classes love to make these because they're not only simple to roll out and stuff, they're extremely useful!
Useful in that this recipe is the perfect excuse to empty the fridge to fill these gluten free pasta pockets with leftover cooked fish, hummus, cheese, mashed potatoes, cooked sweet potatoes, tapenade, grilled veggies … whatever you like and can tuck inside, it will make some great ravioli!
The other great thing about this gluten free ravioli recipe is that it's naturally dairy-free and uses no eggs (vegan). If you've even been able to find gluten free ravioli in the store (usually frozen), it always contains either egg or dairy or both — that doesn't work so well for everyone (plus they're insanely expensive to buy!).
With this simple recipe, you can make your own gluten free, vegan ravioli dough and stuff it with whatever you like: cheese or no cheese; meat or no meat … you get the idea. The point is, it's up to you!
Plus, making your own homemade gluten free ravioli is SO much less expensive than buying pre-made frozen ones. This recipe makes 10-12 large ravioli — I usually double it for our family of 4, but even then, it only requires 3 cups of my gfJules Flour plus some olive oil, then whatever you like to use as fillings (did I mention fillings are usually just leftovers in my house?!).
You can easily see how economical this recipe is when you compare to the sticker shock of most gluten free pre-made foods.
And when I tell you this recipe is easy you MUST believe me! I literally (my kids tend to over-use this word, but here I really, really mean it!) mix up the dough in about 3-4 minutes. People: it's literally (intentionally repeated) only my gfJules Flour, oil and water. That's it!
A couple readers have shared that they added an egg to make the pastry taste richer — totally an option! But also not necessary, so make it either way you prefer. (check comments for more info on adding eggs)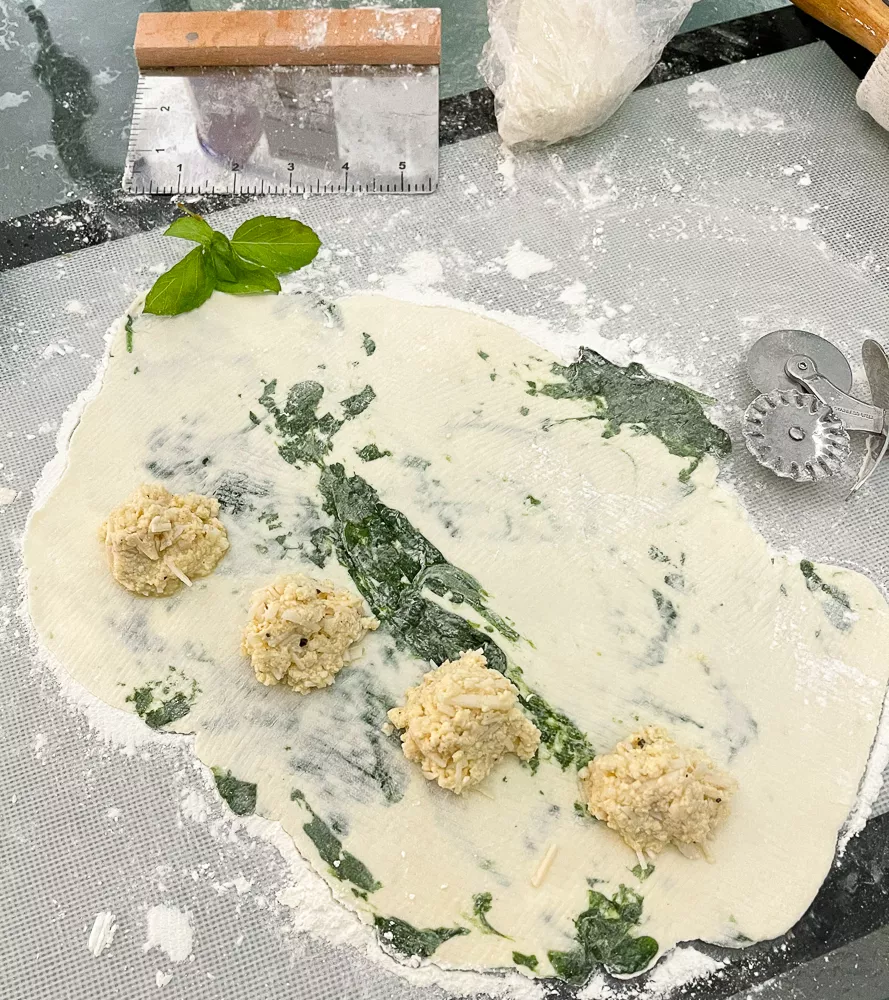 You can also add steamed spinach to the dough for a really pretty effect. Just work the cooked spinach into the dough (I use my hands to incorporate it, but I like playing with my food!) and then roll the dough out just as you would with the dough recipe as written.
Roll out, fill, fold and press and cut.
Make these ravioli any shape or size YOU like — they're homemade and they're yours!
To mix the dough, I use one of my favorite tools — the pastry blender — but you could even use a fork or just your hands to mix up the dough. Once the dough is made, I wrap it and set it aside while I prepare my leftovers, er … I mean, very fancy fillings.
My son's favorite is homemade mashed potatoes, so I sometimes whip some of those up too and start boiling my water. By the time I'm ready to roll out the dough, I have everything ready to stuff, and hopefully a helper or two because it really is fun to make them.
Roll the dough out almost like you would a pie crust and cut to whatever size or shape you like — either in a line as pictured above, or in pairs. I've used large biscuit cutters or just a knife to cut lasagne-size strips which I then cut in to squares or rectangles — honestly, it doesn't matter!
Again, I want you to know how easy and forgiving this recipe is! When you use my gfJules Flour to make the dough, it also stretches around the fillings so there's no frustrating breaking or crumbly dough. It's easy peasy.
Where was I? Oh, right, the fillings. So put a dollop of filling in the middle of one square/rectangle/circle of dough, wet the edges with a finger and place another similarly-sized piece of dough on top, press together and seal well by pressing a fork into the edges (just like when you make my homemade gluten free pop-tarts!) and you're in business.
Boil for about 3 minutes and serve with whatever sauce you like. You could literally (ahem) make this every night of the week, using different fillings, and you'd have a different dinner. You need this recipe in your life – it makes meals so much more fun!
Start out with one of my fillings recipes if you need some inspiration. Sweet potato filling is one of my favorites, and mashed potato filling is always a guaranteed hit!
My no-garlic pesto sauce is another great starting point for delicious fillings or my avocado pesto drizzled on top instead of regular pasta sauce.
Here's a yummy recipe for easy cheese ravioli filling which I've converted to vegan using my favorite dairy-free substitutes.
If you want to make your own frozen ravioli to have on hand for next time, undercook the pasta by boiling only 2 minutes total, drain and allow to cool. Place inside a zip-top freezer bag with wax paper in between to keep them from sticking.
Place frozen ravioli in rapidly boiling water for another 2-3 minutes, or until soft. Drain and serve.
Have fun with this recipe and share your yummy pics in the comments below — I'd love to see them!
Yield: 10-12 ravioli
Easy Gluten Free Ravioli or Tortellini Recipe
This gluten free ravioli recipe is a keeper because the soft, pliable dough my gfJules flour yields is a DREAM to work with. Try it today. MAMMA MIA!
Total Time
1 hour
6 minutes
Ingredients
1 1/2 cups (202.5 gr) gfJules® Gluten Free All Purpose Flour
1 Tbs. extra virgin olive oil
1/2 cup very warm water
2 cups steamed spinach (optional)
salt for water
Fillings: pesto; hummus; tapenade; bruschetta; cheese; roasted peppers; sweet potatoes, mashed potatoes, roasted veggies, etc.
Instructions
Measure and add gfJules® All Purpose Gluten Free Flour to a large bowl and form a shallow well in the flour. Add the oil and water a little at a time into the flour well and mix with pastry blender or fork until it all comes together into a smooth ball or disc. If adding steamed spinach, add into the dough at this time. Wrap in clear plastic wrap and allow to rest for 30 minutes to 1 hour.

Bring a large pot of water to boil with salt. Remove half of the pasta dough and leave the other half wrapped. Roll it into the shape desired: ravioli, tortellini, lasagne, etc. Roll a little thinner than lasagne noodles — remember that you're putting two pieces of dough together so you don't want the edges to be thick and doughy, but the dough shouldn't be so thin that it's easy for the fillings to poke through.

It doesn't matter the shape you cut the dough, just as long as you have pairs that match.

For ravioli, prepare a clean counter or pastry mat by dusting with gfJules® All Purpose Gluten Free Flour and cut with a large biscuit cutter or roll into long strips, cutting into equal-sized squares or rectangles.

Drop a dollop of filling in the middle of every 2 pieces of dough. Dab the edges with wet fingers, and press the two sides together to seal; press the tines of a fork into the edges if desired, to make sure they are sealed. Set filled ravioli aside on a plate and cover with a damp towel while making remaining ravioli.

Drop into boiling water. Cook for about 3 minutes — the dough will become more translucent and the raviolis should float before removing with a slotted spoon.

For tortellini, make the square or circle larger than with the ravioli because you'll need more dough to bring the edges together. Fill as directed above, then fold the dough over itself, one corner to the opposite, then pull the other two corners together and dab with water to make them stick. Follow the directions below for boiling as you would ravioli.

Serve warm with your favorite sauce.
Notes
Easily doubled.
Add 1 mixed egg to dough for richer flavor or if using a pasta roller.
Don't forget if you want to use a pasta roller, add an egg. It makes the dough even stretchier.
Pin for later!
Summary
Recipe Name
Easy Gluten Free Ravioli or Tortellini Recipe
Published On
Average Rating



Based on 65 Review(s)