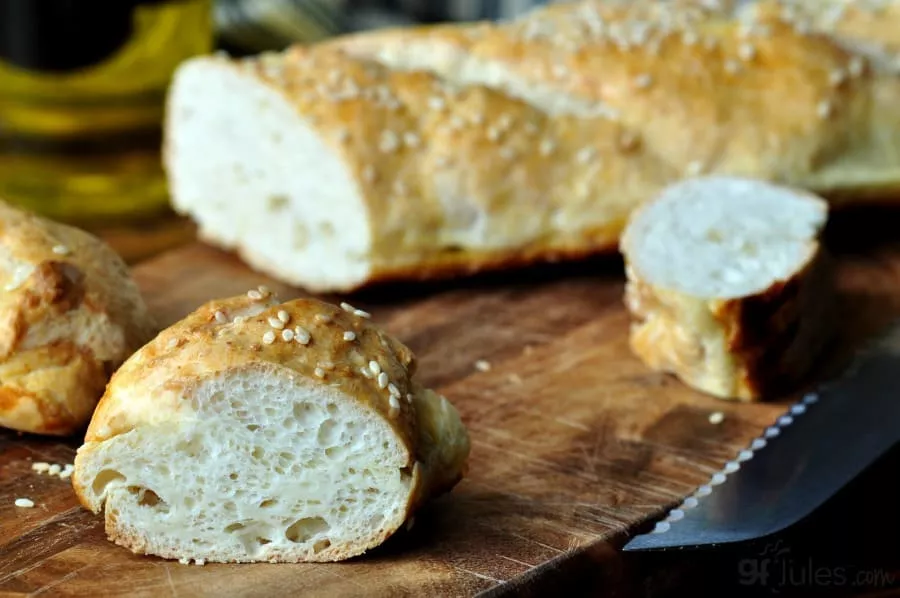 Gluten Free Baguette Recipe
One of the most popular recipes I've shared at gluten free food expos is my gluten free baguette. It draws a crowd every time. The smell of fresh-baked yeast bread, the gorgeous crust, the crunch on the outside with the pillowy soft centers … I haven't met anyone yet (gluten free or not!) who didn't think this gluten free baguette was incredible.
There are a couple of secrets I'll share with you about getting this bread just right.
One is to use my gfJules™ Pizza Crust Mix. I know it sounds crazy but it's a no-fail, so-easy-you-could-make-it-every-night critical ingredient. I've given you a scratch recipe to use with my flour if you'd prefer to make it without the herbs that flavor my pizza crust mix, but you must use my gfJules™ flour and either milk powder or almond meal, as noted. Both ingredients are essential to achieving the crunchy crust with the soft centers. (This recipe is easily doubled, by the way, so you can use 2 packets of my gfJules™ Pizza Crust Mix and have enough to share!)
Unless you have an industrial spritzing oven for baguettes, another key is hand spritzing with water. You need a clean spray bottle and you need to spritz, spritz, spritz if you want your baguette to be crunchy. If you'd prefer to make a softer Italian Bread loaf, don't spritz, and cover the bread during the second half of the bake time with foil to keep it soft all the way through.
A third secret is the method. Take a moment to watch my quick video to see just how easy it is to make a beautiful baguette without even getting your hands dirty!
I suggest using a baguette pan for the best results, but you can use a cookie sheet lined with parchment in a pinch; the crust just won't be as crunchy and it won't be as nicely rounded, but it will still taste yummy!
So go forth and bake baguettes like a pro! In France, it's routine to buy a fresh baguette every day — now you can make a gluten free one, easily! And if anyone asks, I give you permission to share my secrets — no one should be denied the pleasures of delicious fresh-baked gluten-free bread!
Gluten Free Baguettes
Ingredients:
*note: if using the small clear mix bags in boxes, use 1 full bag; if using brown pouch or canister, use 1/2 of container
OR
PLUS
2 egg whites, room temperature OR 1 Tbs flaxseed meal or chia seed steeped in 3 Tbs warm water
2 Tbs. extra virgin olive oil
1/2 tsp. apple cider vinegar
½ cup warm water (if making from scratch, add 2 Tablespoons additional water)
2 1/4 tsp. rapid rise yeast, gluten-free (1 packet) ** (for yeast-free directions, scroll to the bottom of the recipe)
egg wash (full egg or egg white + 1 Tbs. water) to brush onto the dough
water to spritz onto dough
toppings of choice
Method:
Bring all ingredients to room temperature. If warming egg whites, place whole eggs in a bowl of very warm water for a few minutes while gathering other ingredients.
If mixing from scratch, whisk together dry ingredients except yeast; set aside.
In a large mixing bowl, combine egg whites, olive oil, cider vinegar and 1/4 cup of the water.
Using a stand mixer (preferably), slowly add in the dry ingredient mix.  Gradually add remaining 1/4 cup of water to get a firm but very sticky dough.  Pour in the yeast** and beat on high for an additional 2-3 minutes.  (Note: this recipe may be mixed by hand in a large bowl, using a fork or wooden spoon and very strong muscles – stir as long as you can!).
Prepare a baguette pan or cookie sheet by lining with parchment and lightly oiling.
Pour one teaspoon of olive oil into a gallon sized zip-top bag and spread around so the inside is coated. Cut a one-inch corner out of the bag. Scoop the dough out into the bag squeeze toward the cut corner. Squeeze evenly so that the dough comes out of the corner of the bag and pipes down the length of the baguette pan or across the cookie sheet. If doubling the recipe, repeat the process until two baguettes are formed.
Brush with egg wash or simply spritz with water. Use a sharp knife to cut across the tops diagonally about 3 times so that the dough will rise evenly and spread open at the cuts. Sprinkle any additional toppings at this point.
Lightly oil a sheet of parchment and lay on top of the baguette. Place in a warm place  like an oven preheated to 200° F then turned off. Allow the baguette to rise for 20-30 minutes, then preheat the oven to 375° F (static) or 350º F (convection).
Remove parchment covering the baguette and spritz again with water. Bake for 20 minutes, spritzing again 1-2 more times during the bake for the crunchiest crust. You may also place a pan with water on the bottom of the oven to add additional moisture.
Check after 20 minutes by sticking a toothpick into the center of the baguette. If it has wet dough stuck to the toothpick when removed, bake for another 3-5 minutes, then check again until the toothpick comes out nearly clean or with crumbs attached.
The cooking time may vary depending on whether using a baguette pan, but when done, the baguette should be browning at least slightly (more, if using a whole egg to brush on top) and be crunchy when tapped.
Remove to cool before slicing.
** Yeast-Free Directions: do not use yeast packet that comes with the mix; instead, add 2 tsp vinegar + 2 tsp baking soda + 2 tsp. baking powder. Chef Patrick Auger also recommends using club soda in place of the water in this recipe when baking yeast-free.