Whether you like your gluten free brownies cake-like or fudgy, these bites of gluten free brownie heaven will please.
With decadent, slightly crispy tops and chewy, deliciously moist centers, they are truly the best gluten free brownies ever!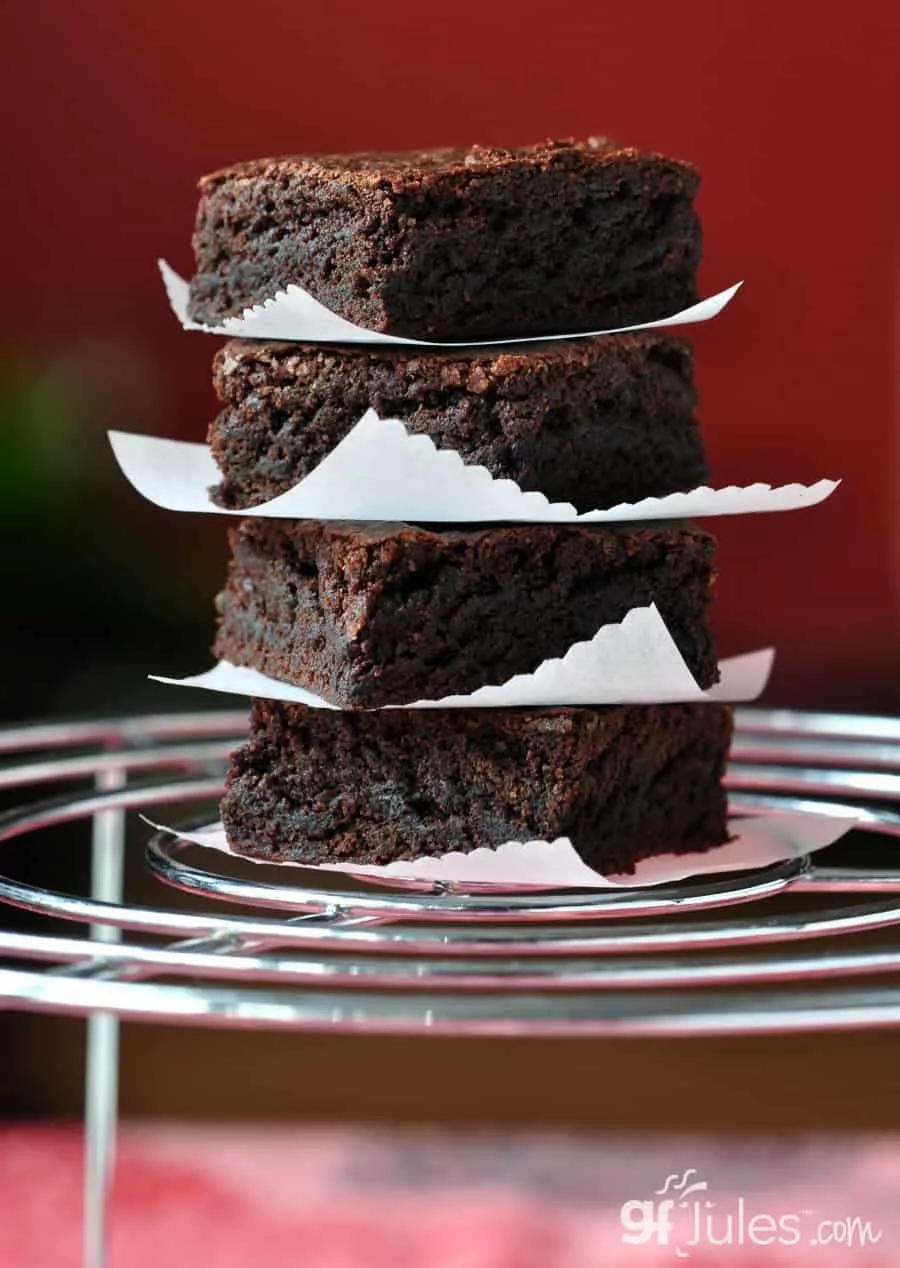 If you subscribe to my YouTube channel, you may have seen my Fox video news segment showing how to make this decadent treat — it's one of the oldest videos on my channel (gosh, videos have come a long way!), but luckily I don't look a day older since 2009 – no way (LOL)!
But I digress …
or you may have seen this recipe in my cookbook, Free for All Cooking, but I'm sharing it again now with a twist. (For even more chocolate and other Valentine's Day treats, hop to my gluten free Valentine's Day Recipe Round-Up!)
You can always frost these gluten free brownies with a creamy homemade frosting for something truly fancy …
But I truly love the crackly tops without frosting, too.
And, to get that classic brownie "crust," I'll tell you a baker's secret: cream the sugar and eggs together at high speed for at least 6 minutes. That's right, it's just a simple thing but it makes a noticeable difference in the final results.
But if you don't have an electric mixer and you don't want your arm to fall off from mixing, skip it and just mix the recipe with a fork or whisk; they'll still taste delicious!
But if you're looking for really fudgy brownies, stop the mixing madness once the gfJules Flour is added and mix only until combined. That way you're not adding too much air to the batter — air that will later translate into a cakier brownie batter.
Don't you feel better for that knowledge? It's really quite an amazing trick. Well, that, plus the crackly top secret along with lining the pan with parchment or oiled foil for easy release and precise cutting, will actually make any brownie recipe better.
Of course, frosted gluten free brownies are hard to beat.
And if you're in a Valentine's Day frame of mind, try adding Dark Morello Cherries to this already luscious dessert to make a truly outrageously delicious treat anytime the chocolate craving hits.
So run, don't walk, into the kitchen and whip up a batch of what will become your family's favorite brownie, gluten free or otherwise!
Yield: approximately 16–20 brownies
Best Gluten Free Brownies Ever!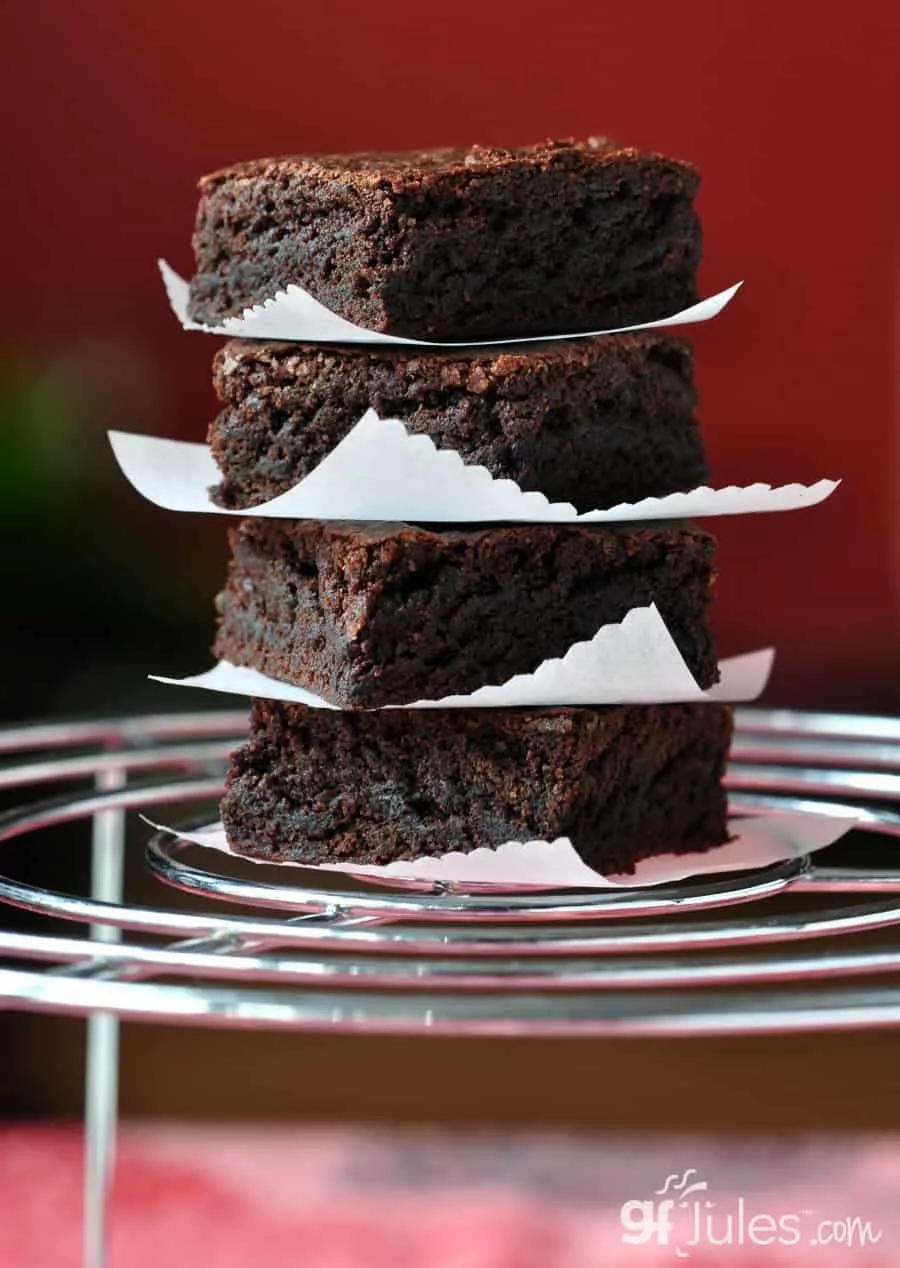 Whether you like your brownies cake-like or fudgy, you'll love these chewy & decadently moist chocolate treasures. The best gluten free brownies ever!
Total Time
1 hour
10 minutes
Instructions
Preheat oven to 325ºF (static).
Arrange a sheet of parchment paper or aluminum foil in an 8 x 8-inch baking pan, pressing to cover the bottom and up the sides.
If using aluminum foil, lightly spray with cooking oil. This step will make it easier to remove the brownies from the pan by pulling up on the paper or foil and leaving behind a clean pan.
Prepare a double boiler or a medium-size pan filled with 1 inch of water, with a slightly smaller pan sitting on top of the pan with water. Boil the water in the bottom pan, then cut the flame back to low-medium and add the chocolates and butter to the top pan over the simmering water. Stir and remove from heat when melted.
In a separate bowl, whisk together the sugar and vanilla, then stir in the eggs, one at a time. If using an electric mixer, beat for 6 minutes on high; the mixture will be lighter in color and texture after 6 minutes.
Finally, add in the coffee and continue to whisk until mixture is completely smooth. Add to the melted chocolate mixture.
In a large bowl, whisk to combine the gfJules™ Flour, salt, and baking powder. Stir into the melted chocolate-sugar pot until combined. Gently fold in the cherries, if using. Do not mix further -- only mix until combined.
Pour the batter into the prepared pan and bake for 35–45 minutes, or until a toothpick or cake tester inserted in center comes out with only a few wet crumbs (not totally clean, or they'll be overcooked!).
As a rule, brownies are much better on the un-done side, as opposed to the overdone side.
Cool brownies in the pan on a wire rack for 5 minutes. Lift the brownies from the pan by pulling up on the paper or foil. Completely cool brownies on a wire rack.
Cut into squares with a plastic knife or pizza cutter for cleanest cuts.
Notes
For fudgier brownies, do NOT add baking powder and do NOT over-mix this batter after the flour is added added or it will add too much air and create cakier gluten free brownies.
We hope you love this recipe as much as we do!
To pin it and save for later … because let's face it, you don't want to lose this one … here's a pin for you!