Years ago I was hired by a Le Cordon Bleu chef to teach a baking class in Seattle, Washington, and the topic was gluten free puff pastry.
I was initially daunted by the idea, having never made puff pastry from scratch before, gluten free or otherwise (shhhhh! don't tell! I'd never let that stop me!). But nonetheless, I set to work researching the different methods of making this iconic pastry dough, and what ingredients could work to make it both gluten free and dairy free.
As with all my gluten free recipes, I wanted uncompromising results. And I wanted to devise a recipe that was easy and quick enough for anyone to make it (no Le Cordon Bleu training required!). I'm so pleased with the versatile recipe I created, and so very happy to share it with you!
Delicious recipes like these fun veggie appetizers, baked brie or even gluten free Beef Wellington are now possible with this handy gluten free puff pastry recipe!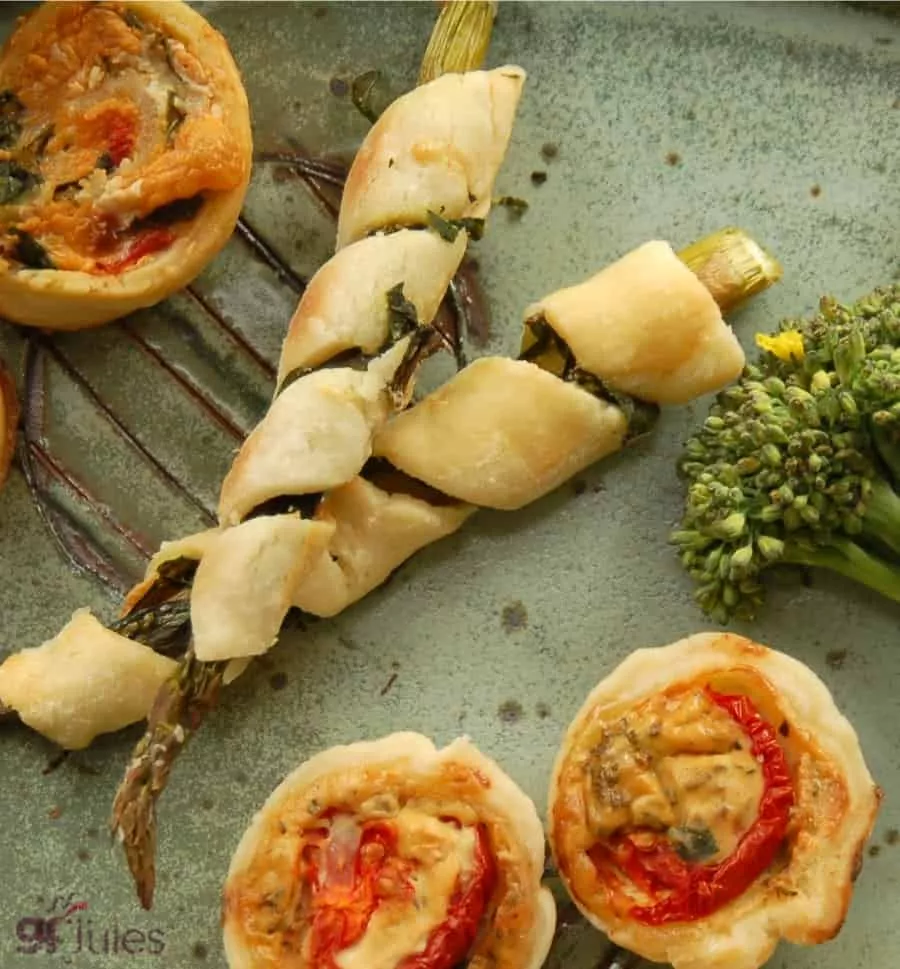 Here's what I learned. Purists will tell you that butter is essential to making puff pastry taste so delicious and have such a distinctive, flaky texture; however, I found that vegan Earth Balance® Buttery Sticks work just as well in this recipe, for those of us who must avoid dairy.
I also ran across the belief that no good puff pastry could be made without gluten. Well we know I wouldn't stop until I'd proved that notion wrong, don't we?! With the right combination of gluten-free flours, anything is deliciously possible! Even breakfast Danish Puff Pastry like this one:
More on Puff Pastry
A bit more about puff pastry, and why it bakes up as such a light, lovely dough. The primary ingredients are butter and flour, so don't compromise on either. Use either high quality butter or Earth Balance Buttery Sticks or Miyoko's Creamery Vegan Butter.
And for gluten free flour, no one would enjoy a delicate pastry made with gritty rice flour or funky smelling bean flours, so take your ingredients seriously.
Stick with my award-winning gfJules Gluten Free All Purpose Flour. It wins the consumer choice awards year after year because it works! No grit, just reliable, soft, tasteless and stretchy flour that lets you make any recipe successfully gluten free — even puff pastry!
Pastry Chef Ricardo Mora had this to say about baking my gluten free puff pastry dough with gfJules Flour:
This puff pastry was so good. I was really surprised with how crispy and flaky the texture was. My favorite of the applications was the vegetable tart. It went really well with the texture and richness of the puff pastry.
Note – if you're looking for a yeasted, Danish style puff pastry recipe, hop to my recipe for Gluten Free Puff Pastry for Danish here. I also include lots of step-by-step photos and a how-to video there.
You'll see in the directions that I focus on the process: it is essential not to overwork the dough so that the butter doesn't melt in the dough as you work with it (there are some great comments to this post from others who have made the recipe successfully by using chilled marble boards, for example).
The dough is folded over itself again and again, forming layers, but the tiny balls of cut up butter also help to form flaky layers by releasing steam, pushing the dough apart while baking.
Rough Puff Pastry Method
Bakeries making traditional puff pastry often work the dough over the period of a few days. For our purposes though, this "rough" puff pastry method will do just fine.
This method creates a lovely pastry dough, and when made with my gfJules Flour, it has stretch and resilience, and is strong enough to wrap around anything savory or sweet, yet not tough in any way.
The delicate texture which is such a hallmark of this dough is preserved using this method, and the whole process only takes about 1 ¼ hours! If you have a silpat or pastry mat, that is the most ideal work space for this pastry-making endeavor. It is also really helpful to have a pastry blender or bench scraper, but two butter knives will certainly do.
So let's get started, shall we? Follow the directions below to make the pastry dough and then follow the recipe you choose (like Beef Wellington – see comments for readers' experiences using this recipe to make Gluten Free Beef Wellingtons) for using this versatile gluten free puff pastry recipe.
Chef Mora has also shared his recipes below for that lovely gluten free Vegetable Tart pictured above, gluten free Brie en croute and gluten free Cinnamon Twists.
Gluten Free Puff Pastry Recipe
This light, yet stretchy and resilient gluten free puff pastry dough makes so many recipes possible!
Total Time
1 hour
35 minutes
Instructions
Whisk together gfJules Flour, baking soda and salt, then pour out onto a clean counter or pastry mat (leave a lot of space to work for yourself).
Slice pieces of very cold butter by tablespoons or smaller, and drop them into the flour mixture, stopping periodically to cover the butter pieces with more gfJules flour by tossing together.
When all the butter is in the flour mixture, begin chopping into the flour with a pastry blender, bench scraper or two butter knives cutting against one another like scissors. Chop and toss together until a pebbly meal is formed – you are not trying to eliminate the chunks altogether, just make them roughly equal and well-integrated.
Begin gradually adding in the cold water by pouring into the flour and using your hands and pastry blender to mix all together until it can form a ball of dough. You may need slightly less or more than ½ cup (even the day's humidity can affect the moisture needed), but work the water into the flour well before adding more than ½ cup, as the more you work with the dough, the more moisture is released into the dough from the butter, and you don't want to make the dough overly wet.
Form the dough into a rough ball and pat into a large rectangle, with shaped corners. Begin gently rolling the dough into an elongated rectangle, approximately 18 x 15 inches. Fold like a business letter by folding from the short end in thirds to layer on top of itself. Gently lift the dough and turn one quarter, and fold again from the short side. You will see the butter will begin to marble in the dough. Wrap dough tightly and refrigerate for at least 20 minutes.
After refrigeration, begin the same rolling and folding process again, dusting with more gfJules Flour if you need to keep it from sticking to the mat and rolling pin. Repeat this process two times after refrigeration, then return, tightly wrapped, to the refrigerator or freezer for at least another 20 minutes. Try not to over-work the dough at all.
Cut the dough in quarters and return three quarters, tightly wrapped, to the refrigerator when beginning a recipe, so that the other portions won't dry out or get too warm while you are working the other dough. Refrigerate for up to 2 days or freeze in freezer bags for up to one month.
Use in any recipe calling for puff pastry dough. You can see some ideas here, including wrapped veggies, lined mini muffin cups, brie en croute, vegetable tart, cinnamon twists, cream puffs … let your imagination be your guide!
Recommended Products
As a member of Amazon Associates and other affiliate programs, I may earn a small amount from qualifying purchases; this amount goes to fund this blog and does not cost you anything additional.
Gluten Free Cinnamon Twists with Puff Pastry Recipe
Light, crisp cinnamon twists are the perfect finish for any dinner or addition to any dessert buffet. Finger food at its finest!
Additional Time
30 minutes
Total Time
1 hour
55 minutes
Ingredients
Melted butter or vegan butter to brush on pastry (approximately 1/4 cup / 4 Tbs.)
1/4 cup granulated sugar
1 Tbs. ground cinnamon
Instructions
Roll the prepared gluten free puff pastry dough into a rectangle (about 1/8" thick).
Brush the entire surface with melted butter and sprinkle the bottom half with cinnamon sugar.
Fold the top half over the bottom half, then cut it into strips of desired width and length, twist, then place on a sheet pan covered with plastic wrap. Chill for 30 minutes to 1 hour before baking.
Preheat oven to 350 F. Bake chilled twists for ~22-25 minutes then remove to cool on wire rack.
Sprinkle with more cinnamon sugar immediately after baking.
Yield: serves 6
Gluten Free Vegetable Tart with Gluten Free Puff Pastry Recipe
This lovely gluten free vegetable tart can be made using any of your favorite seasonal veggies and is always sure to please, since they're nestled into such a light and flaky puff pastry!
Additional Time
30 minutes
Total Time
1 hour
20 minutes
Ingredients
3/4 - 1 cup pesto
thinly sliced fresh vegetables of your choosing (see photos for ideas)
2-3 Tbs. freshly grated parmesan OR vegan parm OR gluten-free nutritional yeast
olive oil for drizzling
salt & pepper, to taste
egg wash (1 full egg mixed with 1 Tbs. water) OR oil to brush on pastry
Instructions
Roll prepared gluten free puff pastry dough into desired shape about 1/8" thick.
Transfer onto a sheet pan lined with parchment paper.
Spread a thin layer of pesto over dough leaving about a 1" border along all
sides. Top with freshly grated parmesan and any desired vegetables (I used
grape tomatoes, red onions, asparagus, and zucchini).
Drizzle olive oil lightly over the vegetables and season with salt and pepper. Cover with plastic wrap and chill for 30 minutes - 1 hour.
Preheat oven to 350 F.
Brush edges with egg wash or oil before baking.
Bake chilled tart for ~35 minutes, then remove to cool slightly before serving.
Yield: serves 8
Gluten Free Brie en Croute with Gluten Free Puff Pastry Recipe
Melt in your mouth appetizers like classic Brie en Croute seem like they could only be made by a master chef, but with this gluten free puff pastry dough recipe, even this fancy appetizer is easy!
Additional Time
30 minutes
Total Time
1 hour
35 minutes
Ingredients
1 wheel brie cheese OR Miyoko's Creamery Cashew Cheese wheel
1/4 cup jam or preserves of your choice (pictured is raspberry jam)
1/4 cup toasted pecans or other favorite nuts (optional)
egg wash (1 egg + 1 Tbs. water) for brushing on crust OR oil
Instructions
Roll prepared gluten free puff pastry dough out into a circle on a clean surface dusted with gfJules Flour. Dough should surpass brie by about 3-4" in every direction.
Before placing cheese, spread a few tablespoons of jam over center of dough making a ring about the size of the brie (I used a seedless raspberry jam), and top off with toasted nuts (I used pecans, can be candied too), then place brie directly over nuts.
Lift dough gently from all sides folding over brie and pinching towards center to seal in fillings. Flip over so jam is at the top and place on a parchment lined sheet pan. Top can be decorated with any excess bits of dough.
Cover with plastic wrap and chill for 30 minutes. Brush the top and sides with
egg wash before baking.
Preheat oven to 350F and bake for 50 minutes. Serve warm.
I can't wait to hear how you use this yummy gluten free puff pastry recipe — please tell me about it in the comments!
Pin for later!