We could all use a good gluten free holiday breakfast recipe round up, don't you think? I am uncharacteristically thinking ahead this year. Probably because I'll have a house full of family on Christmas morning, but I like to think maybe I'm turning over a less procrastinator-like leaf. Probably not, though.
I'm trying to decide which of these favorite family breakfasts I should treat mine to, and thought you might appreciate the choices, as well. There's plenty to choose from, and no one will complain with these amazing recipes. Let me know which you choose – it might help me decide, too!
Gluten Free French Toast Casserole
My French Toast Casserole recipe is so easy to make (takes less than 10 minutes), and it tastes even better if you make it at night and bake it the next morning (when I'm bleary-eyed and find it hard to rally to bake for guests anyway!). Another bonus: it's as great for breakfast as it is for dessert at a holiday gathering! The nog addition makes it super festive, so it will be perfect for all your edible holiday needs!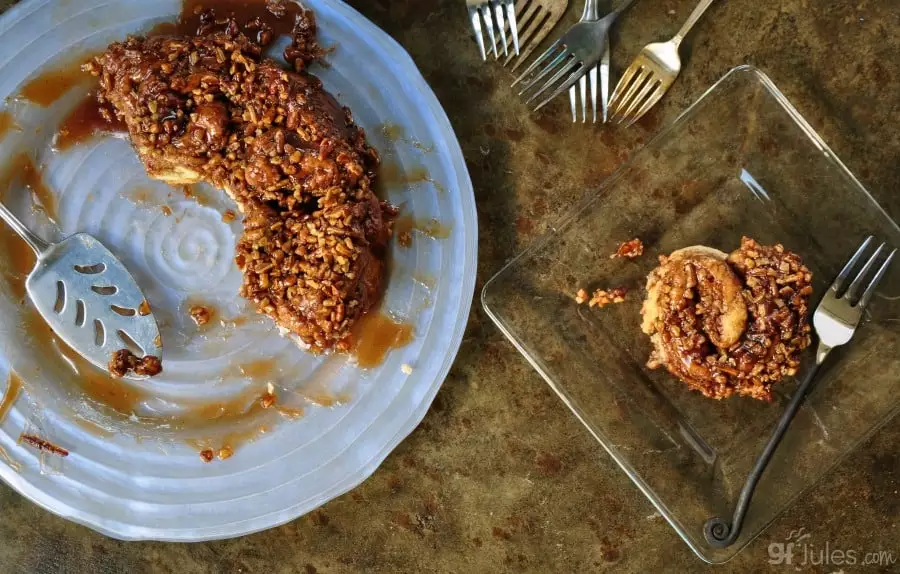 Gluten Free Cinnamon Sticky Buns
For years (ok, decades) I thought that there was NO way I could ever replicate my Grandma's sticky rolls. No way. And thank goodness I didn't have to! Christmas came and went every year, and Grandma's rolls were something we could all count on.
To me, these rolls were up there with every other Christmas tradition. Of course we would always have Grandma's rolls! It was unthinkable to contemplate the possibility that Christmas could occur without them! … I know, I understand. This sounds really bad. Christmas isn't about rolls!!?! What were we thinking!?? Agreed. But you know what? Looking back at my Christmas memories, my Grandma's cinnamon sticky rolls were IT! I was with my extended family (which only happened once or twice a year), and we all congregated Christmas morning to share the ritual pecking order of who got the soft, gooey insides of Grandma's cinnamon sticky rolls. That was our tradition.
Seems antiquated, I know, but here's the beauty of these rolls — there are no crunchy outsides! That's right! No need to fight for your hierarchy in the family or your right to the soft centers — all can enjoy soft, melt-in-your-mouth cinnamon sticky rolls! It's like socialism in a cinnamon roll! (odd metaphor, I know!) It's really all about equality. That's it. Just delicious gluten-free equality. And that's got to be part of the Christmas message.
This recipe was submitted by a reader and it's quickly become one of the most popular on my site. Can't you almost just smell that cinnamon-y goodness wafting into the kitchen? You need to try this recipe soon – the only question is whether you're going to want to share any!
A good coffee cake recipe is one of life's necessities, in my humble opinion. My family loves coffee cake, but we actually call it "Breakfast Cake." Don't ask me why I ever felt I had to encourage the eating of cake for breakfast, but at some point the name stuck with my kids.
This was the first cake-for-breakfast recipe that my son loved, and it's still his favorite, so he gets it for his birthday and on Christmas morning (and other days, if he's lucky)! It's a wonderful dish to serve for out-of-town guests, too – I hope your family enjoys it as much as ours does!
Gluten Free Rhubarb Coffee Cake
Another spin on traditional coffee cake, but one that's especially festive in color. Use rhubarb (if you're like me and you freeze it when in season) or try cranberries instead for a wintery-tart twist!
These aromatic beauties will wake up your taste buds and remind you of all things cinnamon-y and nice. Soft and flavorful, with or without the icing on top.
What's a more classic breakfast food than blueberry muffins? The smell of these beauties baking will wake everyone up in a good mood! For an even easier route to muffin nirvana, just use my #1 Voted gfJules Gluten Free Muffin Mix!
Gluten Free Buttermilk Biscuits (with dairy-free option)
Biscuits, anyone? You can top these with favorite jams and jellies, leftovers from the night before or plain with a pat of butter, but any way you slice it, these biscuits would be welcome at any breakfast table.
Speaking of topping with anything … these homemade bagels will blow you away. They are the REAL deal, but are surprisingly easy to make, and still yummy on day 2, day 3, day 4 … (if you have any left!). Toast them, warm them in the oven or microwave or simply eat them as is, they're the perfect accompaniment for your favorite cream cheese, lox, PB & J, or anything else you can slap on top.
Gluten Free Cinnamon Swirl Bread
This reader recipe has become a fan and family favorite. So easy to whip up, with a surprise swirl of cinnamon yumminess throughout. If you decide to make this recipe for holiday guests, you'd better double it.
Gluten Free Apple Cider Donuts
Anyone would jump out of bed for these beauties! I actually have several more gluten free doughnut/donut recipes on my site, so take a look (use the search bar at the top of every page) if you're wanting to explore all that gluten free doughnuts have to offer!
One of my all-time favorite recipes is for scones. Not the dry, hard kind with no flavor (you know what I'm talking about!), but the moist, tender kind bursting with berries and crispy-topped with a light coating of cinnamon and sugar.
This is also the kind of recipe that takes about 5 minutes to make, and only 10 minutes to bake, so it's ready when the guest roll out of bed without too much fuss on your part. Nothing not to love about this recipe, and now it's tailored to the season!
Pancakes are the quintessential American breakfast food. Am I right? I mean, who doesn't like pancakes?
This gluten-free pancake is like a traditional flapjack: heavenly thick, yet light and fluffy and tasty enough to eat without syrup! They've become a morning favorite in my house, as I know they will in yours!
For an even easier way to put delicious fluffy gluten-free pancakes on your table, just grab a bag of my gfJules™ Pancake and Waffle Mix.
Also known as "fancy pancakes," if Santa brought you a waffle iron this year, you'll love every minute of sharing these beautiful waffles with your family. You can use either my Belgian Waffle recipe with my gfJules™ Pancake and Waffle Mix, or simply follow the directions on the mix bag for regular (but oh so delicious) waffles and pancakes!
Gluten Free Overnight Oats & Waffles
Another in the popular line of recipes that can be made the night before (hallelujah!) and ready when you are in the morning. Even better: you can make these oats into waffles, too!
Be sure to use only certified gluten free and purity protocol oats when baking for anyone with celiac disease or gluten sensitivity. For more info, see my article on choosing safe gluten free oats.
If you or an out of town guest is feeling remorseful after all the chocolates and treats the night before, this healthier gluten free apple bread is the answer. Filled with apples and noticeably devoid of fats and oils, this bread will start breakfast off on the right foot.
I hope you love these recipe ideas as much as we do!
Pin for when you're looking for something delicious for breakfast!