Amazingly flaky, light and tender gluten free pie crust recipe isn't difficult to make when you use the right ingredients and follow some easy how-to steps with this recipe. In fact, this is THE BEST GLUTEN FREE PIE CRUST RECIPE because it's the simplest gluten free pie crust recipe and it turns out so well every time.
Only 5 ingredients, one bowl and the confidence to believe in grandma (I mean, grandma is always right), you can't go wrong with this recipe!
Light and flaky gluten free pie crusts are possible with gfJules Flour!
I'll let you in on a little secret: lots of other gluten free pie crust recipes tell you that you have to press the crust in the pan. That's because you can't roll their crusts. Lots will tell you that you have to add sugar. That's because they're covering up for gritty tasting gluten free flours. Lots will tell you that it's difficult to make a good gluten free pie crust. That's because … well, because they haven't tried the best gluten free pie crust recipe — this gluten free pie crust recipe.
Fair warning: this post is l-o-n-g, NOT because it's difficult to make a great gluten free pie crust, but because I want to REASSURE you in every possible way (photos & videos) that it's really quite easy and that YOU can do it!
If you already trust me, then just jump right to the recipe and do exactly as I say. Don't substitute ingredients and don't skip any steps. You won't regret it!
I've written out my secrets and tips, I've shared my fool-proof gluten free pie crust recipe, I've included videos of the steps, I've recorded a podcast to walk you through everything you need to know to make a great gluten free pie crust, and I've shared step-by-step photos so you can consult this post as you make a pastry for yourself. Don't let the length of the post scare you — it's all here to help!
Just look at this gorgeous, flaky gluten free pie crust. It's within reach, and YOU can make it, even if you've never made a homemade pie crust in your life!
As I travel the country speaking to gluten-free groups and teaching gluten-free cooking classes, it seems that rolling out pie crusts is the one thing that scares people the most about baking. There are many techniques I've developed over the years, and I've gotten it down to quite a science!
One way many folks find it easy to roll out and transfer crusts is by using a pie crust bag.
Check out this video below.
If you haven't seen one of these handy kitchen accessories, take a look at my video showing how to use them! (You can also find these in my store)
Another favorite of mine is using a silicone pastry mat and my favorite rolling pin covers. Together, they are so versatile and make it easy to transfer pie crusts or to roll out sugar cookies or ravioli or or or … you get the idea!
Here's a quick video of how to transfer a gluten free pie crust using a rolling pin and a silicone mat.
I also have a video showing how to use these mats and rolling pin covers for rolling out gluten-free pie crusts.
But the most important trick to making a deliciously flaky and remarkably easy-to-roll-out gluten-free pie crust, is to start with the right ingredients.
My gfJules™ All Purpose Gluten Free Flour is the main ingredient, and the special blend of gluten-free flours and xanthan gum gives doughs made with my flour extra stretch, making it far easier to roll and transfer top and bottom crusts.
I've also found that a combination of butter (or non-dairy alternative like Earth Balance® Buttery Sticks or lactose free Green Valley Organics® Lactose Free Butter) and shortening makes for a flakier crust. Note: I do NOT like using coconut oil in place of shortening. It doesn't play nicely with the flour and makes for an oily dough that is more brittle and sticky — no fun to work with!
Using cold water and a surprise secret ingredient that no one will ever taste (scroll down to recipe for ingredient) also makes it easier to work with the dough, and yields an amazingly delicious crust that's flaky and soft every time.
Consult my recipe below and be sure to look at the step-by-step photos at the bottom, where I show how to transfer the crust.
Because doughs made with my gfJules Flour actually have STRETCH to them, it makes it easy (yes, easy!) to transfer pie crust without tears! (Or maybe that was just me who cried over broken, crumbly gluten free pie crusts when I first got started???)
One final thought before I let you go on to the recipe and techniques outline below: I find myself answering lots of emails in advance of pie baking season and folks are all worried that they'll make a tough pastry crust.
In answer, I usually write pretty much the same things, so I'll copy a note I wrote recently below, in hopes that it also helps YOU make your best pie crust ever!
As for flakiness of pie crust there are a couple keys:

One is to make sure the butter is super cold when adding it. I like to cut it into pieces and then put it in the freezer while I'm measuring the flour and getting everything ready.

When you add the butter, cut both it and the shortening into the flour/salt mixture with a pastry cutter or two knives cutting against one another, and only cut it as much as you need to integrate the fats into the flour into small balls, without working it too much. Then add the vodka or cold water (start with only 3Tbs) and mix with a fork, adding only as much more cold water as you need to get the dough to hold together without being wet. A wet dough is a heavy dough and you don't want that!

I then wrap the dough in cling wrap and leave on the counter for 30 minutes if it's not too warm in the kitchen, or refrigerate for about 10-15 minutes if you think you worked it too much or the kitchen is warm.

Roll it out and into the pie pan and then … I've found that covering the crust with wrap again in the pan and putting it in the freezer while you work on other things, THEN filling the crust, is a great way to keep those fats nice and cold before baking. The steam that is generated from the fats melting in the oven is what causes most of the flakiness, so if you have lots of little balls of fat throughout the crust, as opposed to melty strands of fat, it creates more flakes.

That being said, overcooking the crust can also make it tough, so brush the crust with egg or oil or milk to help it brown so you aren't tempted to leave it in the oven too long, waiting for it to brown.
See below for step-by-step photos!
Here are some videos showing the recipe in action
The BEST Gluten Free Pie Crust Recipe
Yield: 1 pie crust
Gluten Free Pie Crust Recipe and Tips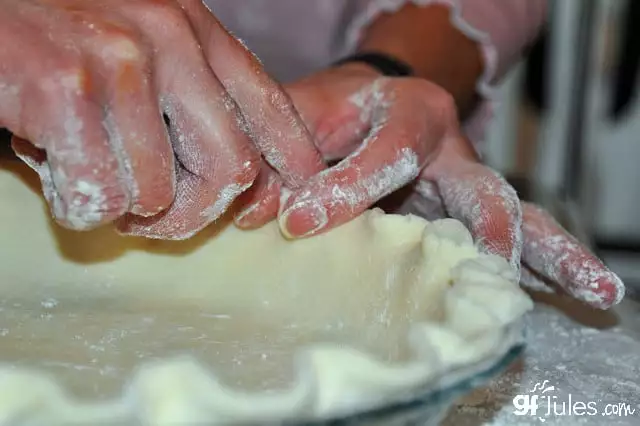 Light, flaky, buttery ... these are all the adjectives you want associated with your gluten free pie crust, and they're what you'll get with this no-fail recipe!
Additional Time
20 minutes
Ingredients
1 Gluten Free Pie Crust (double for 2-crust pie)
1 cup (16 Tbs.) gfJules™ All-Purpose Gluten Free Flour (135 grams)
1/2 teaspoon sea salt
2 Tbs vegetable or palm shortening*
3 Tbs COLD butter or non-dairy alternative ( e.g. Green Valley Organics® Lactose Free Butter or vegan Earth Balance® Buttery Sticks)
2 Tbs vodka* + 2-4 Tbs cold water (OR 4-6 Tbs. cold water) (add more or less to get the dough to hold together but not be sticky)
egg wash (1 egg + 1 Tbs. water) OR milk (dairy or non-dairy) for brushing on crust
Instructions
To Make the Dough:
In a large bowl, whisk together the dry ingredients.
Cut in the shortening and cold (not frozen, but very cold) butter using a pastry cutter (or the flat paddle attachment on a stand mixer or a food processor). Add the vodka/water gradually to make the consistency you need to form a ball – err on the side of it being wetter rather than crumbly. Don't over-work the dough, or it may become tough when baked. Form a disc with the dough, wrap in plastic and set aside on the counter for 30 minutes while you make your filling.
Rolling the Dough:
After allowing the dough to rest, roll the pastry out onto a surface dusted well with gfJules™ All Purpose Gluten Free Flour.
Use a flexible pastry mat (e.g. Silpat) and rolling pin covers or a pie crust bag for rolling and transferring your gluten free crust easily.
Gently roll in each direction — do not press down on the pin while rolling — to a circle with a diameter at least 1 inch larger than that of your pie pan.
Click on the picture for this quick video on how to easily transfer a gluten free pie crust into the pan.
To Transfer the Crust:
1- Gently lift an edge of the rolled out crust over your rolling pin. 2 -With one hand under the baking mat, use the pin in the other hand to lift the crust so that it is supported by the rolling pin as you pull the crust gently off of the baking mat. 3- Transfer gently over the pie plate to center. 4- Drop gently into the plate and press in with floured fingers. 5- Pat into your pan.
For a One Crust Pie, cut the edges of the crust to an even length of approximately 1-inch larger than the diameter of your pie plate.
Gently fold the edges under, then press with a fork or pinch into a fluted design between your fingers. Cover with plastic wrap and freeze while you make your fillings.
Fill with your desired filling.
For a Two-Crust Pie, double the ingredients and divide the doubled pie crust dough before setting aside. Shape each half into a disc and wrap each in plastic wrap. Repeat the rolling out steps for the first crust and cover with plastic wrap, then freeze for 30 minutes or while you prepare the fillings. Fill the pie and lay the second crust gently onto the top of the filled pie pan.
Cut off all but 1/2 – 1 inch of excess pie crust from around the edge of the pan. For fruit pies, cut small slits in the center of the top crust to allow the hot steam to escape. Brush the crust with egg wash or your milk of choice – this step helps it to brown nicely.
If there are any tears in your top crust, never fear! Simply take leftover crust and use decorative cookie cutters to cut out leaves, pumpkins, etc. Wet the backside of each cut-out with a dab of milk, then lay on top of any tears to cover the flaw.
Use pie crust shields to prevent crust edges from over-cooking. Available in the gfJules.com store.
Fold approximately 1/2 inch of excess pie crust over all around the edge to form the crust, then using your fingers, press a fluted design or use a fork to go around the crust to finish.
Your pie is now ready to bake or to freeze for later baking. For directions on how to freeze the pie dough and bake later, hop to my post on that method. To bake now, follow the instructions below.
Single-Crust: Preheat oven to 400º F (static). Brush the crust with egg wash or milk, then cover edges with foil or pie crust shields to minimize burning. Bake for 15 minutes. Reduce heat to 375º F (static) and bake an additional 20 minutes, remove the pie crust shields, and bake an additional 10 minutes, or follow directions for your specific pie recipe.
Double-Crust Pie: Preheat oven to 400º F (static). Brush the crust with egg wash or milk, then cover edges with foil or pie crust shields and bake for 15 minutes.
Reduce heat to 375º F (static), remove foil and brush again with egg wash or milk. Bake an additional 35-45 minutes, or until the juices are bubbling, or follow directions for your specific pie recipe. (Cover again with foil if the crust is browning too much during the bake).
Unfilled Pie Crust (Blind Bake): Cover crust in pie plate loosely with plastic wrap and refrigerate for 30 minutes. Preheat oven to 375º F (static).
Prick the bottom of pastry all over with tines of a fork. Cover the pastry with parchment paper and pour pie weights, dry rice or dried beans on top to cover 1 inch. Brush the crust edges with egg wash or milk, then cover crust edges with foil or pie crust shields. Bake for 15 minutes or until the bottom of the crust no longer looks raw.
Remove the parchment paper and weights. Return to bake for 6-8 minutes if filling with quiche, pumpkin or key lime type filling which will be baked further; for cream pies and refrigerated fillings, bake 10-15 minutes more. Don't wait for the crust to turn brown before removing or it will have over-cooked. Cool completely on a wire rack before filling for refrigerated pies.
See full instructions at my post on baking a frozen pie crust.
Notes
* Both butter and shortening are recommended. If you do not have or want to use shortening, another option is coconut oil, however the dough will be quite fragile to work with and difficult to transfer into the pie plate. Lard is suitable if that fits with your diet. Otherwise, liquid oil is another option. You may use all cold butter for the crust as well, but the flakiness in the pastry will be reduced.
I hope you love this recipe as much as we do!
Pin it for later!