Taken from my Gluten Free Pizza e-book, this recipe for Gluten Free Stuffed Crust Pizza is one of my most impressive.
The recipe makes a huge, Chicago style, deep dish gluten free pizza that could easily feed 8-10 people, depending on how hungry they are.
If you've never had a real Chicago style pizza like this, such a colossal wedge of pizza might seem crazy at first. But once you hold a chunk of gluten free stuffed crust pizza like this in your hands, you'll understand the allure.
This gluten free stuffed crust pizza is A MEAL all in one slice: bread; sauce; veggies and/or meat; more bread; more toppings … it just keeps giving!
To make this monster of a pizza may seem daunting at first, but understand that neither the top nor the bottom crusts show under all those yummy toppings, so the dough doesn't have to be pretty!
In fact, the more rustic the crust edges, the more authentic the pizza, don't you think?
I've provided step-by-step photos to walk you through making it the first time, just so you get the hang of it. Believe me, your family is going to want you to make this again SOON!
The dough could be pieced together like a patchwork quilt and it wouldn't matter because it's all covered with toppings! I like to use a pie crust bag to roll out this wet dough for the top crust, but it's not necessary, as it will be covered with sauce and cheese before serving. It's the taste not how pretty your crust is that matters, and this gluten free stuffed crust pizza wins critical acclaim EVERY time!
Double the from-scratch crust recipe or just use one full bag or can of my award-winning gfJules Pizza Crust Mix and stuff it as full as you'd like it: the more fillings on the first level, the higher the pie!
Look at how HUGE this pizza is!!! But if you'd like to make it less tall, simply use a wider pan.
Don't feel constrained by our choice of fillings — if you like it ON TOP of a pizza, you'll love it INSIDE this pizza. So just use your own! It's really an ingenious way to stuff all your favorite fillings inside a hand-held slice o' pie.
If you want to skip the top crust on this gluten free STUFFED crust pizza, but you're craving a DEEP DISH pizza (who wouldn't!?), follow Margaret at MIGlutenFreeGal and see how she used my gfJules Gluten Free Pizza Mix to make these adorable individual deep dish pizzas.
Margaret's tip: "The dough is very wet, and I highly suggest using saran wrap to press it into the pans. However, once this bakes, it may just be the most beautiful gluten free deep dish pizza crust I've ever seen in my life."
What a perfect idea for a family dinner — everyone can top their own! (A sneaky way to get some help in the kitchen, perhaps?! I'm not above that!)
Just look at this gorgeous crust. This is REAL pizza folks, no compromises here.
If you'd like even more deliciously creative gluten free pizza recipes, grab your own copy of my Gluten Free Pizza e-book.
It has 13 crowd-pleasing gluten free pizza recipes that may make you want to serve pizza every night of the week!
Yield: 1 Large Stuffed Crust Pizza
Gluten Free Stuffed Crust Pizza Recipe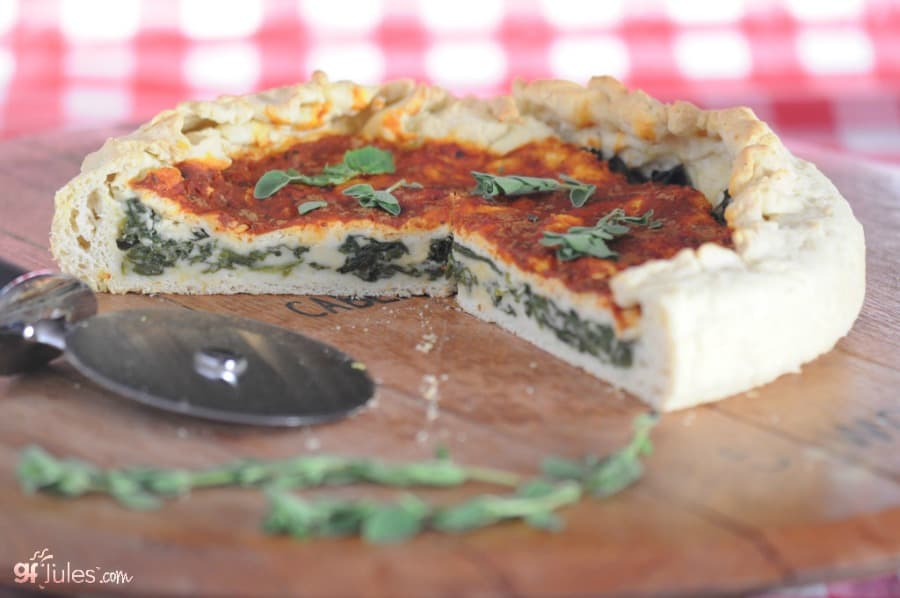 This is REAL pizza folks -- no compromises here! Gluten Free Stuffed Crust or Deep Dish Pizza just like the pizza joint down the street, only safe for celiacs!
Additional Time
20 minutes
Total Time
1 hour
7 minutes
Ingredients
Pizza Crust
Spinach Stuffing
8-16 ounces fresh spinach (the more spinach, the thicker the stuffing layer)
12 ounces mozzarella or non-dairy mozzarella style cheese, grated (like Daiya® Mozzarella Style or Go Veggie™ Mozzarella Style; see more dairy free cheese recommendations here)
Toppings
2 cups gluten-free pizza or marinara sauce of choice (most brands are GF or make your own) – room temperature
2 Tbs. gluten-free cornmeal (or whole millet ground in a food processor or blender) – optional
Olive oil for pan and your hands
Instructions
If making the spinach-cheese filling, steam the spinach in a large covered pot filled with 1/2 inch of water. Turn the heat to medium high and cover the pot until the spinach is wilted. Drain the spinach, then return to the pot. Stir the cheese into the hot spinach and mix well. Set aside.
Oil a deep dish pizza pan or large dark colored cake pan (9-10 inches or larger) or springform pan, ideally (makes the pizza easier to cut and remove). Sprinkle cornmeal evenly across the bottom after oiling.
Make the homemade gluten-free pizza dough using my from-scratch recipe or my gfJules Gluten Free Pizza Crust Mix.
After making the pizza dough, separate it into two: one contains 2/3 of the dough, one contains 1/3 of the dough. From the dough, scoop out smaller pieces to arrange on the bottom and sides of the prepared pan.
Using your hands (rub lots of oil between your hands before touching the sticky dough), press the dough pieces together across the bottom of the pan and up the sides of the pan with your palms (or use oiled plastic wrap). The dough should cover the bottom and sides with an even thickness, and if possible, lay up and over the outside top edge of the pan. Remember – it doesn't matter how messy or haphazard the dough looks to you at this point, just try to get it to a fairly even thickness.
Spread your favorite pizza toppings or the wilted spinach and cheese evenly across the dough, coming all the way to the edge of the pan where the dough begins to go up the sides.
Dust a piece of parchment or a silicone baking mat and rolling pin well with gfJules All Purpose Gluten Free Flour. Place the remaining pizza dough in the center of the floured mat and dust with more flour. Lay a piece of parchment or plastic wrap on top and begin to gently roll the dough out in all directions, adding more flour if necessary to keep the dough from sticking (or use a rolling pin cover or pie crust bag).
Once the dough is rolled to the diameter of your pan, the dough is ready to lift and top the other crust. Place one hand on top of the covered, rolled out dough, and another underneath the mat to flip the crust onto the parchment or plastic wrap side, then flip back on top of the stuffed pizza.
Peel off the parchment or plastic wrap – don't worry if it sticks or rips at all, just press it back into place once the parchment or wrap is removed. Remember, this crust will be covered too, so no one will see any blemishes in the crust even if you have to patch it back together!
Press the edges of the two crusts together and pinch. Wet the crusts lightly if they are not sticking together because the top one is floured.
Cover with parchment and place it in a warm spot to rise for 20 minutes (an oven set to 200°F then turned off is a good place).
Preheat oven to 500°F.
Brush oil on top of the crust. Remove parchment and bake pizza for 5 minutes on low-middle rack.
Spread pizza sauce and any toppings on top of the second crust and return to the oven to bake another 12-15 minutes, covering edges with foil if they are browning too much.
Recommended Products
As a member of Amazon Associates and other affiliate programs, I may earn a small amount from qualifying purchases; this amount goes to fund this blog and does not cost you anything additional.
I hope you love this recipe as much as we do!
Pin it for later!