I'm so excited to share with you my new recipe for gluten free coffee cake muffins. A reader asked me a few weeks ago if she could use my gfJules Gluten Free Muffin Mix to make gluten free coffee cake muffins and I thought the idea was brilliant. And with my mix, it was so easy! My family absolutely went gaga over these. I know yours will too!
There are few things in life as universally loved as coffee cake. Chocolate chip cookies are up there, but some people prefer oatmeal cookies, and beyond that, honestly fan favorites are split between chocolate and vanilla, tart and sweet, pie and cake … you get the idea. But coffee cake? Who doesn't love coffee cake? (Here's my recipe for gluten free coffee cake, by the way!).
So using the transitive property (if a = b and b = c, then a = c … the extent of my math skills), who wouldn't love a gluten free coffee cake they could hold in their hand, take on the bus or in their lunch, grab as a snack, or nosh on for dessert? Hence, the birth of the gluten free coffee cake muffin.
This concoction is certainly delicious. It has a delightful swirl of cinnamon goodness in the middle and is topped with an irresistible crumbly streusel that makes it all the better. My husband actually asked why there weren't more swirls of cinnamon in the middle (he suggested 3 layers!) because he loved it that much. So if you're inclined to want more, double or triple the swirl ingredients and go all in on the swirl. You only live once.
Using my award-winning gfJules Gluten Free Muffin Mix, you only need to add a few simple ingredients and I've provided you dairy-free and vegan options below. If you have my gfJules Gluten Free All Purpose Flour, but not my muffin mix, follow along with the "from scratch" instructions.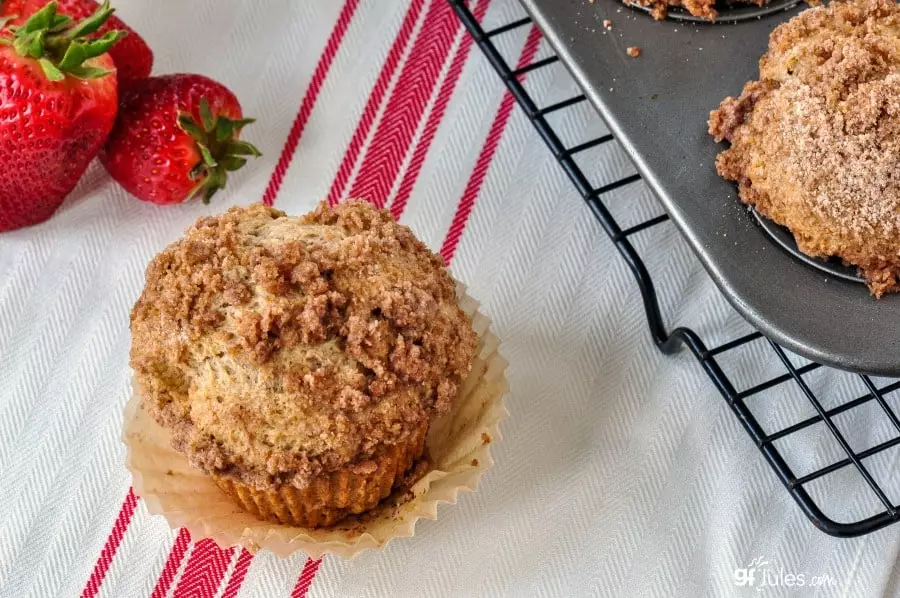 Just be sure not to use another muffin mix or flour blend that is rice flour based or has bean flours in it. When you want a soft, yummy muffin, you need to use the right gluten free flour or it may turn out dry and crumbly or gritty and taste funny — now who would want that??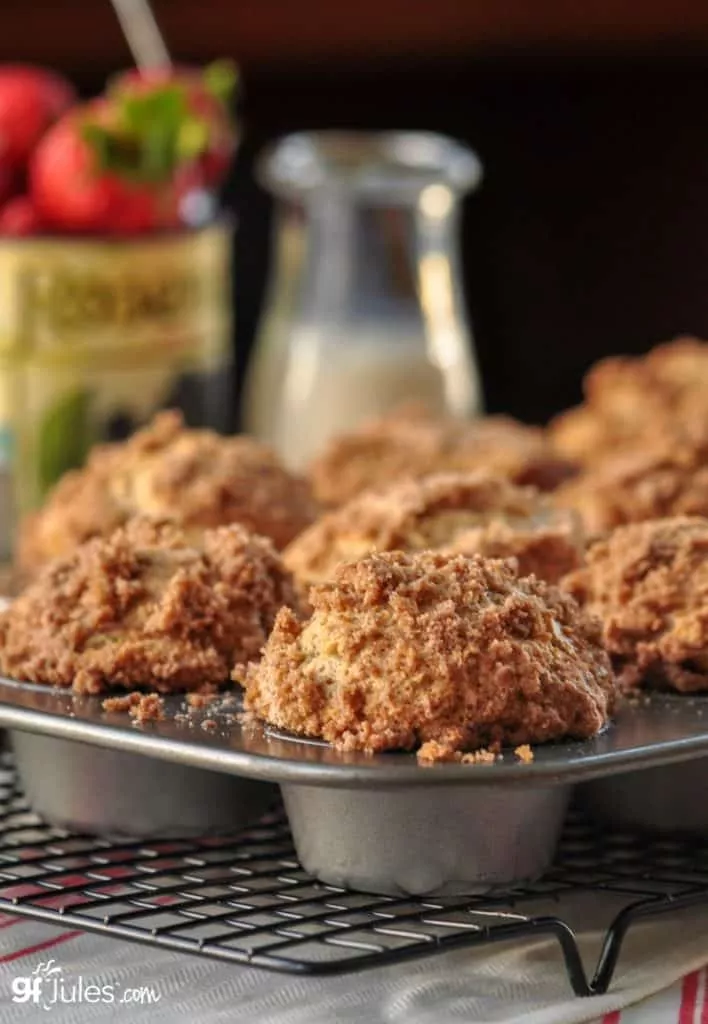 I hope your family loves this recipe as much as mine does. I had to fight them off to get pictures, if that's any indication of how fantastic these are. And your kitchen will smell like heaven when they're baking!
Yield: 12-16 muffins, depending on size
Gluten Free Coffee Cake Muffins
These delicious gluten free coffee cake muffins bring all the yummy cinnamon-sugar flavors of coffee cake into a portable muffin!
Ingredients
Muffin Ingredients:
OR
PLUS
Swirl Ingredients:
Crumble Topping Ingredients:
Instructions
Preheat oven to 350ºF (static) or 325ºF (convection).
Oil or line muffin cups and set aside (makes 12-16 muffins, depending on size).
Cream the butter with 1/2 the can of gfJules Gluten Free Muffin Mix to integrate it with the butter.
OR
If baking from scratch, cream butter with sugar until the mixture is light and fluffy. In a separate bowl, whisk together all the dry ingredients.
To the butter mixture, add the eggs, vanilla and sour cream and beat well.
Add dry ingredients or the remaining muffin mix (plus 1/4 cup sugar, if using) to the wet mixture along with 1/4 cup milk until thoroughly mixed.
The batter will be thick but not so thick you can't spoon into muffin cups. If it is too thick to spoon easily, add another 1/4 cup milk to your batter and beat to integrate (different milks, yogurts and sour creams may require slightly more milk added to the batter).
Prepare the swirl ingredients in a separate bowl.
Spoon batter into prepared muffin tins, filling only half full. Spoon a dollop of cinnamon swirl onto the batter, then add more batter on top to fill the muffin cup 2/3 - 3/4 full.
In a separate bowl, cut the butter into the topping ingredients with two knives or a pastry blender until a pebbly mixture is formed. Sprinkle evenly on top of all the muffins.
Bake for 30 minutes or until lightly browned and a toothpick inserted into the center comes out clean or with only dry crumbs. (note: if baking on convection setting, check muffins after 20 minutes of baking and again five minutes later if not done; convection tends to cook baked goods faster and you don't want to over-cook the muffins.)
Cool before removing from tins.
I hope you love this recipe as much as we do!
Pin it for later!