This time of year, it seems we're all scrambling for to find the perfect gluten free Easter recipes. A traditional Easter supper (and breakfast the morning after) shouldn't be missed just because you or your family is not eating gluten. Favorite family recipes shouldn't be avoided, but embraced! I'll show you how in this gluten free Easter Recipe Roundup!
Bring out all the traditional recipes and use my gfJules Gluten Free All Purpose Flour to make them again deliciously, gluten free! Read more about how to convert wheat flour recipes in this article, and find some new favorite ideas and recipes below!
Celebrate this joyous occasion deliciously, and without compromise! I have 40 gluten free Easter Recipes for you — that oughta get you started on the right foot!
Scroll to the bottom of this post for the Gluten Free Easter Candy List!
Gluten Free Easter Dessert Recipes
Let's start with dessert first, shall we?
Easter Lamb Cake is one of those recipes I had always admired, but it wasn't a tradition in my family; it is now! How adorable is this gluten free Easter Lamb Cake?
Make it vanilla or chocolate, decorate with frosting or shaved coconut the way I have here. It was the perfect centerpiece and the perfect ending to our Easter supper! (for lamb cake mold I used, click here)
Gluten Free Easter Basket Cupcakes are another new dessert recipe that we've really had fun making in our house. Use gluten free Peeps® , gluten free jelly beans, gluten free twisted fruit (most licorice contains gluten!), colored coconut shavings, or any other creative addition you think of to decorate these cupcakes, and they're almost too cute to eat! Click on my recipe for how-tos and for gluten free Easter candy recommendations.
Who could resist gluten free cake pops shaped and decorated like Easter Eggs? These are so fun to make with or for the kids, and easy to make with any flavor gluten free cake you like or happen to have on hand!
And speaking of eggs, these gluten-free Nest Sugar Cookies and Sugar Cookie Eggs are SO easy and fun to make. Many "Jordan Almonds" contain gluten, so be sure to find a brand that is gluten free, or just use Peanut M&Ms!
Plus they are totally festive and colorful, just begging to be enjoyed!
Sticking with the chick-and-egg theme, how about these adorable Gluten Free Easter Graham Cracker Houses for your Peeps?
And speaking of Peeps, *almost all Peeps are gluten-free. Be sure to check the labels!
Scroll to the bottom of this post for my Gluten Free Easter Candy recommendations to decorate all these treats!
Springtime is just begging for this luscious gluten free Strawberries and Cream Cake, don't you think? There's something so cheerful and springy about this cake and light frosting. It's perfect for your Easter table!
Another Easter favorite is Gluten Free Carrot Cake. Baked as a layer, sheet or cupcakes, the cream cheese frosting on this beauty makes it even better. Moist, full of flavor and so iconic at Easter, you'll want to keep this recipe handy.
You can also make easy gluten free carrot cake CUPCAKES, if that suits your fancy or social distancing needs.
And if you're a cake mix kinda baker, you can't get any easier than using my gfJules Best Gluten Free Cake Mix and baking this Gluten Free Carrot Cake from Cake Mix!!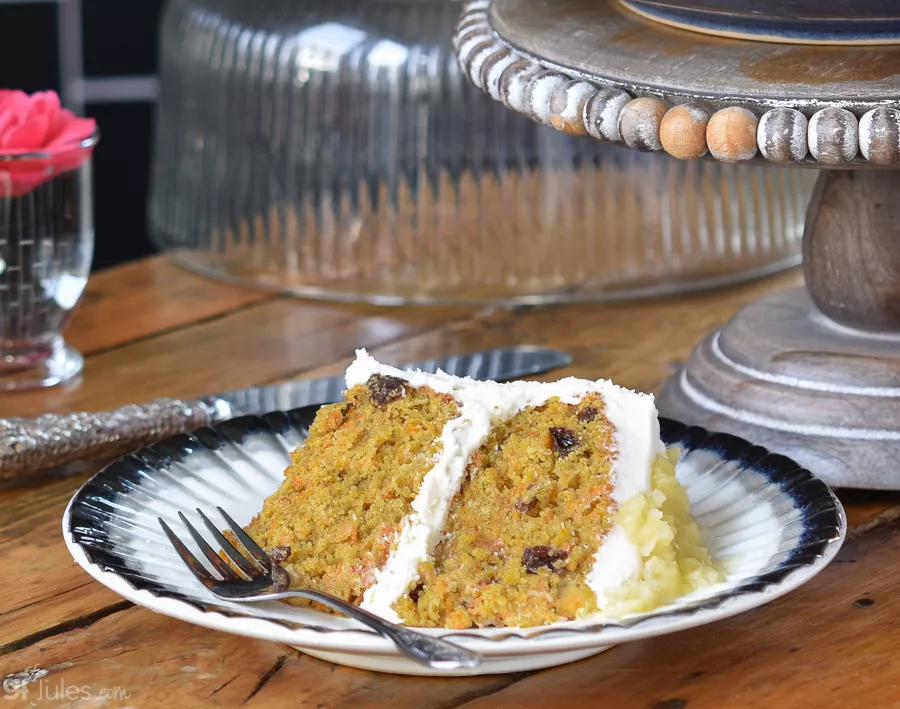 Easter is all about re-birth and bright, sunny, cheerful foods, so what could be better than these gorgeous gluten-free lemon bars?
They're one of the most popular recipes on my gfJules site year-round, so don't overlook them for the sunshine they can bring to your Easter table!
My mother's easy Gluten Free Coconut Pie has long been an Easter favorite, mostly because it's hard to find an easier recipe that is more well-loved! This pie is a crowd-pleaser anytime; no one has to know it only takes 10 minutes to throw it together!
I promise you that even if you're not a baker, you can make this delicious pie! Trust me – you and your family won't regret it!
My gluten free Coconut Banana Cream Pie recipe has several more steps than does the easy Coconut Pie, but it's not hard, just takes more doing.
And again, this is an amazingly delicious recipe that will make even the banana doubters among you ask for a second piece (see my recipe for details on how this insanely delicious recipe changes minds!).
Gluten Free Lemon Pound Cake is another favorite in our house that makes everyone think spring!! Bake in a loaf pan …
… or in a bundt pan and it'll be the hit of your Easter dessert table!
Gluten Free Angel Food Cake is another natural fit for Easter!
Even a traditional bread pudding (made with gluten free bread, of course!) is a quick and easy — not to mention delicious! — finish to your gluten free Easter meal.
Gluten Free Easter Bread Recipes
Gluten Free Hot Cross Buns are the traditional Easter bread favorite, and are remarkably easy to make. These beautiful buns can be glazed or left to stand on their own. A cross made in the tops with a knife before rising, or enhanced by a drizzle of glaze, reinforces the meaning of the meal.
Some of my readers have been sharing their gluten free Hot Cross Bun photos lately, and turns out, they're using my Gluten Free Pull Apart Rolls recipe and sweetening it up for Hot Cross Buns! How smart! And how beautiful!
My famous gluten free Challah recipe might seem out of place in this Easter roundup, but it actually is made as dinner rolls or Easter Bread by many of my readers on Easter because it's such a moist and delicious egg-bread — it's really hard to beat.
You can even bake this recipe in popover trays or muffin tins or shape and bake on a parchment-lined cookie sheet to make the number of rolls you'll need for your crowd.
Speaking of Challah, this gluten free Sweet Egg Bread recipe (otherwise known as Gluten Free Paska, a Ukrainian / Eastern European traditional Easter bread) is a show-stopper. Braided breads are so impressive, but my recipe and step-by-step photos and video will have you baking bread like a pro!
There's no time that gluten free Danish this gorgeous wouldn't be a perfect addition to your brunch table. Don't you agree?
Gluten Free Resurrection Rolls (or Empty Tombs) are another classic and very symbolic bread for Easter. These are made easily gluten free using my Gluten Free Crescent Roll Dough recipe! (yes, you just read that right: I have a recipe for gluten free crescent rolls! You MUST try it! So good!)
Gluten free Cinnamon Swirl quick bread is an easy, sweet treat for your table. Or you could go with lemon muffins (think spring!), Gluten Free Strawberry-Rhubarb Muffins or simple gluten free scones — all easy to transport and go well with the meal at any time of day.
I also have recipes for gluten free no yeast breads and rolls, as well as everyone's favorite soft gluten free Pull Apart Dinner Rolls, — all kinds of delicious gluten free breads for your table!
Gluten Free Easter Breakfast Recipes
Casseroles like overnight French Toast Casserole and hash brown casserole are universally well-loved and easy to make gluten free.
Gluten Free Cinnamon Rolls are probably one of the most well-loved treats around, wouldn't you agree?
Or how about gluten free Coffee Cake Muffins? The portable version of everyone's favorite!
Homemade gluten free pancakes or gluten free Belgian Waffles are perfect for brunch, as are gluten free doughnuts, traditional gluten free coffee cake, gluten free cinnamon rolls or gluten free cinnamon sticky buns or even yeast-free gluten free cinnamon rolls (yes, I actually have multiple recipes!).
And don't forget gluten free muffins (lemon-berry, or Jumbo Lemon-Poppyseed, anyone?) and quick breads (my new gluten free banana-lime bread would be perfect!) are great for breakfast and for munching as snacks between meals.
Other recipes to consider for your Easter meal include gluten free Easter Pie or any kind of egg dish: omelets, frittatas, quiche tarts, quiche – even crustless! deviled eggs, … you get the idea!
The bottom line: the potential is nearly endless! And of course there's all the Easter Candy!!!
Gluten Free Easter Candy List
Here's a quick run-down of some good gluten free candy options to keep on your Easter Bunny radar (check updated candy lists for more safe and unsafe products):
M&Ms (always read the labels though – some themed varieties are in shared facilities and some contain wheat like crispy, pretzel, and some seasonal M&Ms)
Hershey's Kisses (not all! check labels)
Surf Sweets vegan, top 8 allergen-free, dye-free, kosher gummies & candy
Starburst
Tootsie Roll candies including pops
Necco Candy Eggs
Marshmallow Peeps (*except Oreo flavor — check labels)
Kraft Bunny Marshmallows
UNREAL candies (all are vegan & lower in sugar, these are certified gluten free)

Dark Chocolate Almond Butter Cups
Dark Chocolate Peanut Butter Cups
Dark Chocolate Crispy Peanut Butter Cups
Dark Chocolate Coconut Bars

Zolli Candy (also sugar free)
That's It. (dark chocolate truffles — paleo)
Easter Candy to Avoid — Not Gluten Free
Always avoid Whoppers & other malted candies.
Always avoid any candy that contains barley, malt, or barley malt as an ingredient.
Avoid Cadbury products (they are not included in Hershey's gluten free list).
Many otherwise safe candies are manufactured in special holiday shapes and the manufacturer uses different facilities for these candies. They will therefore not claim gluten free status for these shaped candies due to the potential for cross-contamination. Check packaging first and manufacturer websites for any products you are unsure of.
Licorice (Twizzlers are NOT gluten free!) nearly always contains gluten, but Candy Tree makes great gluten free versions if you can find them. To repurpose these as handles for Easter Basket Cupcakes, hop to my recipe!
Summary
Recipe Name
Gluten Free Easter Recipes
Published On
Average Rating




Based on 13 Review(s)