If you are living gluten free, you probably already know that my gfJules Bread Mix was voted Best Gluten Free Bread Mix AGAIN in the Gluten Free Awards, but what if you also need yeast-free bread?
Thanks to chef Patrick Auger's kitchen experimenting, I have a perfectly delicious gluten free no yeast bread recipe solution for you! And if you use my gfJules Bread Mix, it's even easier!
I give you recipes to make this gluten free no yeast bread from scratch or with my easy gluten free bread mix, so the choice is yours. Just don't go without real bread a minute longer, simply because you need gluten free no yeast bread.
Delicious sandwich bread that meets your needs is indeed possible! Here's to sandwiches being back on your menu!
Oh, and check my recipe tab for gluten free yeast-free dinner rolls and my scrumptious gluten free pizza crust with modifications to make with no yeast.
And don't forget the Gluten Free Flour Tortillas and Gluten Free Pita Bread or Flatbreads!
Yield: 1 loaf
Gluten Free No Yeast Bread Recipe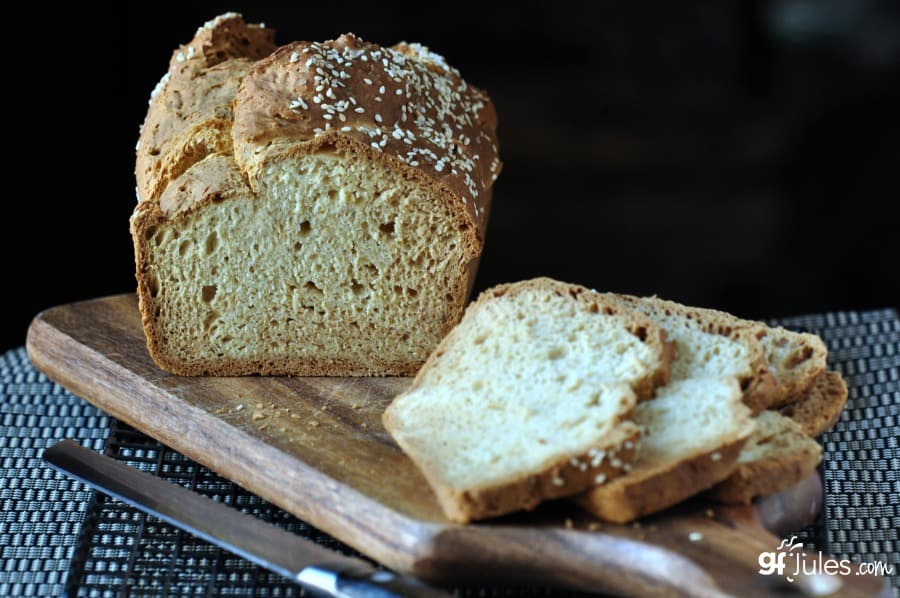 Prep Time 20 minutes

Cook Time 1 hour

Total Time 1 hour 20 minutes
Ingredients
Dry Ingredients:
OR
1/4 cup flax seed meal (or GF buckwheat; millet; sorghum or brown rice flour)
1/4 cup dry milk powder, dairy or non-dairy (e.g. Coconut Milk Powder) OR almond meal
1/2 tsp. baking soda
2 tsp. baking powder
1 tsp. sea salt
Liquid Ingredients:
2 Tbs. honey, agave nectar or coconut palm nectar (optional)
1 1/4 cup club soda or sparkling water
1 tsp. apple cider vinegar (only if not using my gfJules™ Bread Mix)
1/4 cup extra virgin olive oil
2 large eggs (or 2 Tbs. flax seed meal steeped for 10 minutes in 6 Tbs. hot water)
PLUS
2 1/2 tsp. additional baking soda
1 Tbs. lemon juice
Toppings:
1 Tbs. crushed nuts, flaxseeds or sesame seeds (optional)
1 Tbs. coarse sea salt (optional)
Instructions
Preheat oven to 325º F (convection) or 350º F (static).

If not using my bread mix, whisk these dry ingredients together in a large bowl: GF flours, milk powder, 1/2 teaspoon baking soda, 2 teaspoons baking powder and 1 teaspoon salt.

In the large mixing bowl of a stand mixer, stir together the wet ingredients: honey (if using), club soda, apple cider vinegar (not necessary if using my bread mix), oil and egg. Gradually add the dry ingredient mix or bread mix packet (do not add the yeast packet that comes with the bread mix) in by pouring slowly into the wet bowl.

Begin mixing with a wooden spoon or paddle attachment on a stand mixer. Before fully integrated, add the final addition of lemon juice and extra baking soda to the bowl. The mixture should bubble up when added together; if not, your baking soda is not fresh enough. Once incorporated, beat well for 1 - 2 more minutes.

Scoop the dough into an oiled 8.5 x 4 or larger bread pan (use a dark metal pan if you like a darker crust on your bread; lighter, shiny metal or glass if you like a light crust).

Wet a large serrated knife and make 2 or 3 large cuts in the top of the bread about 1/2 inch deep, rocking the knife back and forth in the wet dough to make an impression. These cuts will give the bread easy places to rise and swell open.

Using the baking soda and baking powder in this recipe, together with the lemon juice and club soda causes the bread to rise high and can make an odd looking, hilly top crust, but making these cuts before baking can help it look more uniform. Either way, the bread tastes delicious, so even an odd looking top crust isn't anything to worry about!

Smooth the top, sprinkle with any toppings, and bake for approximately 60 minutes, or until the crust is browning nicely and a cake tester or skewer inserted into the center of the loaf comes out clean (internal temperature should reach 205-210º F). Start checking the temperature after 50 minutes of baking to ensure you don't over-bake the bread.

Remove to a cooling rack. When cooled for 15 minutes, gently remove from the loaf pan to finish cooling before slicing.

Once fully cooled, store in a zip-top bag on the counter or slice and freeze in a freezer bag with wax paper between the slices -- do not refrigerate.
Notes
*If making in a bread machine, set to quick bread setting if it cooks for 60 minutes, or manually program the machine to mix for 20 minutes then bake for 60 minutes. There is no resting time, punch-down or rise time needed for this bread. Make sure to add the liquids first, then the dry ingredients. For more on baking gluten free breads in a bread machine, click to hop to my article here.

I hope you love this recipe as much as we do!
Pin it for later!
Summary
Recipe Name
Gluten Free No Yeast Bread
Published On
Average Rating



Based on 34 Review(s)