Before we get started into what is THE BEST GLUTEN FREE CAKE RECIPE … ever, let me just tell you that I know cake.
I come from a long line of cake lovers – and frosting lovers, truth be told – and it's not exaggerating to say that it's critical that we have awesome gluten free cake recipes at our fingertips.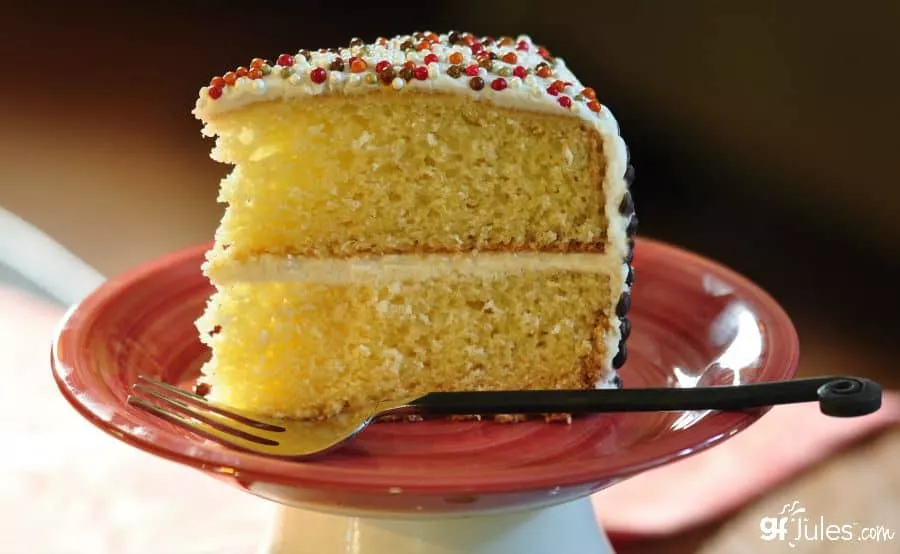 I have developed a great gluten free pound cake recipe, gluten free angel food cake recipe, gluten free lemon cake recipe, gluten free s'mores cake recipe, gluten free pineapple upside down cake recipe, gluten free black bottom cupcakes recipe, gluten free King cake recipe, gluten free red velvet cake recipe, Chocolate Beer Cake recipe … so many more gluten free cake and cupcake recipes that I'm getting tired of typing recipes …. You get the idea.
Oh, and I have a great gluten free yellow/white cake recipe that I have always used for gluten free birthday cakes and gluten free wedding cakes, but I wanted one that was lighter and frankly, required fewer odd ingredients.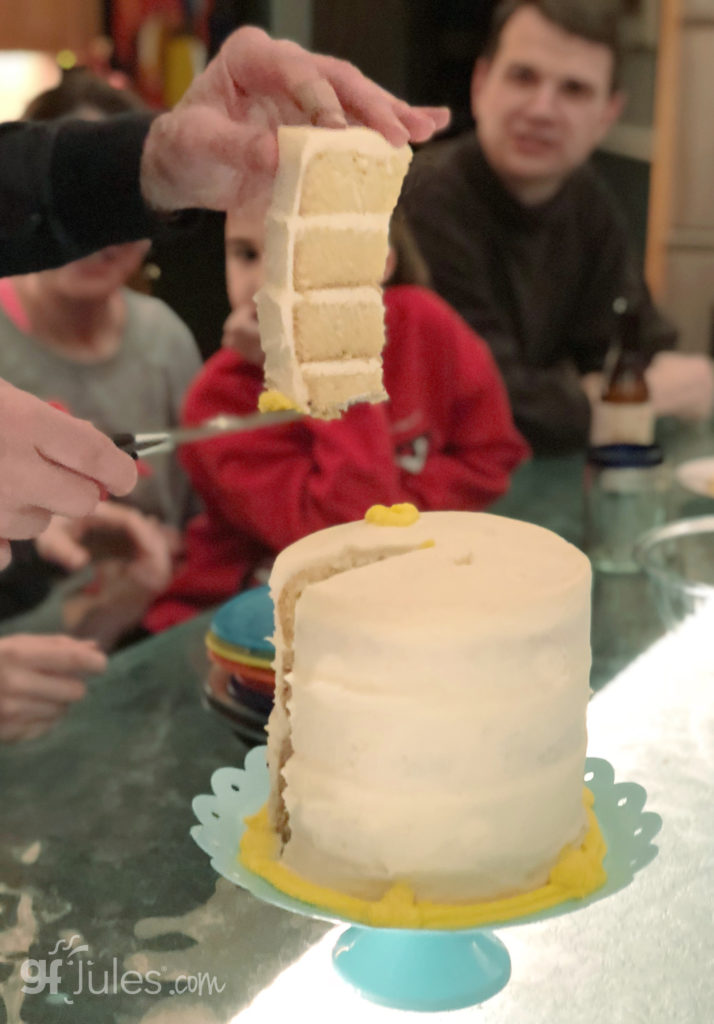 So I worked and worked, taste-tested and taste-tested (I'm wiping my brow over here), until I was sure that this was IT!
And in case the reviews on this recipe haven't convinced you yet, let me assure you that this really is THE BEST GLUTEN FREE CAKE RECIPE!
It truly is.
Bear in mind that the ingredients given are all here for a reason; making substitutions will change the texture and taste of the cake, trust me. Including, and especially, the gluten free flour ingredient.
My gfJules™ Flour is unlike any other; using another blend will absolutely produce a different result.
So please don't email me or leave a comment that the recipe didn't turn out as pictured or as described if you use another gluten free flour blend. Gluten free flour blends are ALL quite different; even if you think the ingredients look similar or even the same.
For example, in my gfJules Gluten Free Flours, I use not one but TWO different gluten free modified starches.
Neither of these ingredients are available on store shelves, so there is no way anyone could ever fully replicate my blend because of those ingredients alone, not to mention all the others.
My award-winning gfJules Flour has taken me years to perfect and I modify and improve it periodically when a new ingredient becomes available, or to make it non-GMO, as I did in 2014. Using this blend will make all your gluten free baking better, but for the purposes of this discussion, it will definitely make the best gluten free cake (gluten free chocolate OR gluten free vanilla cake).
NEWS: I also have developed my gfJules Best Gluten Free Cake MIX, at the urging of customers who loved this recipe SO much, but wanted an even easier way to make this favorite recipe! So if this describes you too, rest assured, my gluten free cake mix is every bit as scrumptious as this recipe, but with fewer steps and other ingredients!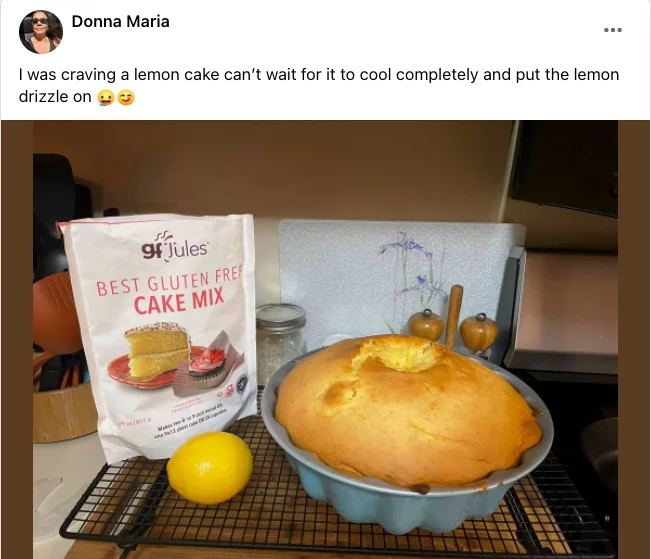 As with any recipe, I urge you to also follow the DIRECTIONS. You may be shocked to see the difference it makes just to bake a cake using the exact same ingredients but adding them in a different order!
I'm getting a bit tweaky here, but enough folks write in with questions and problems with baking that I like to cut off potential issues at the pass and show people what NOT to do before things go wrong, so take a look at what can happen with this lovely cake if you simply add the sugar at the end instead of with the dry ingredients at the beginning of the recipe, as specified:
That's right, the INGREDIENTS matter and the DIRECTIONS matter! So take a moment to gather the ingredients I recommend and take a moment to read the directions and follow them. You will be rewarded with … the Best Gluten Free Cake! It's worth it!
And if you're going to make layer upon layer of these delicious cakes (which I highly recommend), you're going to need a super tall cake safe. I love mine, pictured above, because it also collapses to save space! (Click here for the gluten-free sprinkles I used)
If you want sugar-free, I recommend either Swerve or Just Like Sugar. If you can tolerate unrefined coconut palm sugar, it works great in this recipe but makes the cake a darker color. But again, ingredient switches will always change the results.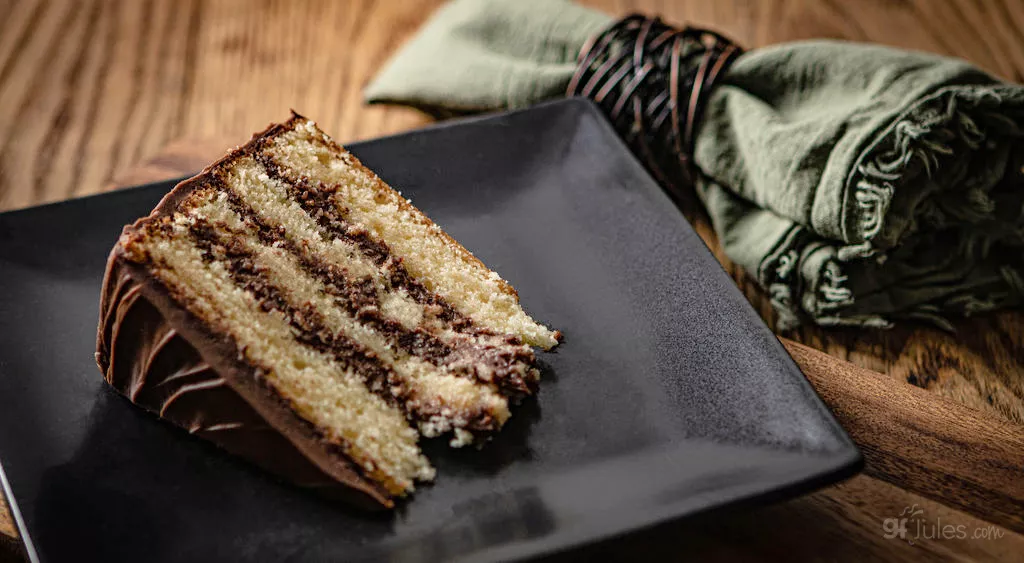 For more on the differences in gluten free flours, hop here.
For more on converting your favorite recipes to gluten free, hop here.
If you need to replace the eggs in this recipe, check out my favorite egg replacers and recipes here.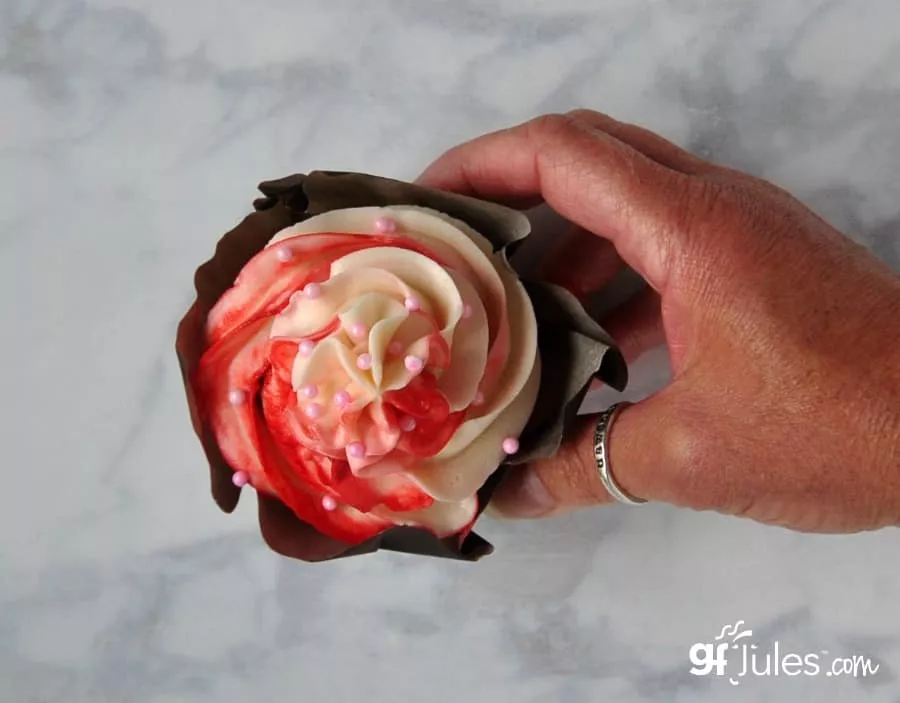 And after experimenting for what felt like eons, I nailed this cake recipe and am so excited to share it with you. I now firmly believe it to be my most versatile, delicious, light, and EASY gluten free cake recipe yet!
I've given instructions on how to make this a white cake, yellow cake or chocolate cake, but don't let that stop your imagination! I can't wait to hear what kind of yummy chocolate swirl, mint, peanut butter, salted caramel or other delicious concoction you come up with using this new super easy cake recipe as your base.
Come back and share with us all when you try this recipe, and if you put any other delicious flavor spin on it! Happy cake baking (and eating, of course!).
Makes one 9- or 10-inch round cake or 12 cupcakes; double for 2 layer cake.
BTW — these pre-cut 9-inch round parchment rounds are my favorite way to line the cake pans and lift the cakes out easily!
Yield: 1 8-9" round cake or 12 cupcakes
The Best Gluten Free Cake Recipe
After years (and years and years) of recipe testing, I can say with complete confidence that this is truly the BEST gluten free cake recipe! Light and airy, moist and flavorful, this cake takes the cake!
Total Time
1 hour
5 minutes
Ingredients
Note: double for two 8 or 9-inch round pans or 24 cupcakes
1 ½ cups (202.5 grams) gfJules® All Purpose Gluten Free Flour
1 cup less 1 Tbs. granulated cane sugar (Monkfruit works as a sub)
2 tsp. baking powder
1/3 tsp. baking soda
1/2 tsp. salt (optional)
2 eggs or substitute (for white cake, use 4 egg whites)**
1/3 cup mild flavored vegetable oil of choice (safflower, non-GMO canola, avocado oil, extra virgin olive oil, coconut oil melted, etc.)
1 Tbs. white vinegar (lemon juice works as a sub but imparts lemon flavor)
1 tsp. pure vanilla extract (I like Rodelle®)
½ cup milk of choice (dairy or non-dairy; skim or fat-free not recommended)
Instructions
Preheat oven to 325° F.
Line with parchment rounds or oil one 8 or 9-inch round cake pan or line 12 muffin cups with cupcake papers.
Bring all ingredients to room temperature. Sift the dry ingredients (including sugar) together in a bowl.
In a separate mixing bowl, whisk together liquid ingredients except milk. If making white cake, first whip egg whites or aquafaba sub quickly to fluff, then add other liquids: oil; vinegar and vanilla (plus chocolate syrup, if using).
Slowly pour dry mix into the liquids and begin to stir, adding the milk while stirring to keep the flour from flying up and out of the bowl while mixing. Continue to beat at medium speed just until the lumps are gone and the batter is smooth and no longer lumpy.
Pour batter into prepared pan(s). Allow to rest in the pan before baking for 10 minutes (not required if pressed for time).
Bake for approximately 30-35 minutes for cakes or 20-25 minutes for cupcakes. Test with a toothpick before removing from the oven. When done, the toothpick should come out clean (not wet) or with a few crumbs attached when inserted into the center of the cake.
Glass, metal and ceramic pans all alter the bake time, so check for done-ness before removing from the oven. Pressing gently onto the top of the cake, it should feel firm and bounce back.
Remove to cool on a wire rack. To remove the cake, gently invert the cake by flipping it upside down onto your hand, removing the pan, then returning the cake to the wire rack or a serving plate.
Frost with white or chocolate frosting. (There are plenty more frosting recipes where that came from - just search the "recipes" tab on my site!)
Notes
**To Replace 4 Egg Whites in White Cake:
1/2 cup aquafaba + 1/2 tsp cream of tartar, whipped until frothy
**To Replace 2 Eggs in Yellow or Chocolate Cake:
1/4 cup dairy or non-dairy yogurt (not Greek style, not fat-free) OR vegan mayo
PLUS
1 recipe of commercial gluten free egg replacer like Ener-G® Egg Replacer (total equivalent of 1 egg substituted)
*For 1 recipe Chocolate Cake (double for 2 cakes or 24 cupcakes) add:
¼ cup cocoa (Dutched)
¼ cup additional milk of choice
3 tablespoons chocolate syrup
Nutrition Information
Yield
12
Serving Size
1
Amount Per Serving
Calories

76
Total Fat

7g
Saturated Fat

1g
Trans Fat

0g
Unsaturated Fat

6g
Cholesterol

32mg
Sodium

230mg
Carbohydrates

2g
Fiber

0g
Sugar

1g
Protein

1g
If you're not convinced yet,
try ordering a sample of my award-winning gfJules Flour
and try it for yourself. Tasting is believing!
Make your next birthday or wedding or anniversary or office party … even better! Make the Best Gluten Free Cake Recipe or use my gfJules Best Gluten Free Cake MIX!
I hope you love this recipe as much as we do!
Pin it for later!
Banner photo: Best Gluten Free Cake made with gfJules Flour; Photograph by: R.Mora Photography.