T-Fal Gluten Free Bread Machine Review
Lots of folks ask me about which gluten free bread machine is best for baking gluten free bread. I have had experience with many great ones, some of my favorites include Zojirushi®​ & Cuisinart®​,* but I just tried a new one from T-fal®​ and I must say that I am SUPER impressed.
*note: after repeated problems with my Cuisinart bread maker not fully baking the loaves, I have learned to preheat my oven to 350°F and place the bread pan from the bread maker into the oven to bake approximately 10 more minutes at the end of the bread maker cycle. The machine does not have a bake setting, so access to an oven is necessary. I have heard from many other Cuisinart bread machine owners that they have had the same issues and have also learned to use the oven to finish baking the loaf.
Do I need a Gluten Free Bread Maker?
First off, let me say that you do NOT need a breadmaker to make awesome GF bread. But if you want to use a breadmaker, please read my article full of tips on what and how to use one.
If you're looking for more gluten free bread baking tips, applicable to both oven and bread maker baking, check out my Top 18 GF Breadbaking tips.
Whether you decide to bake gluten free bread in an oven or a bread maker, there are so many reasons to try baking your own gluten free bread at home: it's not hard to make delicious bread when you use the right ingredients; the results are far better than any frozen loaf you would buy at the grocery store; the slices are sized to make real sandwiches (without holes!); and it is far more cost effective in the long run to bake delicious breads at home (how much money have you already wasted buying gluten free bread your family wouldn't eat? I rest my case).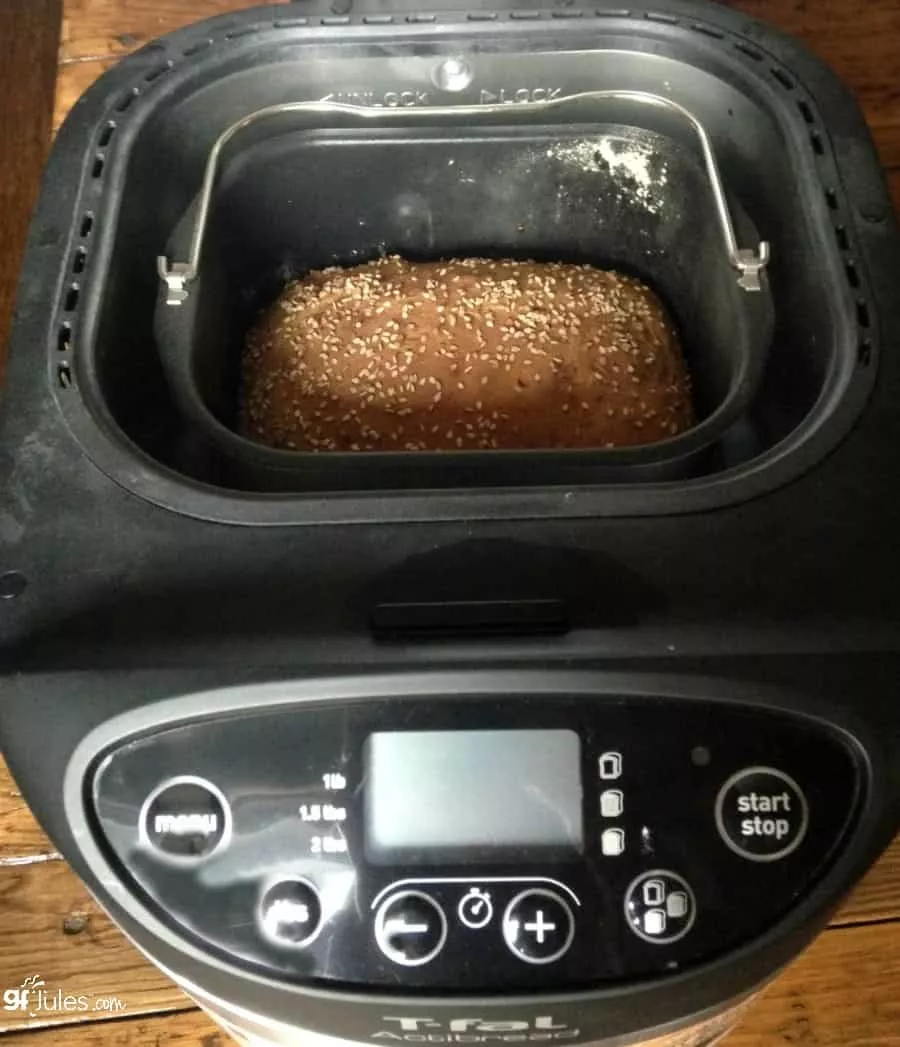 Gluten Free Bread Maker Review
If you are in the market for a new breadmaker with a GF setting, I am happy to add this T-fal® Actibread Machine to my favorite kitchen appliances for you to consider.
All my bread machine testing has been done using my gfJules™ Sandwich Bread Mix so that the results of each bake-out are dependent only on the machine as the variable.
Pros:
Compact Size
Bakes a beautiful, tall loaf with nice crown
Gluten Free Settings pre-programmed (including sweet bread & cake settings)
Bake only setting available to add time or program your own
Different loaf size & crust settings available
Start to finish, 2 lb loaf with nice crust done in 2 hours
Machine fully cooked my gluten-free loaf to 205º F in the bake time as programmed
less expensive than Zojirushi®
bread has a very crunchy crust
Cons:
Lid attachment seems loose and may compromise oven seal with extended use
Compact bread pan size bakes a tall loaf, but means slightly fewer slices (approximately 16, depending on how thick they are sliced)
Only one paddle to mix – need to use a rubber spatula to help mix the batter fully
Pan is 7 inches long; Zojirushi® pan is 9 inches long
More expensive than Cuisinart®
bread has a very crunchy crust – if you prefer a soft crust, I highly recommend the Zojirushi machine instead
All in all, I am quite pleased with the results of this T-fal® bread machine. It has produced beautiful results comparable to those of machines that cost far more, so I would highly recommend it if you are interested in baking homemade bread with a bread machine.
Do you have a bread machine and use it to bake gluten free bread? Please leave a comment below with the bread maker you use and your review of it so others will learn which machines are worth trying. Thanks for contributing your experiences!
*Thanks to T-fal® for supplying me with a bread machine to test and review. My opinions on bread machines are entirely my own, and a favorable review was not required. (I have since purchased two of these machines as gifts, just so you know.) I only work with companies and products that I love and recommend. Some links in this post may be referral links. If you do decide to purchase a product at a retailer after following my link, I may receive a small commission, at no additional cost to you, which I use to pay for web hosting and services for this blog. Read my disclosure policy here.